2022 Activity Report
March Activity Report
March 2023
Global Japan Office Coordinator
TAKADA Mayu
A month has passed since the new semester started. Last year, right around this time, there was an explosion of Covid-19 cases, and although the new semester started, there were some struggle with online classes immediately followed by a lockdown. Compare to last year, face-to-face classes have continued without big incidents this year. As in Japan, the weather here has been warm and the cherry blossoms have bloomed earlier than usual. Everyone is going out and enjoying spring for the first time in a while.
Working toward studying in Japan
At this time of year, Shanghai International Studies University holds a screening session to select exchange students to study in Japan starting in the fall. This year, the number of Japanese universities resuming face-to-face classes has been increased. Students also seem to be motivated to finally make it to Japan. Some students came to GJO for advice on how to write their letters for applying for studying in Japan before their interviews. I hope many students will be able to fulfill their dreams of studying abroad.
Japanese Corner
The first Japanese Corner of this semester was held on Friday, March 17. This time, two Japanese students joined us, and it was a very exciting event. We talked in three groups about how we feel after the pandemic of Covid-19 and what we want to do in the future. All the groups enjoyed the conversation, with participants saying "I'm relieved the pandemic of Covid-19 is over" ,and "I'm excited because I can finally go on a trip.". There are plans to hold more events on campus in the future, and it seems that the students are looking forward to that as well.
February Activity Report
February 2023
Global Japan Office Coordinator
TAKADA Mayu
The winter vacation, including Chinese New Year, are over and the new school year began on Monday, February 20. Last December the measures taken to prevent the spread of the Covid-19 have been greatly eased, and the city has returned to its former lively atmosphere. Life in the city of Shanghai is now the same as it was before the spread of Covid-19.
While most of the classes were held online last semester, face-to-face classes were fully resumed after this winter vacation. It has been a long time for everyone since last time they had face-to-face classes. The campus was filled with students, and they all seemed enjoying their campus life for the first time in a while. Fourth-year students are supposed to submit the first draft of their graduation theses at the end of this month. They have been having a hard time gathering materials on Japan and have been asking for advice during the vacation, so I wonder if they have been able to complete it successfully.
The travel restrictions under the situation of Covid-19 have been eased, and it seems that more students will be able to study in Japan this semester. In addition, graduate students from TUFS are scheduled to conduct a Japanese language teaching practice at Shanghai International Studies University in March. Until last year, students conducted their teaching practice online, but this year they will be able to travel to Shanghai and conduct it in the classroom. Not only will this be a valuable experience for TUFS graduate students, but it will also be valuable for students of Shanghai International Studies University to be able to interact with students who are close in age and who have studied abroad. I wish it will be fruitful for students of both universities.
January Activity Report
January 2023
Global Japan Office Coordinator
TAKADA Mayu
The year 2023 has begun. Because online classes have been ongoing since mid-December, the final exams in the first week of January were also held online. Many students had already moved from their dorms to their hometown when the classes start to be held online, but now that the University is closed, it seems that few students remain in their dorms. Public mobility was restricted since 2020 when the spread of Covid-19 began, so this year, when the restriction has been lifted, is said to be the most popular year for people to return home in the past three year. I often heard people said they were going back home for the first time in three years. The university will be closed until mid-February. Many students will spend time at home with their families. As in previous years, many third-year students seem to be doing internships at companies. Compared to previous years, when many internships were held online, this year there seems to be an increase in the number of internships require attendance at the company.
2022 marked the 50th anniversary of the normalization of diplomatic relations between China and Japan. In connection with this, a China-Japan friendship cup essay contest for university students will be held. Six representatives from Shanghai International Studies University also wrote essays on the theme. I wish them good results in their well-polished work. The pandemic has started to calm down, and I am hopeful that cross-border exchanges will increase this year. In 2023, I will continue to support students so that they can achieve what they want to do.
December Activity Report
December 2022
Global Japan Office Coordinator
TAKADA Mayu
After a warmer-than-normal November, there was a sudden temperature drop in December, and the weather became more wintery. There was even a dusting snowy day, which is rare in Shanghai, and it already felt like winter. As the cold weather continued, the number of people infected with coronavirus kept increasing, but strict and ongoing infection control measures have been eased. The university, fearing the increasing number of infected students, had shifted from face-to-face classes that had just reopened in November to online classes starting from December 12th. Students were also allowed to return home early before the beginning of the winter break. Unfortunately, during online classes in the latter half of December, many students seemed sick. The final examinations are coming soon, and I am worried about their health. I hope they pass the final tests and rest well during the winter break to see them in good health again in the following semester.
Japanese Culture Experience
On Friday, December 2nd, a Japanese culture experience event was held in a Japanese-style room in the Japan Institute for Culture and Economics building. Most of the participants were first-year students. They first learned how to put on a Yukata by watching a video and then helped each other to put it on. Later, after having a tea ceremony explanation, they enjoyed Japanese sweets and powdered green tea. It was the first time for most of them to wear a Yukata and have Matcha, but they had a good time and took many pictures.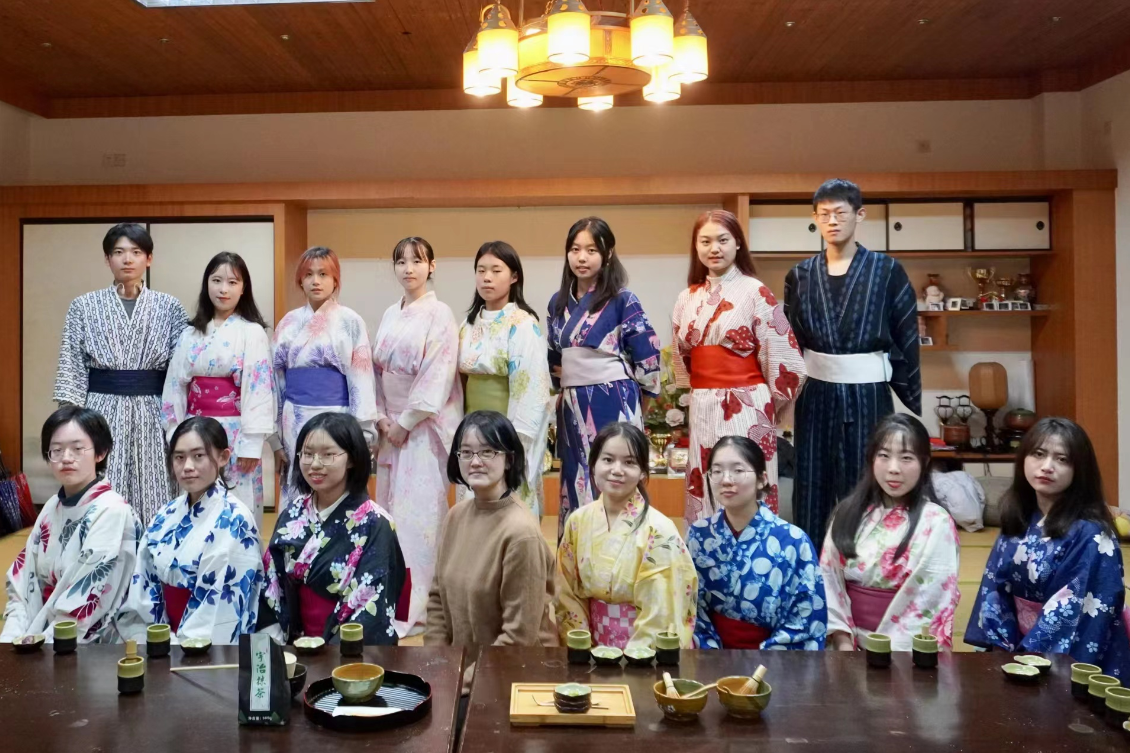 (Photo 1: Japanese culture experience session)
Japanese Language Corner
On Friday, December 9th, we had the Japanese Corner meeting in a Japanese-style room, which had been held online until last month. Even though it was the end of the year, this was the first offline event. About 20 students participated, divided into three groups, and enjoyed chatting in Japanese. All groups were excited because Mr. Oishi, an international student from Tokyo University of Foreign Studies, joined us. It had been a while since we had it offline.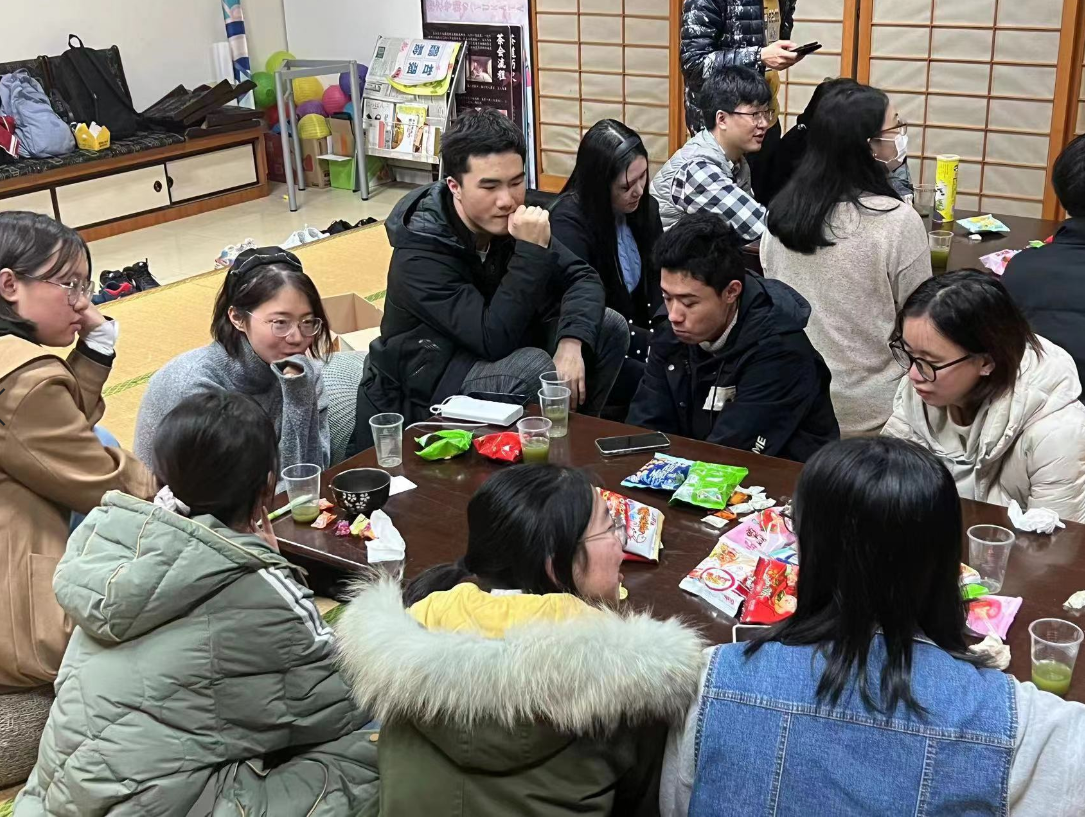 (Photo 2: Japanese-language corner)
November Activity Report
November 2022
Global Japan Office Coordinator
TAKADA Mayu
November is a month of warm days with temperatures exceeding 20 degrees Celsius during the day. It is pleasant to walk outside in this comfortable temperature, but the temperature in Shanghai is not much different from that of Tokyo, and I think it was a little colder in previous years. The weather is a little strange.
In November, the campus is finally open and classes can be held in classrooms. However, since a PCR test within 24 hours is required to enter the campus, students as well as faculty and staff are tested daily. Currently, PCR laboratories are located throughout the city in China, and PCR testing is readily available. There is also a laboratory on campus.
Since the requirement on the duration was relaxed from 24 hours to 48 hours after the middle of the month, and I thought that the restriction was gradually easing up. However, the number of the infected people is increasing day by day, so we still cannot let our guard down. I hope that we will be able to move freely soon.

Japanese Language Corner
"Japanese language Corner" was held on November 20th Sunday. The event was held online again, but students enjoyed speaking in Japanese divided into three groups. Oishi- san, an international student from TUFS, joined the Japanese Language Corner this time. The fellow university students had lively discussion.
The theme of this session is "Shopping"; November 11 is the shopping day called "Double Eleven". A discount sale is held on Taobao, China's largest shopping site. They asked each other "what did you buy this year?", or "if not, why didn't you buy anything?" and so on. They seemed to have thought properly about their purchases, buying daily necessities such as tissue paper, or a tablet they had wanted for a long time.
The Japanese Language Corner is scheduled to held next month,too. The next event is going to be held in a Japanese-style room at the university.
October Activity Report
October 2022
Global Japan Office Coordinator
TAKADA Mayu
At the beginning of October, China has a long weekend called the Annniversary of the founding of the People's Republic of China. Since travel to distant places is restricted to prevent the spread of infection, many students stayed in their dormitories during the holiday. Even so, they said they had a meaningful holiday, going out with friends to the center of Shanghai and having barbecues. After the National Day holiday, the number of infected people in the city was reported to be on the rise, so we were forced to have online classes again; the situation seemed to have calmed down considerably in late October, but face-to-face classes did not resume until November. Although classes are opened online, students are not as restricted from going out as they were during the lockdown in April. They seem to be spending their time calmly.
Japanese Corner
we had our first "Japanese Corner" of this semester on Sunday, October 30. Due to the prohibition of entry to the university campus, this time the event was held online.
About 30 students from first-year students to fourth-year students participated in the event, and they enjoyed speaking in Japanese in three groups.
The first-year students, who just joined the university in September, presented self-introductions they had prepared in advance. Students in the second year and the above engaged in free conversation on the theme of "first time". They told interesting stories such as "My first trip to Yunnan Province" and "What I ate for the first time. This Japanese Corner will be held again next month. Wish we can open it in a university classroom next time!
September Activity Report
September 2022
Global Japan Office Coordinator
TAKADA Mayu
The new school year has begun. Shanghai is still under ongoing measures to prevent the spread of Covid-19, due to the lockdown from this April, and the university has started the new semester after all students and faculty members have undergone PCR testing. Some classes are being held online, but in-person classes are also being resumed in classrooms. However, we feel unease as all classes may suddenly become online when there is a suspected case of infection. Still, students seem to be happy to meet their friends and study in the classroom as all classes were online last semester. I hope that they will soon feel more comfortable talking to friends and engaging in activities on a college campus.
Classes
In the sophomore conversation class, we talked about life in Japan. We talked about urban, suburban, and rural life, and what kind of rooms university students live in, comparing with those in China.
The students asked questions such as, "How much is rent in Tokyo?" I answered by giving examples of several cities, such as 100,000 yen in the city center and 60,000 yen in the suburbs. The student said, "Tokyo is expensive," but in fact, the center of Shanghai is more expensive. In Shanghai, there are not many rooms for single, and most of the rooms cost more than 200,000 yen. Chinese university students usually live in free dormitories, so they felt Tokyo is expensive for university students. The class was lively as we discussed the differences in lifestyle between Chinese and Japanese university students.
August Activity Report
August 2022
Global Japan Office Coordinator
TAKADA Mayu
In China, the previous academic year ends at the beginning of July and the new academic year begins in September. This year, with the lockdown in Shanghai, many students went home to spend their summer vacation with their parents. I also heard that most internships were held online. Now that the Shanghai lockdown has been lifted and there are fewer restrictions on activities, I hope that many will be free to travel and get together with large groups of people. What is exciting for the students is that they will be able to travel to Japan as international students starting in September. The students looked very happy as they talked about their dreams: "I want to study a lot at the library," "I want to make friends with Japanese people," and "I want to visit various places."
Most of last semester's classes were offered online, but the new semester, starting in September, will be offered in face-to-face classes except for some classes. Strict infection control measures are still being taken, including the need to undergo PCR testing to enter the university campus. The beginning of the semester will be a bit hectic, as students are required to return to their dormitories on certain days. Despite this situation, I am looking forward to hearing from the students I have not seen in a while.
July Activity Report
July 2022
Global Japan Office Coordinator
TAKADA Mayu
The semester ended at the beginning of July, and the university is now on summer break.
Due to the increase in the number of people infected with the COVID-19 in Shanghai from around March, online classes were held from the beginning of the semester, and the university was on lockdown in April and May, so students were not allowed to leave the campus. This semester will end with online classes. Instead of taking final exams in classrooms, students were required to take online final exams and final assignments.
Although measures to prevent the spread of the COVID-19 are still in place, they seem to be easing little by little. More and more students are telling me that they have decided to study at Japanese university from September and plan to left within this summer vacation. For the past two years, most students, who were supposed to study abroad but unable to visit Japan, have attended classes at Japanese universities online while in China. This is also a good way to learn, but the joys of studying abroad may be the experience of life in Japan. I was happy to see the cheerful students who had fulfilled their dream of studying in Japan.
Regardless of whether they study abroad or not, many students seem to spend their summer vacation at their hometown. I hope that they will make good use of their vacation, when they can spend their time freely. We will continue to support students in their Japanese language studies during the summer vacation so that they can get off to a good start next semester.
June Activity Report
June 2022
Global Japan Office Coordinator
TAKADA Mayu
The lockdown that had been in place since April was finally lifted in June. Although infection prevention measures are still in place, such as the requirement to take PCR tests periodically, daily life seems to be gradually returning to Shanghai, as public transportation services, such as the subway, which had been suspended until now, have resumed operation, allowing people to move around freely. Classes are still online, but the faces of the students are somewhat cheerful as I look at them through the computer screen.
Japanese Corner
On Friday, June 3, we held the Online Japanese Corner, where about 15 students participated and chatted in Japanese in three groups. Each group had a student coordinator, and each group engaged in different activities. One group played a Japanese association game. For example, "If it is yellow, it is a banana." The game is to say a vocabulary related to the word the previous person said. Some students came up with vocabulary that I didn't expect, and I was impressed that they studied hard.
Conversation Class
The week of Monday, June 20 was the last class of the semester. At the end of the Japanese conversation class, I asked the students what they wanted to do during their summer vacation. Various answers came back, such as "I want to go on a trip with my friends" and "I want to participate in an internship at a company." Although there are some differences from before, such as not being able to travel very far yet and doing the internship online instead of going to a company, I hope that the students will have a meaningful summer vacation.
May Activity Report
May 2022
Global Japan Office Coordinator
TAKADA Mayu
This May seems to be cooler than usual. Although the days have been pleasant, Shanghai is still on lockdown. Students are living in dormitories, but recently, more and more students are returning to their parents' homes since they can now get permission to move if they apply. University dormitories are for four people, and the personal space is not large. If they can return to their parents' home, it seems to be better for them mentally. I hope that the situation in Shanghai will settle down and that I can return to my daily life as soon as possible.
Under such circumstances, we held an online exchange meeting with students from Tokyo University of Foreign Studies (TUFS) on Thursday, May 19. From TUFS, students enrolled in the World Liberal Arts course "Teaching Japanese I: Japan in the World A" (teacher: Ms. Ryuko Taniguchi) participated, and from Shanghai International Studies University (SISU), voluntary students joined them. After an initial briefing, the students were divided into breakout rooms for self-introductions and discussion in Japanese. The theme of the discussion was "Similarities and differences between university life in China and Japan and reasons for the differences". All groups had lively discussions about student life, curriculum, and classes.
After the exchange meeting, we asked students from both sides to write down their impressions. A student from TUFS commented, "I was surprised that the student from SISU was many times more fluent in Japanese than I had expected. They had no problem communicating with native speakers." TUFS students were surprised that students from SISU were able to communicate in Japanese without any problems. Others commented on the content of the discussion, such as "It was interesting to see the many differences in curriculum even among the same foreign language universities," and "I learned about how students in SISU study Japanese and about their campus life." SISU students said, "It was a lot of fun. I was a little nervous at first, but I gradually got used to talking and had a meaningful time with everyone. They seemed to have enjoyed the exchange meeting.
I was reminded that the motivation for learning a language is real communication. I would like to continue such Japanese-speaking events in the future.
April Activity Report
April 2022
Global Japan Office Coordinator
TAKADA Mayu
The pandemic continues, and Shanghai has been in a complete lockdown since the end of March. The lockdown, which was originally planned for five days, is still in place today, at the end of April, with no end in sight. People have never been allowed to leave their homes. In the beginning of lock down, food and other necessities were not available, and people could only wait for the government to provide them. I was able to get through the lockdown because I had a 10-day stockpile before the lockdown began, but by the time the 10 days were up, government relief supplies arrived, and a group purchasing system was set up whereby people could purchase goods from their apartments.
It was a relief to feel connection between people by cooperating with neighbors in order to obtain supplies with whom we did not have much communication. However, we feel stressed every day because we don't always get what we want.
On the other hand, students living in dormitories are allowed to receive boxed lunches prepared at the university cafeteria because their dorm rooms do not have kitchen facilities and cooking is not allowed. They are even allowed to enter the university campus to pick up their boxed lunches. Although they do not have to worry about food, many students want to eat freely what they want to eat.
Under such circumstances, Mr. Zhao Wentao, a third-year student at Shanghai University of Foreign Studies, has been selected to participate in this competition in a Japanese composition speech contest co-hosted by Hiroshima University and Shanghai University of Foreign Studies to be held online on Saturday, May 21. Although he is in a difficult situation with limited activities, I want him to do his best so that he can show the results of his daily learning.