Ivan Franko National University of L'viv (Ukraine)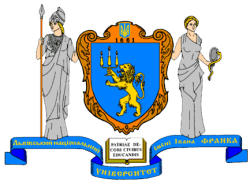 Location
Room 121a, Faculty of Philology, Ivan Franko National University of Lviv 1, Universytetska St., Lviv, 79000, Ukraine (Global Japan Office)
* The office is currenly closed
Contact
gjo-lviv[at]tufs.ac.jp
*[at] should be changed to @.
Established
09-01-2017 (Fri.)
Opened
09-14-2017 (Thu.)
-
The Ivan Franko National University of L'viv (hereinafter referred to as L'viv University) is the oldest national university in Ukraine, boasting a history of over 350 years, and is ranked as one of the top-level institutions in Ukraine along with Taras Shevchenko National University of Kyiv. L'viv is known as the center of Ukrainian culture, as it was not under the rule of Russia until it became a part of the Soviet Union after World War II.
Japanese proves to be a popular subject in both Ukraine and L'viv, with a Japanese course established as part of the philology department at L'viv University in 1992. The current head of this course is Associate Professor Oresta Zaburanna, a Japanese language specialist whose efforts have made a great contribution towards Japanese education and research at L'viv University.
Through Professor Zaburanna, who has previously visited TUFS through a student exchange program, discussions of signing an international partner university agreement between L'viv University and TUFS began, and was finalized in March 2017. Through this partnership, TUFS was able to establish a Global Japan Office at L'viv University.
TUFS Professor Emiko Hayatsu (head of the Institute of Japan Studies), who was research advisor to Professor Zaburanna during her time at TUFS, received permission from the Japanese embassy to give a commemorative speech at the opening ceremony of the 'Year of Japan in Ukraine,' a project celebrating 25 years of Japan-Ukraine relations. There was also the pleasant surprise of L'viv University students performing the TUFS school song, closing the ceremony with a very warm atmosphere.
Through cooperating with the L'viv University Philology Department and the Global Japan Office, TUFS aims to strengthen the relationship between Ukraine and Japan.
Activity Report