2015 Activity Report
March Activity Report
March 2016
Global Japan Office Coordinator
Yamagishi Ami
After entering March, a cheerful atmosphere has spread throughout the campus. Starting with magnolia which is the flower of Shanghai City, the appearance of various flowers reminds you of the arrival of spring.
1) Japanese Teacher Training at Shanghai International Studies University
We welcomed the Japanese teacher training students from TUFS again this year. This year 6 students carried out their teacher training at our university.
I also observed the teacher training student's classes giving comments and offering support with their lesson preparations.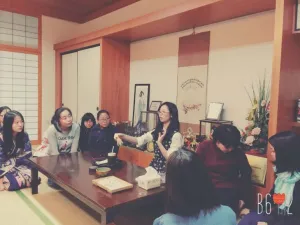 The teacher training students exchanged with students not just during classes but also outside of school hours, gave guidance for speeches and shared their knowledge and experiences by participating in social gatherings.
2) Joint Education Program
Also, on the 9th of March Prof. Ryuko Taniguchi from the TUFS Institute of Japan Studies gave a lecture aimed at our schools graduate students titled "The Pragmatics of "Apology" and "Gratitude"". This public lecture was conducted as part of the "Joint Education Program".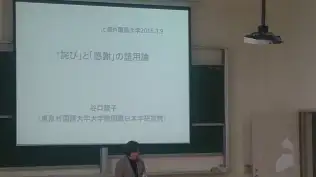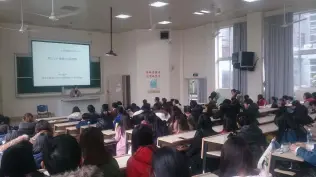 The students enthusiastically took notes whilst listening to the lecture. I would like to further link TUFS and SISU through lectures similar to this one leading into the future.
3) Publications Arrived at GJO
The publications we have been waiting for since last year have arrived. In total, 12 boxes filled with 675 books. It is a line up with a wide variety including light novels, Japanese language textbooks, tourist guide books, introductory and specialized books from every field and manga.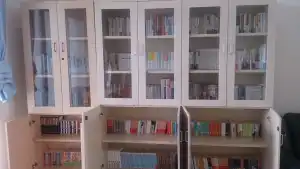 We are strengthening the publicity of the office in order to benefit the students. For the time being we will not be lending out reading materials so students must read them inside the office. We are also planning an event based on the use of these new publications.
February Activity Report
February 2016
Global Japan Office Coordinator
Yamagishi Ami
On the 29th of February the new semester began. The cold days are still continuing making it difficult to believe spring is on its way. However, warm days are becoming more frequent and spring is starting to draw closer.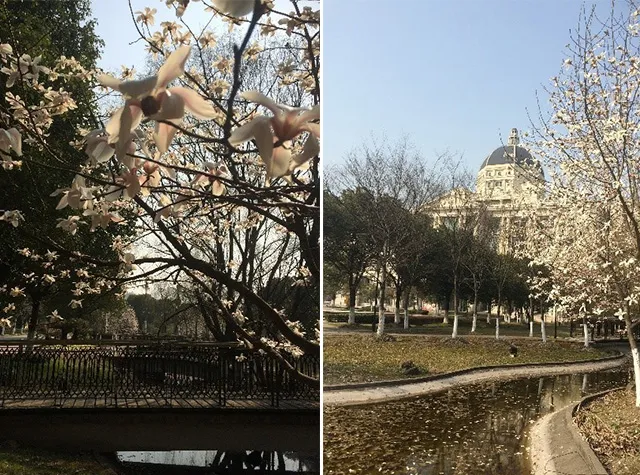 In March the Japanese language teacher training students and Prof. Ryuko Taniguchi from TUFS will arrive. Starting with the GJO coordinator, everyone at the Institute of Japanese Culture and Economics at Shanghai International Studies University is looking forward to their arrival.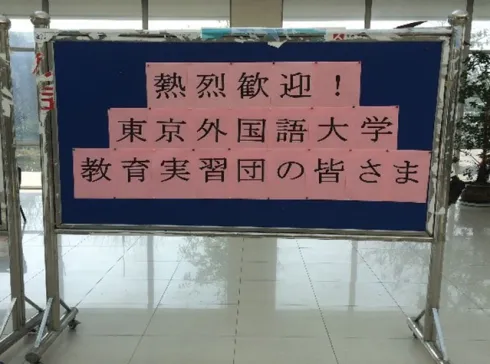 During February it was still in the middle of winter vacation and so activities were limited to sending out information via the internet (February was about Momo no Sekku) and addressing students enquiries via email but from March we intend to once again begin conducting events.
We are thinking about conducting an exchange event between the teacher training students from TUFS and students from the Japanese Language Department. Also we are planning to progress with the introduction of the books that will be installed in the office.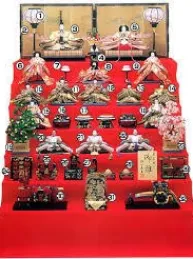 January Activity Report
January 2016
Global Japan Office Coordinator
Yamagishi Ami

The local supermarket also in Lunar New Year mode
The first half of the semester has finished and the school as well as the student town of Songjiang has become quiet. The majority of the students have returned to their hometowns. Some students have also sent us photos of crowded train stations and scenery of their hometown.
At the GJO Office as part of transmitting the Japanese culture, we introduced two types of New Year's games, "Fukuwarai" and "Setsubun".(Contents below)

The player is blindfolded and has to arrange such parts as the eyes, nose and mouth on top of a piece of paper that has the outlines of a face drawn on it. Just what kind of face will it be?

Of course, it becomes a very funny looking face. Everyone looks at this strange face and laughs. It is very simple to do so please have a go yourself!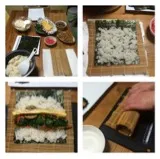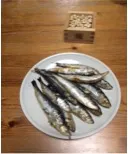 The 3rd of February is "Setsubun". This is when we drive off bad demons. We drive off the demons with the smell of fish and by scattering beans. Whilst doing this we shout "demons go outside! Good fortune comes inside!" There is also sushi called favorable direction sushi roll that we eat. This year we face south southeast and eat it. You are not allowed to talk whilst eating this sushi. It must be eaten in silence.
~~~~~~~~~~
Next Semester
Due to the popularity of the Karuta card game event that was previously held and based on the fact that many students were interested in the card game hyakunin isshu, we are planning to hold a hyakunin isshu event in the new semester.
Finally we will welcome teacher trainees from TUFS. We are planning to arrange support for the trainees as well as a cultural exchange gathering for students from both universities.
December Activity Report
December 2015
Global Japan Office Coordinator
Yamagishi Ami
It is the last month of 2015, the end of semester examinations are approaching and students visiting the office with Japanese related questions are on the rise. However, in China the end of the year points to the lunar calendar so there is very little excitement for the approaching New Year. It might also be due to the fact that the Christmas decorations still have not been taken down in many places.
In addition to the usual queries regarding studying abroad and higher education, on the 28th of December we also held the second event introducing Japanese Culture. This time we turned to Japanese language Instructor Ayuko Kumaki for assistance and played a card game called "karuta". Aimed at first and second year students, around 20 students attended. Also appearing in the Shojyo comic "Chihayafuru", there were many students interested in karuta though very few students had actually played it before. There were also students who were interested in the poem card game "hyakunin isshuu", but as an introduction we played Iroha karuta and a version that Instructor Kumaki created called Todoufuken karuta.


▲Picture cards and reading cards of Todoufuken karuta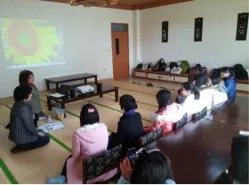 After watching a video about karuta the students learned the meaning and rules of "Yomifuda (cards with words or phrases written on them)", "Efuda (picture cards)" and "Otetsuki (touching a wrong card)".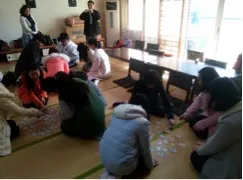 After the sound of tatami being hit you could hear voices of cheer and defeat.
The second round was Todoufuken karuta. This time the students tried being the reader. The students aiming for prefectures they knew. Everyone is naturally leaning forward as they focus on the game.
Comments from the Students
• I touched the wrong card because of the difficult sound of the card.
• I was happy that I knew some of the proverbs.
• It was interesting
• I would like to see Hyakunin isshuu
• I thought reading the cards would be easy but it was really difficult.
• I want to play more.
• It is a good way to study. There were lots of words I did not know but it was good fun.
• I want to try playing more kinds of games.
The students seemed like they were enjoying coming to grips with the game. We also want to plan an event that the students can enjoy for next time as well.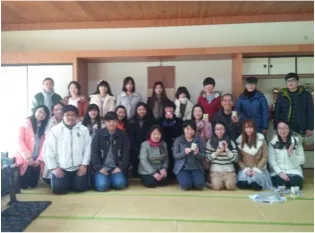 November Activity Report
November 2015
Global Japan Office Coordinator
Yamagishi Ami
In Shanghai which is considered to be a warmer part of China, after entering November the weather suddenly got colder and even minus temperatures were recorded. As there is no heater inside the classroom, students opted to wear winter clothes and whilst warming their hands with hot water continued to work hard on their Japanese study. Looking at this scene makes me think that winter has come.
At the Shanghai Office, we receive information and offer guidance regarding studying abroad. We receive questions regarding TUFS as well as questions regarding life in Japan.
As well as the two students from Shanghai International Studies University that study abroad at TUFS as foreign exchange students every year, many other students also take part in other courses such as the summer program. We feel it is necessary to create a network that would allow students to voice their questions and concerns to students who have already studied abroad in Japan.
Starting with the preparations, we are currently working on creating the network. Presuming we are able to get the students consent. We are also planning to get the students to write a report of their experience.
The first event introducing Japanese culture has ended and now as we begin to prepare for the second event we are planning to carry out a survey asking the students what kind of event they want us to hold. At the Japanese Culture and Economic Institute of Shanghai International Studies University they have a study group that is similar to a student council which has already been hosting a wide variety of great events including tea sessions, trying on kimono and making traditional Japanese sweets for example. With such great events already being held, we need t come up with something even better. We will try our best to make an event that will please and satisfy the students.
There is only a little over a month left of this semester. Next semester the Japanese language teacher training students from TUFS are due to arrive. We are also planning to hold various events to enable the students of both schools to meet and exchange cultures.
June Activity Report
June 2015
Global Japan Office Coordinator
Yamagishi Ami
The new office was opened on June 1st, but despite advertising in advance the existence and activity content were widely unknown at this point. So we manufactured a poster with the location, opening hours and activity contents written on and posted it inside the school. We also posted the same information on the school`s official page on the communication tool Wechat (Wechat: an application similar to the application LINE which is used in Japan).
There were three cases of student counseling throughout the month. Of which two of those cases were from undergraduate students, with questions about the year abroad exchange program and about life in Japan. I explained how to view the University homepage and answered their questions regarding life in Japan.
At this institute, due to the planning of the introduction to Japanese culture being largely implemented by part of the student council called the student sector, we are trying to come up with an idea without repetition and that peeks the students` interests. So we created a questionnaire within the office however, not many numbers have been gathered. For the new semester we are thinking of asking the teachers of every year group to help with the distribution.