2020 Activity Report
March Activity Report
March 2021
Global Japan Office Coordinator
TAKADA Mayu
In March, the temperature went up and it became warm. Flowers start to bloom on the trees in the university campus, and it makes you feel calm spring. A month has passed since the start of the new semester. When I asked the students about this year's Lunar New Year, they said they had more fun than last year, when outings were strictly restricted. There was also an instruction not to travel as much as possible during the Spring Festival, so many students did not return to their parents' home and spent the Spring Festival in the university dormitory, but they celebrated the Spring Festival by themselves and enjoyed the lively atmosphere.
A long-delayed national competition of the Chinese National Japanese Speech Contest will take place in Beijing on Sunday, March 28. Ms.Gu Yi, a third-year student, will represent the East China region. It's been a while since the Hua dong block tournament in November, but I ' d like her to make the most of her practice.
In April, a section called "Multilingual + (TAGENGO PLUS)" will begin to introduce Japanese language and culture to students other than those who specialize in Japanese. The course is an introductory Japanese course of 15times that introduce simple Japanese language and Japanese culture with a graduate student assistant. I don't have much contact with students other than those from the School of Japanese Studies, so I'm looking forward to seeing what kind of students will gather.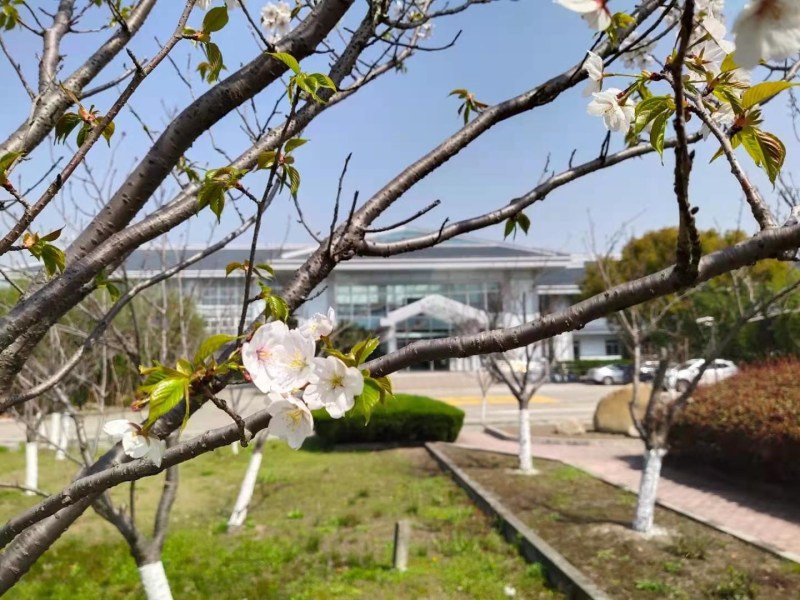 February Activity Report
February 2021
Global Japan Office Coordinator
TAKADA Mayu
The new semester has started! It's the beginning of the second semester.
Fourth graders are supposed to submit the first draft of their graduation thesis in the middle of March. They will revise it and complete their graduation thesis in May. We expect to receive more and more consultations in the future. The coordinator will do his best to support hard-working students.
This semester, we are planning an online exchange event with Tokyo University of Foreign Studies(TUFS). With many students having to cancel their studies abroad, I hope this will be a valuable opportunity to interact with Japanese students. I have also been assigned to a class called "multilingual plus" which introduces students to Japan. I will tell you more about that in the future.
January Activity Report
January 2021
Global Japan Office Coordinator
TAKADA Mayu
The final exams ended at the beginning of January. The first half of the new fiscal year that started in September has ended and we will be on Spring Break until the end of February.
Last year, many students returned to their parents' homes to spend time with their families. This year, however, more students than usual are staying in dormitories due to a government announcement that they should refrain from returning home to prevent the spread of the new coronavirus.
There are many third graders who are doing internships at companies during this winter vacation. Some students said they were very busy because they had to work full-time every weekday. In addition to the on-the-job internship, there are also remote work internships this year. Some students will participate in the Japan-China Friendship Cup composition contest. The submission of the essay will be at the end of February. I'm looking forward to seeing what kind of essays the students will write on the subject "Japan-China friendship".
December Activity Report
December 2020
Global Japan Office Coordinator
TAKADA Mayu
The semester that started in September is coming to an end in no time. Examinations are held during the New Year holidays. The students are studying hard. At the end of December, an interview was held to select the exchange students that will come after spring. I don't know how the situation of going abroad after spring is going to be like, but I hope the students who are chosen this time will be able to start studying in Japan safely.
In China, the spread of the new coronavirus infection has been controlled by measures such as restrictive entries from foreign countries ever since outing restrictions were lifted in the first half of last year, but various preventive measures are still being carried out to prevent the spread of the infection. District preliminaries for the Chinese National Japanese Speech Contest were also held online to avoid crowds. Students at Shanghai International Studies University were supposed to pass the preliminaries and take part in the national tournament to be held in Beijing, but the national tournament itself was postponed due to the current situation. Although the number of new infections is decreasing, very careful measures are still taken.
At the end of the first exam week in January, we have a long vacation including the Spring Festival. During the long vacation, there will be writing contests and so on, so I am planning to consult the students on Japanese language if they have any questions regarding their studies. I'm also thinking of asking them how they are going to spend their holidays at their parents' house, so I'll report about it in the activity diary next month.
November Activity Report
November 2020
Global Japan Office Coordinator
TAKADA Mayu
Every November in China, speech contests are held throughout the country. Although in the past years, learners of Japanese gathered to present the results of their efforts, this year, many of the speech contests will be held online.
On November 8, the East China Block of the Chinese National Speech Contest was held. The competition was held online, and participants were screened with pre-recorded speech videos, as well as the presentation and screening of impromptu speeches. The topic for the improvised speech is given on the spot through a video conference system. The participants have to come up with a speech in a very short amount of time, and it is truly a test of their day-to-day efforts.
One student who participated in the online speech contest said it was difficult because there was more material they had to prepare for in advance. Nonetheless, the student did an amazing job and even received a special prize, and will be participating in the national contest starting January 25.
The national competition will be held in Beijing. For this occasion, participants will come together at the venue and the contest will be held in person. We will continue to be vigilant, but I hope that the event will be held without any problems and that each participant will be able to demonstrate his or her daily endeavors.
October Activity Report
October 2020
Global Japan Office Coordinator
TAKADA Mayu
One month has passed since the start of the new school year. The campus seems to be returning to the way it was before. I haven't been able to return to Shanghai yet, but every time I hear stories from my students in online classes, I can sense that things are going back to normal. However, there has been a change in one aspect: the speech contests. Around this time in China, speech contests were held here and there, and students studying Japanese all gathered to show the results of their daily studies. Unfortunately, due to the spread of COVID-19, large groups and long-distance travel must be avoided, and so many speech contests this year will be held online.
Students from Shanghai International Studies University (SISU) will also participate in an online speech contest early next month. I will be writing about the event in my next report.
September Activity Report
September 2020
Global Japan Office Coordinator
TAKADA Mayu
The new school year has begun. The students have returned to their university dormitories and classes on campus have resumed. However, since entry restrictions on foreigners are still in place, I have not been able to get back to Shanghai yet, so I am still conducting online classes from Japan. There are also some students who studied in Japan last semester, but due to the current immigration restrictions, even Chinese people are having trouble getting a flight back to China. Such students were not able to enter the country in time for the beginning of the new term, so they attended classes online. There seem to be a few flights a week between Japan and China, but even if the students manage to book a flight and return to China, they still must undergo two weeks of quarantine in a hotel. Many obstacles lay ahead of the students to get back to campus. Fortunately, students who have been trying to get back into China since early September are now able to take classes on campus with other students.
Online classes are useful in some ways, but it's nice to be able to feel close to your teachers and peers. I just hope that the spread of COVID-19 doesn't worsen this winter and remains under control.
August Activity Report
August 2020
Global Japan Office Coordinator
TAKADA Mayu
The previous academic year ended in July, and August was dedicated to the summer holidays. The students seemed to enjoy their vacations, but the teachers were kept very busy revising textbooks. During the summer holidays, we were reviewing and renewing the textbooks used in Japanese conversation classes so that they would incorporate recent topics and customs, enabling students to learn conversations that are more familiar to them. When the books are completed, I would like to introduce them in this report.
In China, the new academic year starts in September. From this term finally, students are allowed to return to their university dormitories and face-to-face classes on campus will resume. Although visa applications for foreigners, which was suspended for a while, has resumed now, it still takes quite a while for the visas to be issued. Thus foreign teachers, including me, who are abroad and cannot return to China for a while, must continue to conduct classes online for the time being. I am looking forward to going back to Shanghai, where I will be able to go to the school cafeteria and chat with my students.
July Activity Report
July 2020
Global Japan Office Coordinator
TAKADA Mayu
The final exams ended in the first and second weeks of July and the semester has come to an end. Due to the spread of COVID-19, classes were conducted online and never returned to university buildings during this semester. The new school year starts in September, so the fourth-year students finished their classes online and graduated without having a graduation ceremony.. There were other events held remotely, but the students were unable to meet their classmates or teachers in person, making it a rather disappointing graduation season.
Against this background, one of the achievements of this semester is that we were able to carry out an exchange event between China and Japan. As Shanghai International Studies University (SISU) entered the examination period and there were no classes, we were able to participate in the activity debriefing held in the "Aspects of Teaching Japanese to Speakers of Other Languages" class of the TUFS Liberal Arts program on Thursday, July 9 and 16. At the debriefing session, students who participated in the "Japanese Composition" class at SISU and learned how to teach essay corrections made presentations. In every presentation, the students expressed the discoveries they made through the class. This course seemed to have elicited the students' interests in the Japanese language and teaching it, and increased their motivation to learn the language too.
Having students from TUFS read their essays was also a great stimulus for the SISU students. Even if it is no longer necessary to stay remote next semester, we will continue to interact and stay connected online going forward.
June Activity Report
June 2020
Global Japan Office Coordinator
TAKADA Mayu
The first and second online interaction classes were successful. On the second session on Thursday, June 4, we had each group share what they talked about in the first session. All groups seemed to have had lively discussions, each group having conversed about different topics. Through listening to the other groups' presentations, some discovered the wide range of possible topics they could have talked about. Here are some of the feedback we received from the students after completing the course.
(Original text)
All classes are currently being conducted online, and I think it's safe to say we have made the most out of this situation. It was a very valuable experience for me because I usually only study Japanese and have few opportunities to talk with Japanese people.
I myself am not confident in my speaking skills, and to be honest, at first I was a little scared and didn't know if I would be able to say anything. However, the group members were all kind and backed me up. I feel that I was able to express my opinion honestly thanks to them. (Sophomore at Shanghai International Studies University)
This exchange meeting was very fun. Not only was I able to practice my Japanese expression skills, but we were also able to deepen relationships between students from China and Japan. Unfortunately, however, there wasn't enough time to fully exchange our opinions. I hope to have more opportunities to interact with Japanese students in the future. This time, even though I had this valuable opportunity to communicate with Japanese students, I was unable to properly express my thoughts because my level of Japanese is not that high. I would like to study more Japanese so that in the future I will be able to have smooth conversations about various topics with Japanese people. (Third year student at Shanghai International Studies University)
May Activity Report
May 2020
Global Japan Office Coordinator
TAKADA Mayu
The second half of this semester has started, and online classes are continuing at Shanghai International Studies University. The upside to online classes is that you can connect over distance. I'm getting used to the tools I use for online classes, such as zoom, so this month we held an online social event with students from Tokyo University of Foreign Studies. It happened that the "Japanese Speech Presentation" class at Shanghai International Studies University coincided with the "Japanese Teaching" class at Tokyo University of Foreign Studies in the morning of Thursday, so we used this time to hold the event. During the first meeting held on Thursday May 28th, we had group discussions using the zoom function called "break out room". It was my first time hosting this event, but there were no troubles. I was glad we decided to make this happen, as I received comments saying the event was enjoyable. For the second session, Thursday June 4th, each group will present the content of their discussions. We will know what kind of discussions the students had. I am looking forward to it.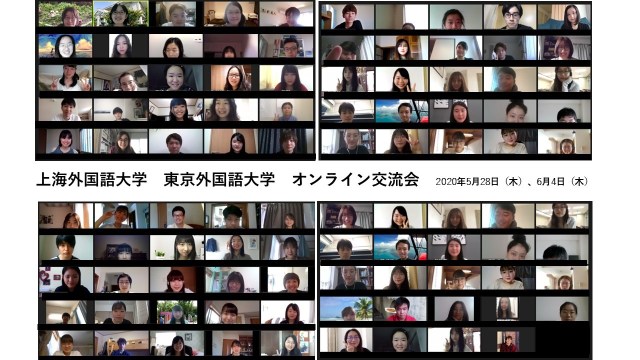 April Activity Report
April 2020
Global Japan Office Coordinator
TAKADA Mayu
Long time no see, everyone. Even now, the new coronavirus is still raging all over the world, and I am praying that it will end as soon as possible. By the end of January, when it made headlines around the world, the university had already begun their Spring Festival holiday and I myself had returned to Japan. I never imagined that I wouldn't be able to return to Shanghai for such a long time.
(1) Online Classes
Shanghai International Studies University has postponed the start of the new semester, which was scheduled for February 24. Nevertheless, standing by the phrase "you can never stop learning", the university began its "new semester" of online classes on March 2. At first, both teachers and students were worried about using an unfamiliar system in online classes, but after a month they gradually got used to it, and the students are now studying actively. Here's what one student had to say about online classes (a month after they began):
(Original)
Online classes aren't as efficient as classroom classes, but they're the best solution in a time of emergency. In most cases, teachers upload PPTs and videos in advance for use in class, and students study independently outside of class. During class, teachers answer questions and conduct tests. Thanks to these measures, students can study at their own pace. For the subjects I am not good at, I can study for them by repeatedly looking at the PPT, looking up materials on the Internet, or asking the teacher. As long as I hand in my homework before the deadline, it doesn't matter how much time I spend on it. If I am good at a subject, I can speed up as I like. After all, if I finish studying early, I can do what I like quickly.
But there are also disadvantages to online classes. Smartphones and computers are essential for taking classes, so it's easy to get distracted when I study using them. Also, if I sit at my desk and look at the screen for a long time, my eyes can get bad. There is a risk of lack of exercise.
(2) Dubbing Convention
The annual Anime Dubbing Convention in April was also held online. The students created original videos by fitting recorded sounds with animated videos. I uploaded these videos to the internet and let the students do "after-recording". It was a groundbreaking event where people watched the videos made by each group and voted online. The videos, despite being made by the students, looked like real anime works, and I was drawn to them.
Online exchange classes have been scheduled for next month. I don't know what will happen in the future, but I want to do what I can do now.