2018 Activity Report
April Activity Report
April 2018
Global Japan Office Coordinator
Suzuki Yuki
Trueborn Shanghainese say "there is no spring in Shanghai". That is how quickly the spring comes and goes, and the hot sweaty season begins. How is everyone doing?
As always, this month I will write about my hardworking students.
Speech Competition, Red and White singing contest, Quiz Contest… the spring semester was an eventful one!
Here at SISU, we regularly hold events on campus which on top of invigorating the students' desire to learn, also act as nice breathers from study. April is a particularly eventful month, but it's in the middle of the semester when students are most likely in a slump, so I think it's a good stimulus for the students.
① Speech Competition
The two topics of this year's competition were "On the 40th Anniversary of Normalization of Diplomatic Relations between Japan and China – New Era, New Relations" and "AI and Our Lives". There were 14 participants ranging from first to third year students, and they all spoke in very fluent Japanese about their topics. Compared to previous years, there were many participants in this year's competition who had very good pronunciation and fluent speech. I participated as a judge, but it was very difficult to say which participant was the best, and so after conferring with the other judges, it was decided that there would be two winners this year.
② Red and White Singing Contest
The SISU Red and White Singing Contest is held between 14 first and second year classes who are split into two teams to compete. This year, different themes were given to each class such as "hope", "parting" and "saudade". Different to previous years, this year saw a lot of classes mixing songs together and performing mash-ups. This year the white team won, but all the classes performed beautifully. I am excited for next year's competition already!
③ Dubbing Contest
Differing from performances in which you can compete with expressions and movement, in dubbing you can only compete with words. In particular, the SISU audience are quite fond of anime, so many people are picky about the performance. I think that presenting your dub in front of this type of audience takes a lot of courage. This year's contest's theme was "series that expose your age", so participants competed using the anime they grew up with.
④ Knowledge of Japanese Culture Competition
"How high is Mt. Fuji?" "What are the names of the statements released by both countries during the 1972 Normalization of Diplomatic Relations between Japan and China?" "Out of the types of Japanese-style gardens, which kind of garden has the most Japanese appearance?" "In the anime, osomatsu-san, which of the six siblings has only one tuft of hair on his head? … Can you answer these? Apparently a list of possible questions was handed out prior to the competition, but this covered a wide number of topics such as geography, history, pop culture, literature, politics, and manners/customs, so the students must have studied very hard.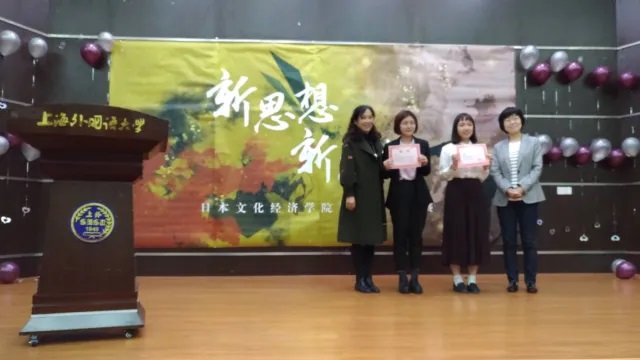 Now for the Japanese Corner. This month we talked about the following topics.
① Cute Japanese surnames
Shizuku, Saotome, Shirayuki… There are about 300,000 different Japanese surnames, and this time we talked about the surnames we consider to be "cute". The names "Arisu" and "Hatsune" were particularly popular among the students. Also, it seems that two-character names are considered to be cool in China.
② Image of Tokyo districts
Ikebukuro girls like voice actors, Harajuku girls like idols. Of course, everyone has their own preferences, and you can't just put everyone into the same category, but people who hang out in these areas do tend to be like this. The students were very interested in these "definitions" of Tokyo districts, and excitedly asked about the districts their friends on exchange lived in, and discussed where they would like to go.
③ Yuzuru Hanyu Parade
When I asked the students "what events did you watch from the Pyeongchang Olympic Winter Games?" 80 percent of them answered "figure skating, I supported Mr. Hanyu". That is how popular Hanyu is in China. News of his parade arrived here in Shanghai, and many students sighed and said they wished they could have seen it with their own eyes. We also talked about the hashtag that trended around this time, "#thetakebadphotosofYuzuruHanyuchampionship". The girls who like taking photos got excited talking about the best and worst pictures they'd ever taken.
④ Fictionary
We played fictionary, the game where you open a dictionary to a random page and try to guess the meaning of a word on that page, for the second time. It is difficult guessing the meaning of a word, but it's also difficult to choose a word. You have to choose words that are not easily guessed from their sounds or kanji, but you also must choose words that are not too "minor". This time, we also did a "guess the reading game" as an extra. The students had fun racking their brains trying to guess the meanings of words such as "omiotsuke" (miso soup) and "okiagari koboshi" (a type of traditional doll"). I wonder if these words were too "minor?"
In May I intend to talk about the university festival and the Japanese Corner.
Please look forward to next month!