2021 Activity Report
March Activity Report
March 2022
Global Japan Office Coordinator
TAKADA Mayu
The new semester just started at the end of February, but the city of Shanghai is almost in lockdown due to the spread of Covid-19. After March 16, the university was closed and classes were held online. We were instructed to stay out as much as possible and for 2 weeks and to take 3 PCR tests during the period. In my apartment, I was completely grounded for the first two days. The entrance of the apartment was locked and completely inaccessible; after the third day, walking around the neighborhood was allowed though public transportation was prohibited. I was a bit nervous because of the sudden lockdown, but I had no problem because I had stocked up on groceries and the online supermarket was open and available to pick up deliveries. There were four PCR tests: the first day, the second day, and then the fourth, seventh, and fourteenth days. The inspectors came to the first floor of the apartment building for the inspection. This lockdown is supposed to end at the end of March, but I suspect that this situation will continue after April, since the number of infected people is increasing every day.
Students appear to be allowed to enter the university campus and the dormitories adjacent to the campus. Since it is spring and the weather is nice, taking a walk seems to be somewhat refreshing. As for online classes, students seem to have a somewhat different take on them. Some says, "Online classes are tiring because we have to look at a screen all the time, but it's unavoidable because of this Covid-19 situation." Another says, "It's easier to study in my room". There are things that can be done online as well, so I will try to support students so that they can maintain their motivation to learn even under these circumstances.
February Activity Report
February 2022
Global Japan Office Coordinator
TAKADA Mayu
The Chinese New Year is over and the new semester has begun. Last year, many students were not able to return to their hometown because of the strict measures to prevent the spread of Covid-19. This year, however, many students could go back to their hometown. They smiled and said that they had spent time with their families for the first time in a while. Some students interacted with Japanese people online or participated in internships during the break, and each seemed to have had a meaningful break.
The students who were supposed to study abroad at a Japanese university last semester were unfortunately not able to travel to Japan, but they participated in online classes at a Japanese university. They said, "It was a great opportunity to be in a class with Japanese people, and although it was difficult to study, it was a good chance to make Japanese friends."
Japan has announced that international students will be allowed to enter Japan, so we hope that students will be able to go to Japan safely this semester.
In China, it is said that the number of cases has been under control due to measures such as movement restrictions and simultaneous PCR testing, but here we are again seeing signs of the spread of infection. We can only hope that the infection will not spread further.
January Activity Report
January 2022
Global Japan Office Coordinator
TAKADA Mayu
The new school year, which began in September, ended with final exams at the beginning of January. The long winter break will last until the end of February, when the Chinese New Year ends. Usually, many students return to their parents' homes to spend time with their families. However, this year, in order to prevent the spread of the new coronavirus, some students were not allowed to return home in some areas and had to remain in their dormitories. With the Beijing Olympics coming up in February, long-distance travel, even domestic travel, may require quarantine in some cases.
Still, it is possible to move around Shanghai relatively freely, and many third-year students are taking advantage of this winter break to do internships at companies. Not only the kind of internship in which they go to work at a company, but also those in which they work remotely. Fourth-year students are in the midst of writing their graduation theses. Some students are studying at home, and the Japanese Corner chat group has been receiving requests for consultation on Japanese language study throughout this winter break.
In 2021, China also hosted a number of speech contests organized by various organizations. Although the contests were held online, several students from Shanghai Foreign Studies University participated and were able to win prizes in all of them. This is also a result of our daily study.
We will continue to support them in 2022 so that they can continue to excel in their respective areas of expertise.
December Activity Report
December 2021
Global Japan Office Coordinator
TAKADA Mayu
Since the beginning of December, temperatures have been dropping and the days have been winter-like. Many of the classrooms at the university are not heated, so students are wearing a lot of clothes to class. This is the only month in which they go to class complaining that they are cold. We will be on vacation next month, so we just have to be patient.
This semester, we offered once again an introductory level course called Tagengo+ (Multilingual Plus) on Japanese language and culture. Undergraduate students who do not specialize in Japanese language will take this course once a week for two and a half hours, for a total of ten sessions. Nearly 30 students applied for the course this semester. Thursday, December 9, was the last day of the class, and each student was asked to present a self-introduction. They were able to use the Japanese expressions they had learned for such terms as "hometown" "family," "hobbies"" and "favorite foods." What was interesting to me was that many of them said they liked Japanese food. In China, especially Shanghai, there are many Japanese restaurants here and there, and major Japanese foods such as sushi, ramen, sukiyaki and beef bowl are well known. One of the students even said, "I like wasabi on my sushi."
"I want to go to Japan and eat delicious sushi," says another. I hope that one day these students' dreams will come true.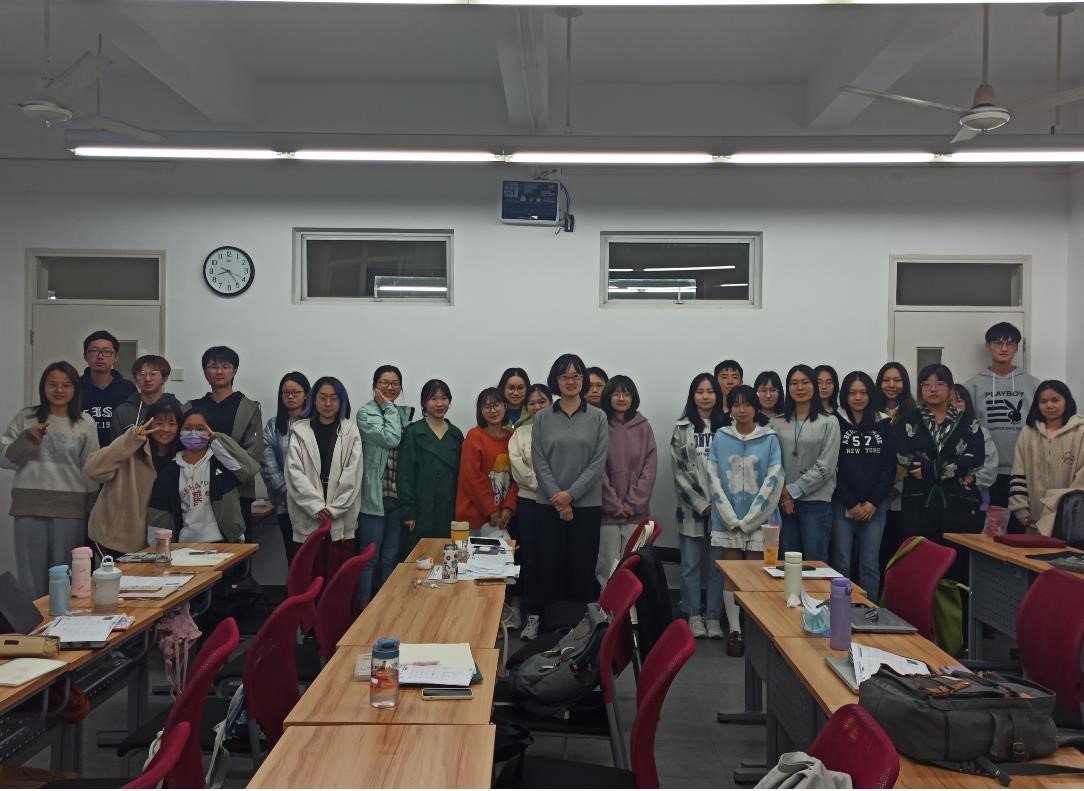 (Photo: Tagengo Plus 2021 Fall/Winter)
November Activity Report
November 2021
Global Japan Office Coordinator
TAKADA Mayu
It's getting colder day by day. The trees on the Matsue (Songjiang) campus have completely changed their colors, reminding us that autumn is deepening. Last year, there was still a lot of caution about COVID-19, so many events were cancelled, but this year, events on campus are gradually being held, including this month, the Onigiri Contest.
Onigiri (rice ball) contest
On Thursday, November 18, an event called the Onigiri Contest was held. The event is being held with support from Japanese companies operating in Shanghai. In past years, we have had employees come to the campus on the day of the event to make rice balls and have fun with the students, but this time, people from outside the university were not allowed to come on campus so we were not able to interact with the Japanese employees. Since there were no employees present, the students made rice balls by themselves. The event was held in a slightly different way than usual, but it was still the first time in a long time. The students seemed to have a great time eating the rice balls and playing games in Japanese. I hope that the current situation will settle down and we will be able to hold another event where we can interact with Japanese people on campus someday.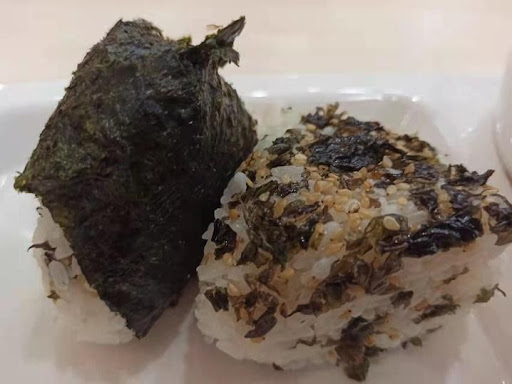 October Activity Report
October 2021
Global Japan Office Coordinator
TAKADA Mayu
A month has passed since the start of the new fiscal year. In early October, there is a consecutive holiday called National Day in China. With this long weekend, students seem to be taking a break from the tension of the new school year. Students from nearby Shanghai took advantage of the holidays to go home to their parents. The climate of Shanghai is very similar to that of Tokyo in Japan. Normally, people feel the coolness of autumn on the national holiday, but this year, even after the holiday, the hot season continued. After the middle of October, finally the temperature dropped and the weather became more like autumn. It's a perfect season to study.
I held the "Japanese Language Corner", which was held last term.
Students who want to speak Japanese got together after class and had discussions and played games in Japanese. The event was held in a Japanese-style room in the building of the Japan Institute of Culture and Economics. This room is used only for exchange meetings for international students and special events such as "Japanese Section". Just by entering this room, the students seemed to be having fun. The discussion topic was "About Universities". Regarding the size of the campus of Shanghai International Studies University (SISU), some people said it is large and others said it is small, and the difference of opinions was interesting. Compared to Japanese universities, SISU's campus is definitely big, but among Chinese universities, it is rather smaller. I also heard students' thoughts on whether the campus should be small or large, and it was interesting to know what they were thinking. The "Japanese Language Corner" will be held about three times during the semester. I hope next time will be a fun meeting again.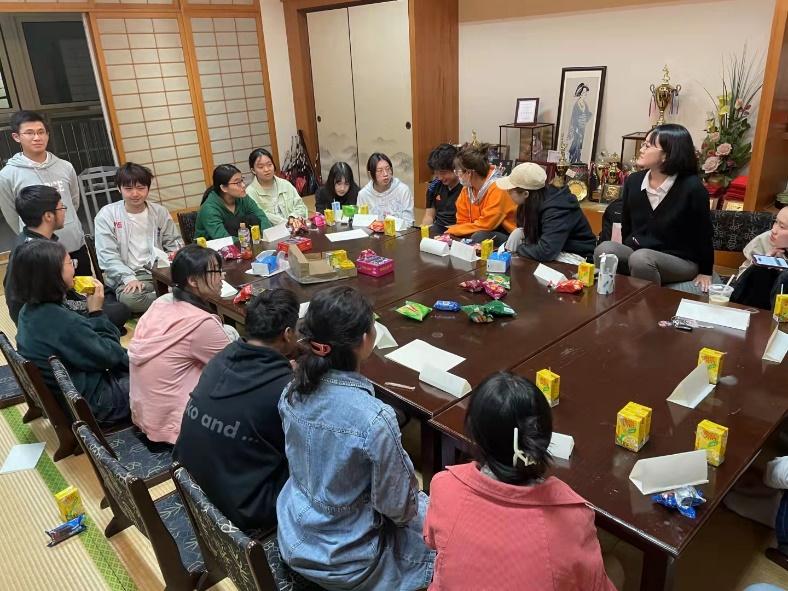 September Activity Report
September 2021
Global Japan Office Coordinator
TAKADA Mayu
A new school year has begun. Students who stayed in their hometown during the summer vacation have returned to the university dormitories and classes have resumed on campus. There are some students who have decided to study at University in Japan, but the university they are studying in is going to have online classes, so they are not going to go to Japan and are going to take online classes while they are in China. It is unfortunate that they will not be able to experience life in Japan, but I hope that they will learn a lot of things from the online classes.
Conversation class for new 2nd graders
Undergraduates studying Japanese at Shanghai International Studies University (SISU) learn the basics of the language from Chinese teachers in their first year, and in their second year, they begin conversation classes with Japanese instructors. In the first class, I asked, "Is this your first time talking to a Japanese person?" Many hands went up. Although there are many Japanese people living in China, especially in Shanghai, there are not so many opportunities for students to meet them on a daily basis. Even so, before the pandemic, there were some exchange events with Japanese people, but now people from outside the university are not allowed to enter the campus, so the opportunities to talk with Japanese people have become even fewer. Now that people from outside the university are not allowed to enter the campus, students have fewer and fewer opportunities to talk to Japanese people. The students who will have their first chance to talk to Japanese people in this class are full of tension and anticipation. Watching these students, I get fired up as well. I will do my best to live up to their expectations.
August Activity Report
August 2021
Global Japan Office Coordinator
TAKADA Mayu
In Chinese universities, the previous academic year ends at the beginning of July and the new academic year begins in September. During the summer vacation, students seemed to have spent their time meaningfully, going back to their home town or staying in the dormitory to participate in internships in Shanghai. In September, the National Sasakawa Cup Student Essay Contest will be held. In this program, students are required to submit a 5,000-word paper in Japanese on a topic of their own interest. Three students from Shanghai International Studies University will participate. Their papers were well researched on each topic, such as Japanese grammar and Japanese literature. During the summer vacation, I gave several individual lessons to the students, and I was impressed with their ability to write sentences with solid content, although there were some corrections in Japanese expressions.
The new term from September will also be held in face-to-face classes. I am looking forward to seeing the students again, who must have grown even more during this summer vacation.
July Activity Report
July 2021
Global Japan Office Coordinator
TAKADA Mayu
The semester has come to an end with the final exams in the first and second week of July. As travel restrictions continue to be imposed to prevent the spread of COVID-19, many students are unable to fulfill their dreams of studying abroad. Here at Shanghai International Studies University (SISU), we usually have many students who want to study abroad, but this year, most of them were unable to do so.
Under such circumstances, interacting with Japanese students of the same generation through the online Chinese-Japanese exchange program seems to have helped the students maintain their motivation. Also, the "Japanese Corner" event held in June attracted many students who wanted to speak Japanese, and I was impressed by the students' enthusiasm for learning Japanese.
It seems that many students go back to their hometown during the summer vacation, but during the vacation, I sometimes receive online consultations from students who will be fourth-year students in the fall about their graduation theses. I hope that they will make good use of their vacation, when they have a lot of free time. I will continue to support the students in their Japanese studies during this vacation so that they can get off to a good start next semester.
June Activity Report
June 2021
Global Japan Office Coordinator
TAKADA Mayu
There are many rainy days in June and it's been humid day after day. Final exams will start from the last week of June. Despite the humid heat, the students seem tense and focused on their studies.
The "Japanese Language Corner" activity, which had been suspended, has been revived this month.
Since it was before the exam, I expected no more than 10 students, but 20 showed up. I was surprised by the students' enthusiasm to speak Japanese.
First, we played a game in Japanese as an ice break, and then we divided into groups of four to five people and discussed in Japanese. The theme was "If you have a time machine, which do you want to go, the future or the past?" We were thinking about whether they could change the past or not, and there was a lot of discussion going on in every group.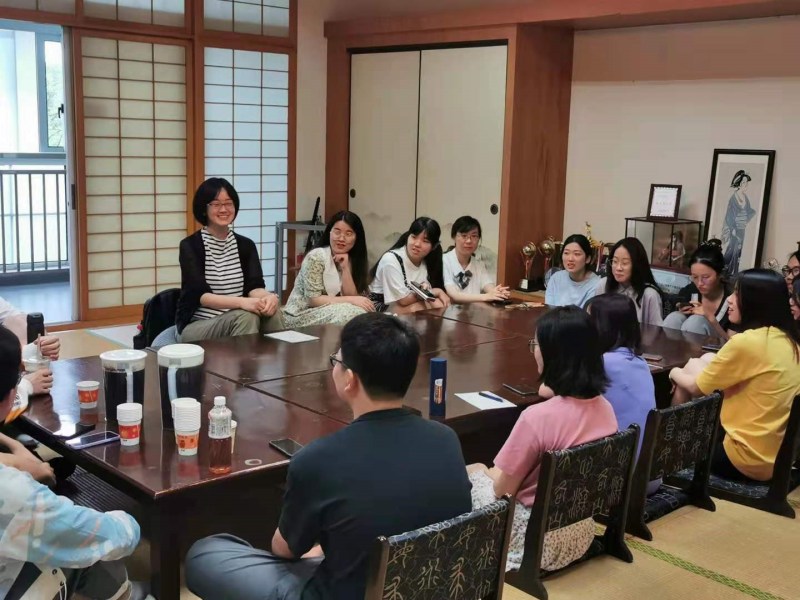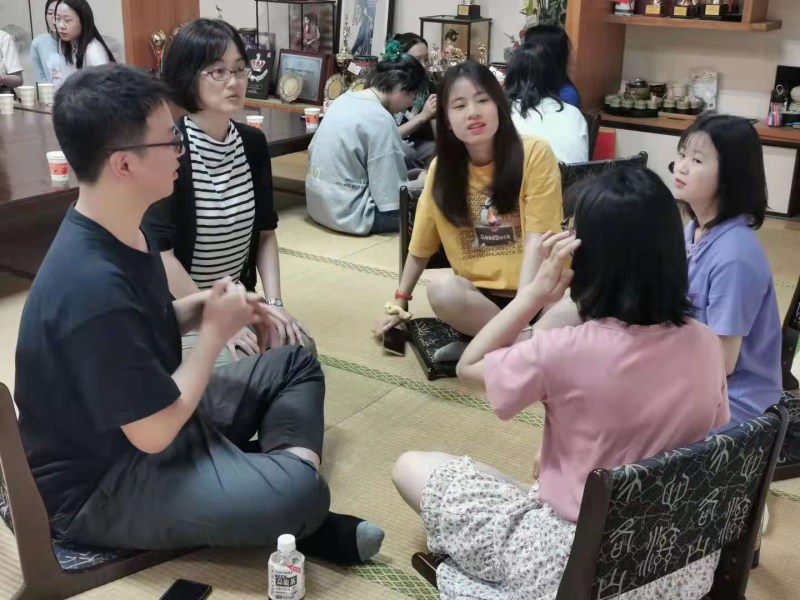 In June, there were many rainy days, but the weather was good during the week of the graduation ceremony. I saw graduates taking commemorative photos all over the campus. All the graduates looked happy, and I felt so happy too. There are people who will go on to graduate school and people who will start a new job, and I hope the future will be bright for all the students!
May Activity Report
May 2021
Global Japan Office Coordinator
TAKADA Mayu
Since the beginning of May, it has been humid and humid. Like Japan, rainy season has come to Shanghai. There are some sunny days, but I think it rained a lot this month.
On May 20th, we held an online exchange event with students from Tokyo University of Foreign Studies (TUFS). This year, we had a group exchange with students who were taking the class of "Japanese Speech Presentation" at Shanghai International Studies University (SISU) and the world liberal arts course "Teaching Japanese I: Japan in the World A" at TUFS. After the initial explanation, the students were divided into groups to introduce themselves and discussed in Japanese. The theme of the discussion was "Differences between China and Japan in university life and reasons for the differences". They seemed to be able to have lively discussions because they had thought about questions in advance. Here are some of the comments by the students after the completion of the program.
=Impressions of the online exchange meeting=
At the exchange meeting, I was able to talk a lot in Japanese. I felt that the best way to learn a language is to use it. Even though I have studied English for many years, I cannot speak it well. I think it's because I don't use it much. Students at TUFS also said so too. Although there are many differences in university life in Japan and China, I found that they have more in common than differences. I understand both students make a lot of effort to enter university, studying their own field and enjoying life at the same time.
(third year student at Shanghai International Studies University)
It is a great opportunity to interact with students from different countries. I enjoyed learning more about Japanese university life through the exchange. I was touched to connect with them via the Internet and hear their real voices in the midst of the severe situation of Covid-19. We talked about various aspects of university life, from course registration to the cafeteria and circle activities. We discussed various aspects of university life, such as course registration, cafeteria, and circle activities. There are some points I realized, "Oh, it's the same in Japan" and "Wow, that's how it is at TUFS." I was very happy to introduce my university, especially the biggest event - the 和風盛典 (a cultural festival by the undergraduate students of the Japan Institute of Culture & Economics). If I have a chance to go to Japan, I would like to visit TUFS.
(Second year student at Shanghai International Studies University)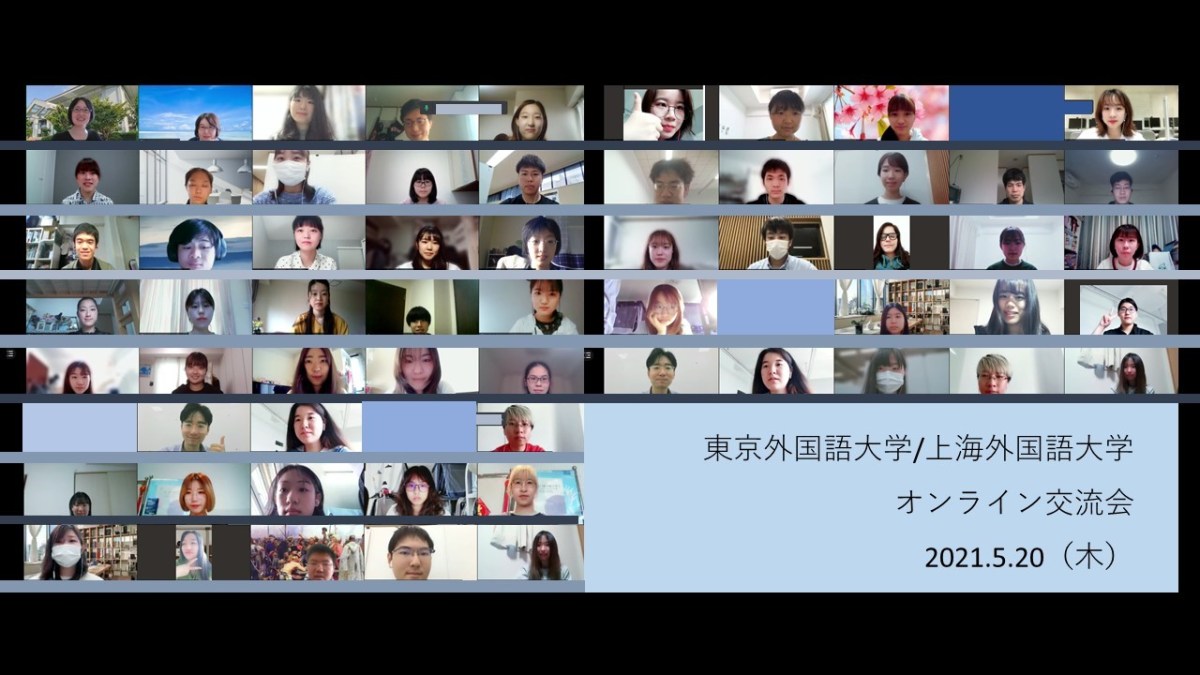 April Activity Report
April 2021
Global Japan Office Coordinator
TAKADA Mayu
In late April, the temperature in Shanghai rises sharply and it becomes hot like summer during the day. Cherry trees are also covered with green leaves, and it is an early summer outfit.
In April, an introductory course called "Multilingual + (TAGENGO PLUS)" was started to introduce Japanese language and culture. The class was attended by undergraduate students who do not specialize in the Japanese language. There were so many students that there were not enough chairs in the classroom, which showed how popular Japanese is.
On the first day, I studied "Japanese greeting". After introducing a variety of greetings in Japanese and briefly explaining in English what to say and when in Japanese, they practiced pronunciation. After the class was over, the students happily said, "Arigato Gozaimashita!" in greeting that they had just learned.
On May 20 next month, an online exchange event with students from Tokyo University of Foreign Studies is scheduled. It seems that the situation will continue to be difficult for us to communicate directly with each other, but we would like to continue our activities.