2019 Activity Report
March Activity Report
31 March 2020
Global Japan Office Coordinator
KUBO Masako
There were days when I didn't hear the words "new coronavirus". A month filled with news about the virus. If you look back now, everything was normal for the first week of March. On a warm day, I saw people enjoying the sun in the Plaza Mayor (Photo 1). In the second week, the states of Madrid and Basque were so affected by COVID-19 that schools were closed in those states. In the town, people were avoiding groups as much as possible and greeting each other without touching. There were many questions, such as whether a small number of classes would be enough, what would happen to the events and lectures that had been prepared, and whether it would be all right if we did not invite the general public to attend. However, there was no coherent policy by the state government, and the University of Salamanca took initiative in shutting down the university. This was followed by sudden warnings throughout Spain (Photos 2, 3, 4, 5). Going out was limited to obtaining food and visiting pharmacies, and banks, all of which were essential for living, and it was all to be done by one person.
At the university, classes and student guidance were moved online, and teachers were busy dealing with this. I wonder if some teachers felt that the amount of work they were required to do was too small because the slogan "it's not a vacation." was being used. The students seemed to struggle with the amount of assignments given out from each subject.
Most Japanese international students gave up studying abroad and returned to Japan, including those who received return requests from their universities when their dormitories was closed, but some of them stayed in Salamanca. Flights to Japan ended in the third week of March, so I can't leave now, but I have to wait patiently because the situation will surely settle. Some people have commented on how they didn't realize many things in their normal lives, as they have always had people around to help them.
In the last weekend of March, daylight savings time will be introduced, and even an hour's time difference will have an impact on this monotonous life. It's important to follow your sleep, diet and exercise routines, and indulge yourself in humor as well, to try to have a balanced life both physically and mentally as much as possible.
Planned events have been been suspended or canceled, but we are determined to hold Japan Week, which was planned mainly by students, when we can recover from this situation (picture). Also, some students who plan to study in Japan from the fall semester have a deadline for their documents to be submitted, and I think that preparing ahead of time also plays an important role in maintaining our normal lives.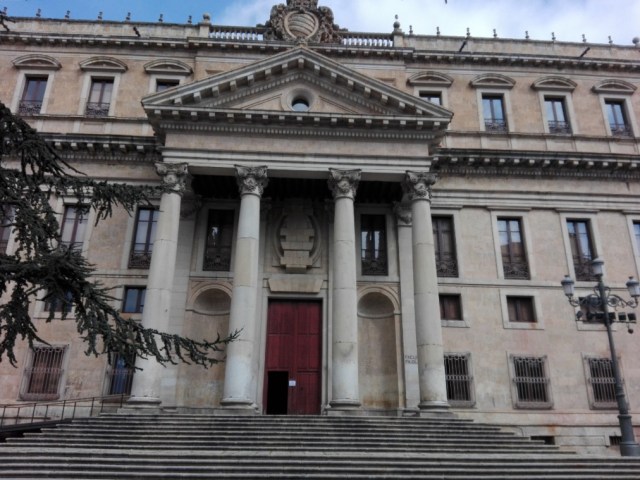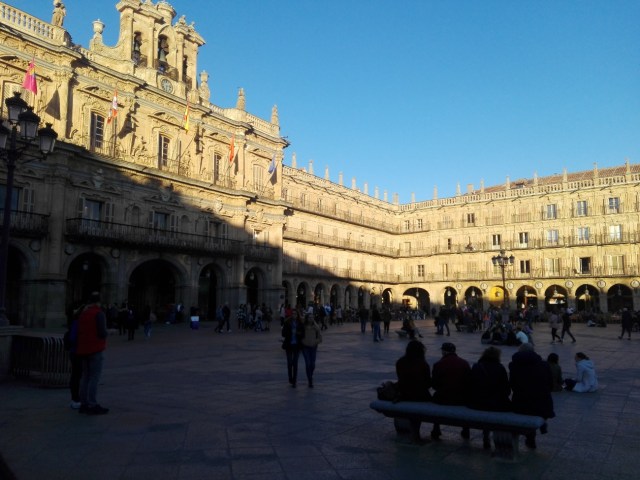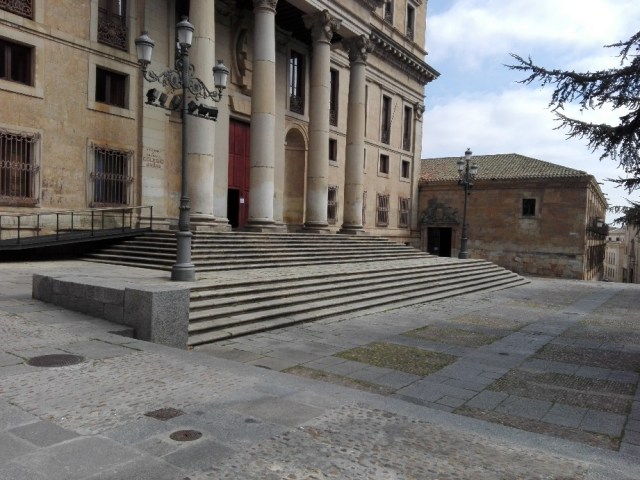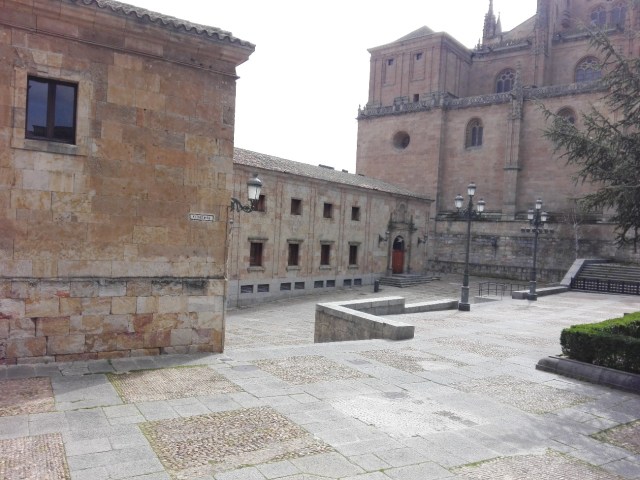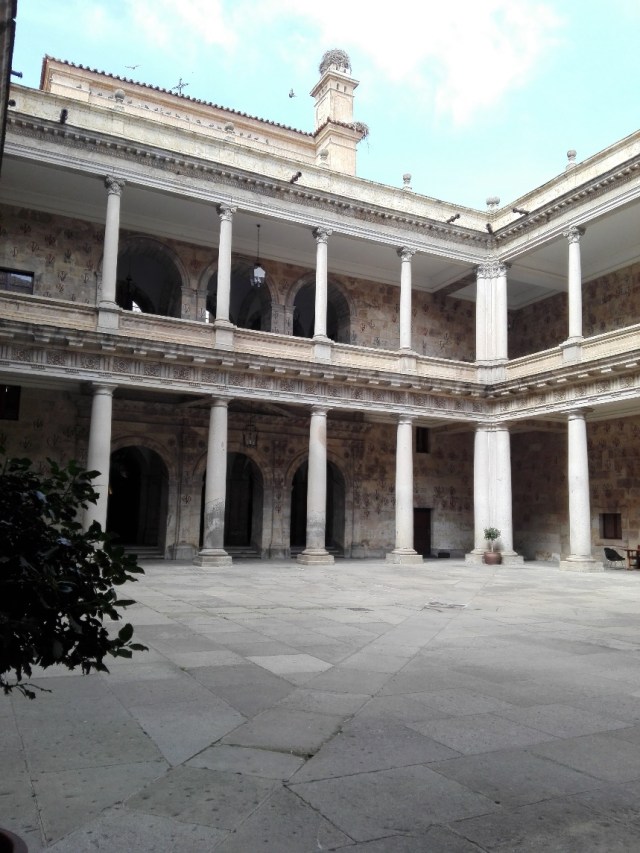 February Activity Report
5 March 2020
Global Japan Office Coordinator
KUBO Masako
The second semester has begun. This year's second semester exchange students joined us a week after the semester began, so I was worried that the hurdle might be a little higher than usual, but they seem to be getting used to things and their studies are going well.
On February 4, as in the first semester, the Literature Department held an orientation for international students. Compared to the first semester, the number of international students has decreased, but I am reminded of the fact that there are so many international students moving in and out every year. In Europe, a lot of importance is placed on the necessity of studying abroad, especially while attending university, which becomes clear in scenes like this. (Photo 1)
After one or two weeks of trialing classes, the registration/amendment period ended, but many students used this period to reconsider whether each subject was suitable for their own academic goals. Also, there were many people who rearranged their study plans with the amount of assignments for each subject in mind. There is no Spanish course for foreigners because they are studying in the literature department. It must be very difficult to be in the same classes as the Spanish students, but they seem to be working hard through their struggles. I'm sure that keeping up in strict classes will add to their confidence in the future. I hope they make use of all the opportunities on offer, such as free Spanish courses by master's students, exchange meetings with Japanese learners, and circles of Japanese exchange students.
After settling down a little after the second semester started, we held a seminar on the process of credit recognition for Japanese language learners who had already decided to study in Japan. It was my first time doing this, but the office staff also came, so I was able to solve a lot of questions. When it comes to studying abroad, there are many meetings, not just one. This makes me feel that the study abroad process is diversifying, because even when you say "study abroad", it refers not only to the increase in the number of foreign students, but also to the destination, the content of study, the characteristics of each university, and the learners. Around the same time, the Centro Cultural Hispano-Japones introduced the Japan Society for the Promotion of Science's project to invite foreign researchers, which was attended by a diverse audience. It seems they were determining various possibilities, and not just university study abroad programs and working holidays (Photo 2).
By the way, speaking of February, the almond blossoms have bloomed. (Photo 3). They look very much like cherry blossoms with their pretty white and pink flowers. They are also reminiscent of the beauty of the ephemeral nature of cherry blossoms, as they too fall just as soon as they bloom. Studying abroad may be just a fleeting moment from the perspective of a lifetime, but the experience and efforts you make can have a strong impression on you and influence you afterwards.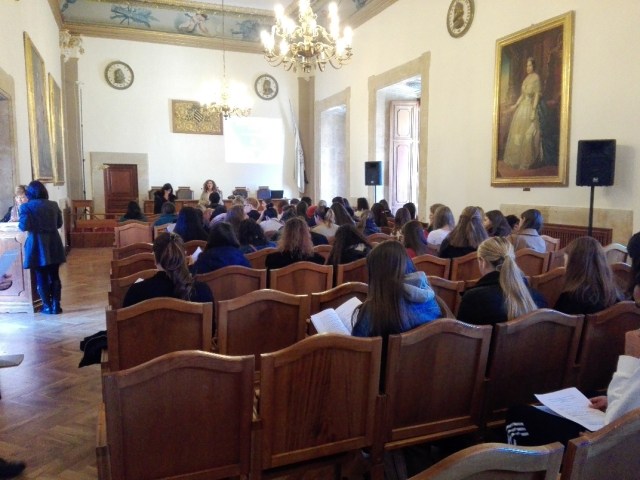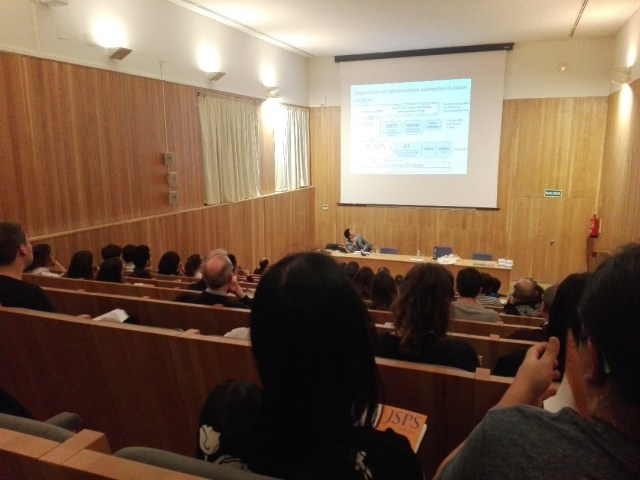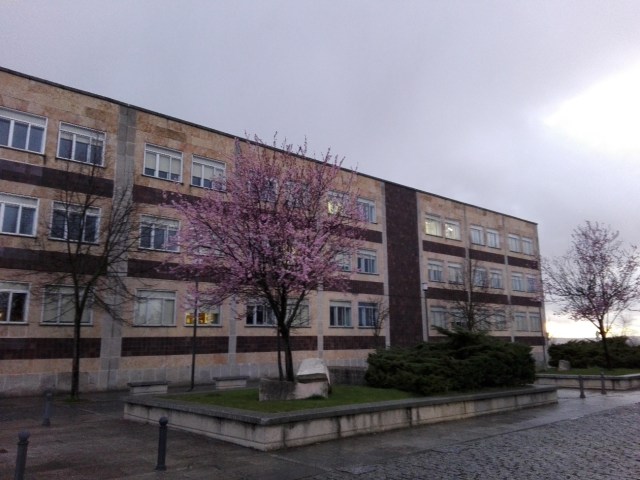 January Activity Report
31 January 2020
Global Japan Office Coordinator
KUBO Masako
Despite being in the same Iberian Peninsula, universities in Portugal start on January 2, but universities in Spain start after Three Kings' Day on January 6. Also, most universities have exams in January, so many students start preparing for exams after New Year's Day. Some universities open study rooms to the public, and some large university libraries are open 24 hours as a temporary measure during exams (Reference 1). Up until about 10 years ago, the library attached to the Faculty of Literature was open during university vacations, except on national holidays, so there was a place to concentrate on studying, but now it closes due to the reduction of labor costs. Because of this, students from various departments rush to the open libraries, making it difficult to secure a seat. A student from France said it is hard to hide their "wonder" towards the Spanish tradition of only studying intensively right before an examination. (Photo 1)
After the exams, the students, who looked quite cheerful, started preparing for what comes next. After obtaining their tickets to study in Japan, Japanese language students began to research the courses and subjects they would take at their host universities, and some of them were already able to apply for informal letters of accreditation. This credit recognition is related not only to the class contents but also to the number of class hours. The European credit system is very different from the Japanese system, and it's hard because it also differs from university to university. However, once the details are decided, students can set goals, and if they have goals, they can continue to study during the second semester and summer vacation, so they can make effective use of their time and see steady progress. Studying abroad is not easy, but their experiences with Japanese students in Salamanca has helped them a lot. The exchange meetings were suspended during the exam period, but when the second semester begins, I would like to discuss the schedule with the students and resume them.
Also, Japanese students may change their timetables after finishing the first semester. "I can do more", "I think this class is more interesting"…the changes are very positive.
As you know, the University of Salamanca has a lot of departments, and while they all follow the calendar of the university, each department can make some adjustments. Therefore, the literature department usually starts classes in February, even though the second semester starts on January 27 this year. International students coming in the second semester will not be in time for the first classes of the semester, as they are timing their arrival with the university calendar, but I would like to follow up with them. I hope they can manage their health and have meaningful study abroad lives despite the cold and severe winter! (Photo 2)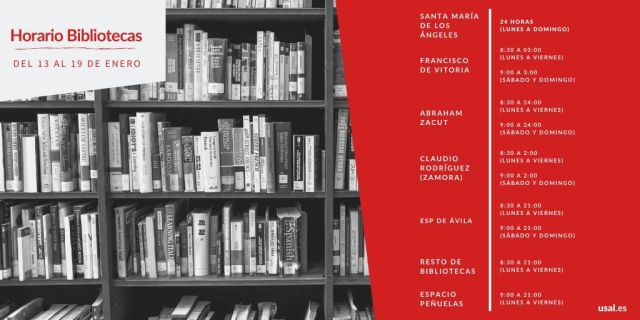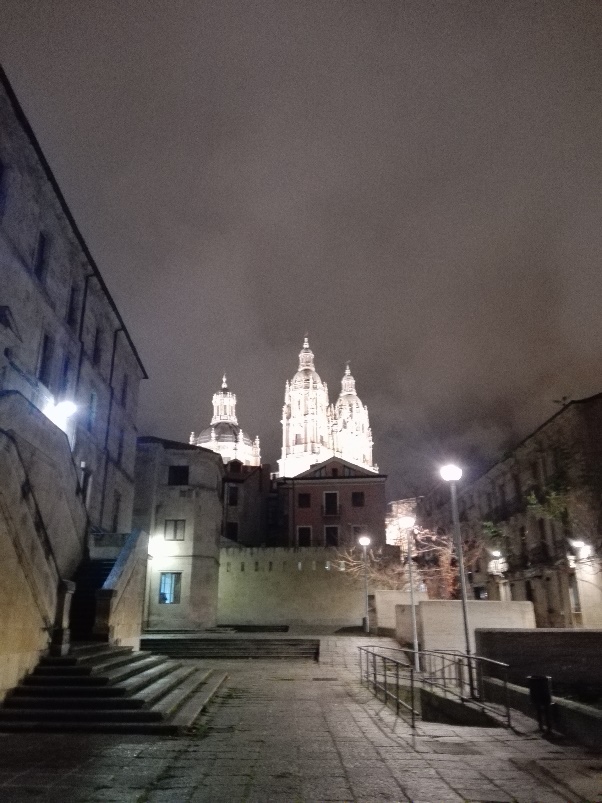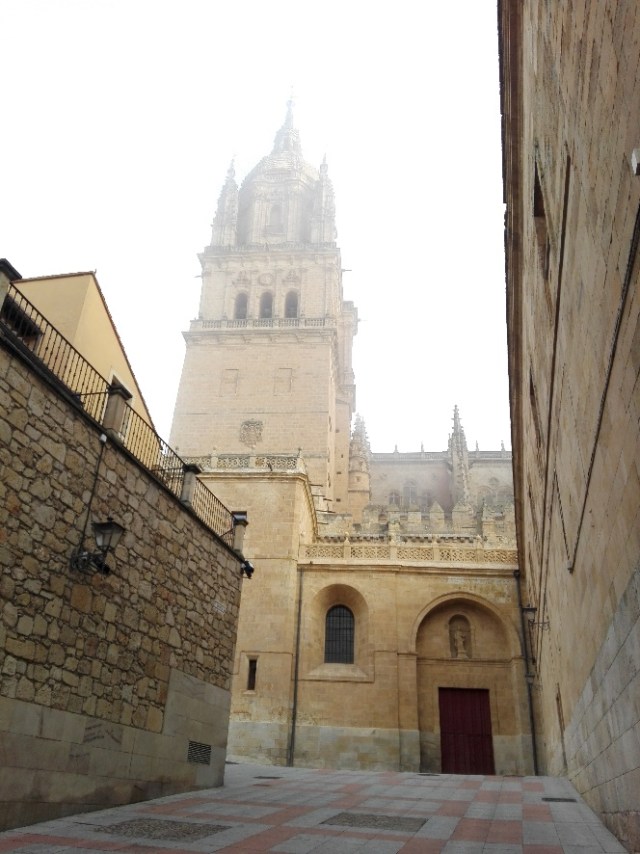 December Activity Report
December 2019
Global Japan Office Coordinator
KUBO Masako
Happy New Year.
I want to make this year full of various activities.
December is the month when the first semester ends. The official exams for the first semester are in January, but some subjects hold them in December to avoid being too busy with exams in January. For international students, while they are busy with submitting documents and studying for exams, there is also "Constitution Day" and the "Feast of the Immaculate Conception", which are consecutive holidays, and December is busy and lively with the Christmas atmosphere. When classes end, students go home all at once, and the campus streets have a mysterious atmosphere that is different from usual (Photo 1, 2, 3).
As the weather grows colder, I am worried about homesickness, as this month marks the third month since I came to Spain. Most of the student dormitories close, so many people took this chance to go on holiday, devote themselves to their studies, enjoy the Spanish Christmas atmosphere, or, unfortunately, injure themselves. In Spain, Christmas celebrations continue until January 6, when children receive presents on Epiphany/Three Kings' Day.
By the way, this month, the results of the study abroad were announced for students who applied to study in Japan. As many as 31 students from Japanese Studies (East Asian Studies Grade, Faculty of Philology) at the University of Salamanca, will be able to study abroad next year. There was an orientation about procedures for the students who were selected right away. Students who did and did not live up to expectations are confident and hopeful about their ticket to study in Japan. It seems that there were some people who went to the International Division Office immediately, as they were worried about how the documents, deadlines, levels and subjects of each university are different. The procedures for studying in Japan seem to be especially complicated, but it's important to stay calm and go steadily.
Preparations have also begun for Japan Week in March. The goal is to do "student-centered activities". For students this means not just relying on guests and speakers, but also coming up with their own ideas and putting them into practice. In particular, many freshmen and sophomores wanted to participate, and I had never thought of asking for suggestions from the students until now. While talking, the ideas started to gradually become reality. Even the students, who were modest at first, became more and more talkative, and it is very interesting to see how it all comes together. Of course, their interest in Japan will increase, but I also hope that each student will be able to challenge their own "possibilities".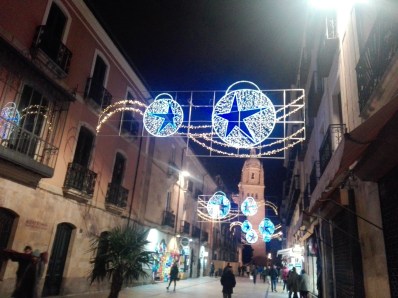 From the Main Square to the Cathedral. This year's Christmas lights are balls with stars.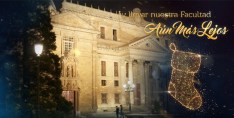 A screenshot from the Department of Literature's original Christmas message video from the main entrance of the department.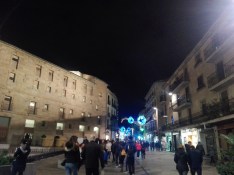 A street going to the Main Square from the Faculty of Philology. People rushing home.
November Activity Report
November 2019
Global Japan Office Coordinator
KUBO Masako
On November 1st, the national holiday known as "All Saints' Day" began, and Halloween, a foreign custom, is also popular here, so on the last day of October, university students took a break from their studies to wear costumes and enjoy themselves. It is custom to visit graves with one's family on November 1, as it is a day to mourn for the dead. However, I think for most Spaniards this day brings the feeling that autumn is intensifying and winter is drawing closer. You can also enjoy roasted chestnuts sold by the roadside during this season. The next round of seasonal events, Christmas light-ups, are also being prepared everywhere.
Speaking of November, the content of the classes has advanced considerably, and from their comments of "Spanish is fun", "Spanish is hard" and "people can finally understand me", I can see that the students have made a lot of progress. In the literature department, Spanish courses for foreigners are not offered, and they are treated the same as existing students, so it may be a very difficult plan for beginners in Spanish. There are students who take courses that are familiar to them, students who challenge themselves with literature and linguistics courses, and students who take courses from the perspective of Spanish language education. Each of them seems to be focusing on Spanish language study. I can also see that they are spending all their time studying in Spain meaningfully, taking trips to various places and making plans for their next trips, which is encouraging.
This month I had the opportunity to visit "Marta de Tormes", a suburban town of Salamanca. In this small town, a Japanese Culture Week is held in spring, and the Spanish-Japanese Cultural Center sponsors the event. This time, a course on dry-cured ham was held for Japanese foreign students. This event was held in the large hall of the town's public cooking school, in which students received a lesson directly from a dry-cured ham cutter (Figure 1 -1). They spoke in simple Spanish, so everyone seemed to understand it well. They started by explaining the types of pork used for dry-cured ham and how to raise them, then explained the different categories of raw ham products, and the secrets of umami, using illustrations. I have actually learnt about dry-cured ham several times, but they even explained some things that I didn't know. After the explanation, we immediately moved on to cutting, during which it was said that cutting dry-cured ham is very difficult and that it takes many years for craftsmen to be able to cut it well (Figure 1 -2). All the participants tried their hand at cutting, and experienced the importance of cutting thinly and beautifully, and how this makes the ham even more beautiful (Figure 1 -3). The 20 dishes of dry-cured ham prepared by the students were then tasted by all the participants, and enjoyed together with conversation and wine. From this event I think there are many people who now want to participate in the Japanese cultural event next spring. It is exciting to see this expansion of Japanese culture outside of the city of Salamanca. Also, although most events only involve university students, this event was a very valuable opportunity for the Japanese students to communicate with the general public in Spanish.
Finally, a concert by Japanese pianist Ms. Nishizawa Azumi was held at the "Juan del Enzina", a hall on the campus of the Faculty of Letters. The music was composed by Japanese and Spanish composers, and the pianist herself actually gave a performance with explanations in Spanish, which she learnt while studying in Spain. I think this was encouraging for the international students (Figures 2 -1 and 2 -2).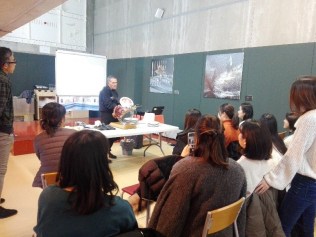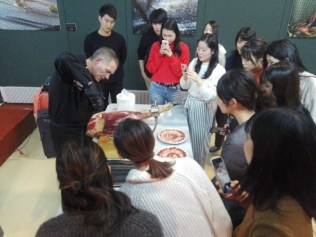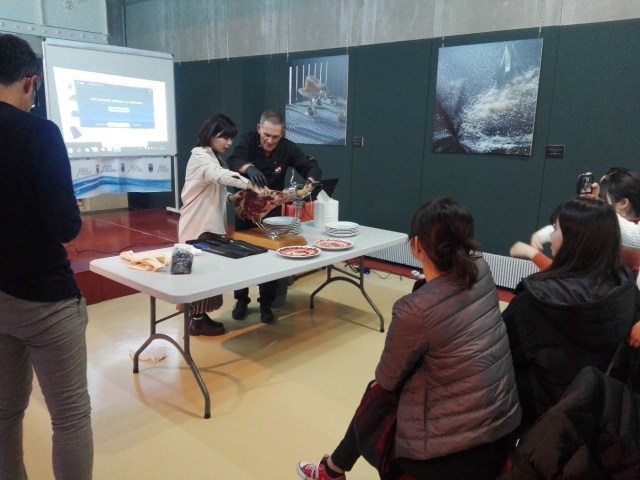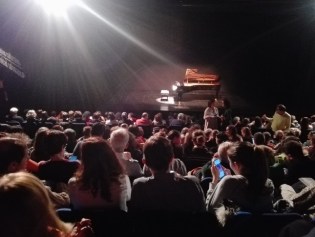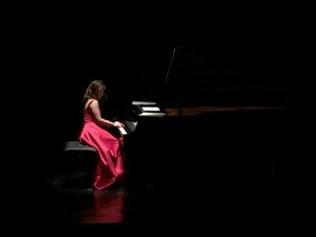 October Activity Report
October 2019
Global Japan Office Coordinator
KUBO Masako
In October, the strong summer sunlight changes, and the temperature difference between morning and night widens, making people want to walk in the sun and avoid the cold shade. It also has been raining a lot. Some students are absent from class because of colds. It is an unfamiliar climate for foreign students, so it is important for them to take care of their physical condition.
This month, as in the previous month, there were consultations and procedures regarding registration for international students, but the final arrangements were completed, and almost all students were finally able to successfully complete their registration. After completing course registration, many students begin to feel a sense of rhythm in their classes and think about studying abroad as their next goal.
So, I held an information session on applying to study abroad. The section manager of the International Affairs Division, the person in charge of the dispatch to Japan, and the staff at the Language Service Center, who are always helping me with my language certificates, also came to take notes (See Figure 1 -1). After the session, I held consultation meetings through which I could consult with students, and I could see how hard they were trying to gather information from Japanese students studying here and their upperclassmen who were studying in Japan (see Figure 1 -2).
In addition, the Faculty of Letters holds a "Modern Language Day" where students can learn about languages and cultures. This year, students were able to take initiative and manage it all day. The Japanese booth was very popular, as it had many attractions such as origami, writing names in Japanese, Japanese games, etc. (see Figure 2). The people who shared this experience developed a sense of camaraderie that I think will naturally improve the atmosphere of the whole class or grade. Because of this, even if students get discouraged by something, or think about giving up Japanese, I think they can take a strong step forward. Not all of the participants are shown in the group photo (Figure 3), but I think it was a positive day for all as there were so many Japanese students participating.
Lastly, this month I was able to start a meeting with Japanese exchange students to give Japanese language learners the opportunity to practice what they have learned in class. At first, things didn't go well. Either the class schedules didn't match up, or there were no classrooms, but I made a reservation for the class three times a week and it has just gotten on track. One session lasts less than 50 minutes, but there have been many discoveries, such as things native speakers don't notice when talking with other native speakers, and it seems that the students enjoy themselves so much fun that the time flies. The Japanese language learners didn't forget to pay attention and also use Spanish, so perhaps they will further their understandings of Spanish too. I am looking forward to see how they all develop together in the future (Fig. 4).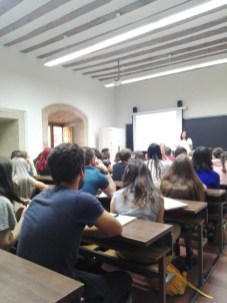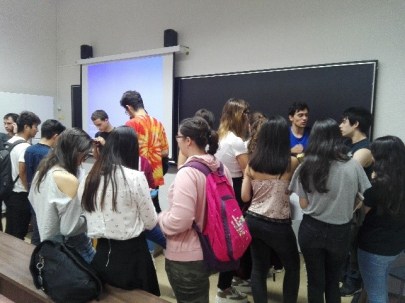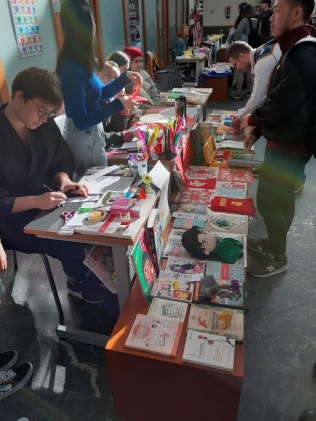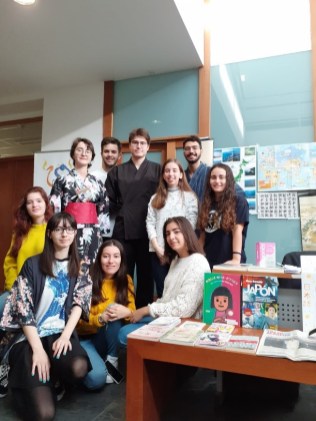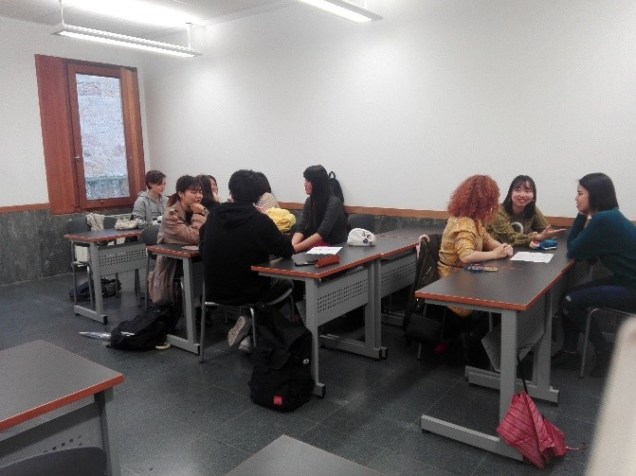 September Activity Report
September 2019
Global Japan Office Coordinator
KUBO Masako
In September, the summer vacation, which seemed both long and short, ended and the new school term began. The freshmen have a very fresh atmosphere and are full of motivation. For some students, tests were over by early June, so they spent about two and a half months on vacation. Those who are going on or coming back from a study abroad program have been crossing paths, with each one of them excited to reunite with their classmates, and full of enthusiasm for studying with various goals in mind.
At the University of Salamanca, where many famous scholars are born, there are many students who come to study the venerable Spanish language. There are many departments that accept foreign students, such as the Faculty of Social Studies, the Faculty of Law, the Faculty of Philosophy, the Faculty of Geography and History, and the Faculty of Interpretation and Translation. Among them, the Faculty of Literature is the biggest recipient.
At noon on September 11, the Literature Department held an orientation in the department's large auditorium to welcome international students who had just arrived in Salamanca (see figures 1 -1 and 1 -2). Coordinators for each language also attended, and it was a great meeting. At the orientation, students were told about the class registration process and things to look out for during day-to-day life in Salamanca, which is said to be a student town. The first week or two is a period during which students participate in classes and decide which ones are right for them and which ones they should take. Students can take classes not only in the literature department, but also in other departments, so they have to plan by consulting the schedules of each class among many interesting subjects. Students then confirm their timetables with the registration coordinator, and after that make an advance reservation in order to register. This used to result in a long line in front of the office, but the procedure has improved a lot.
In the College of Literature, there are no classes in Spanish as a second language like in the Spanish course for foreigners, but there are classes in Spanish itself, such as Spanish education, Spanish history, and Spanish phonology. As part of a voluntary research project for students in master's programs, a space called "Spanish class for foreigners (Proyecto Puntal)" was established (See Figure 2). It is compatible with various levels, and a certificate is issued at the end of the course. The course is also free, which is a perfect opportunity.
It's not just classes that have started. Various cultural projects and special lectures have also caught my eye. A series of lectures on Japanese history were given at the Nissei Cultural Center, where researchers from Japan and other parts of Spain visited and listened to research presentations. The center's auditorium was filled to capacity, showing the deep interest in Japan (see Figure 3).