秋学期中にも日本語を学ぶ授業を取っていたアンリですが、春学期中には本学大学院Peace and Conflict Studiesコースと大学の世界展開力強化事業(アフリカ)が行った、より実践的な日本語を教える留学生向け日本語集中授業「サバイバル日本語」教室の中級コースでさらに日本語能力を高めました。インターネットの翻訳ツールが進化している現在では、片言の日本語しか話せなくても暮らしていくことはできますが、元来、人と交わることが好きな性格のアンリですので、積極的に日本語を学ぼうとしてくれる姿勢はすばらしいです。
以下、アンリのエッセイになります。
The name sounds funny. But I honestly loved the content. We the participants had identified what we needed. We voluntarily suggested to the lecturer what she should prepare for us. Shout out to our lecturer, she was flexible and was preparing all sessions only one night before teaching us. Having such a lecturer is motivation because I felt that she is ready to respond and meet my needs.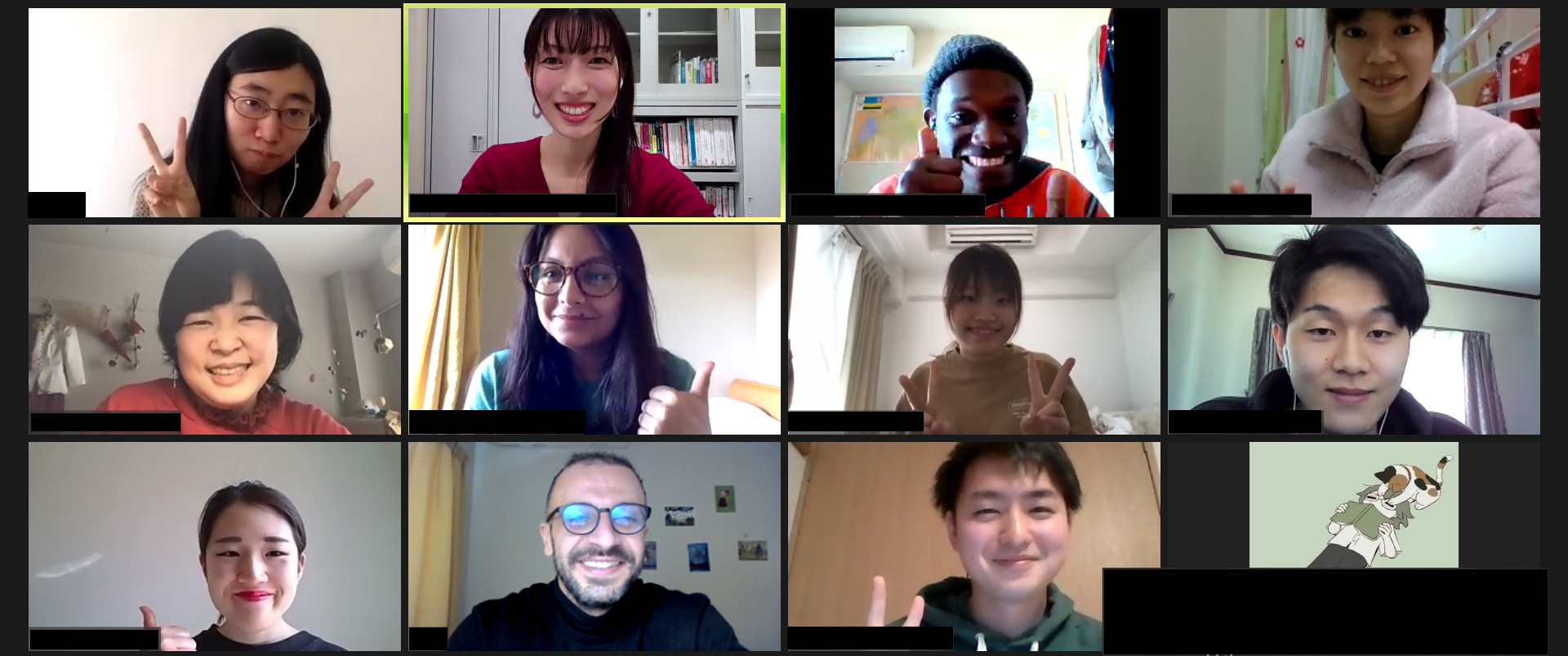 We learn Japanese about the following topics: How to ask for help in case of emergencies, words and vocabularies to use in case you go to the hospital, how to look for an apartment and verbs to use while shopping. All these topics were proposed from our personal experiences. I myself suggested that we can learn words to use while shopping. I once did shop for things that go beyond the cash I had. I struggled to tell the cashier that I wanted to reduce the food and I was fortunate because the internet helped that time. I could rely on google translate. But using google is not fun, that is why learning Japanese is very important for a foreign student. The Japanese language is very polite and that is why I am jealous of Japanese speakers.
The first week lasted for five days. For the first week, we learn about the above topics. I was part of the intermediate class because I had some basic Japanese. I was happy to meet various students. It was astonishing that most of them were my senior doing master's program (PCSs) as well as PhD program. I felt motivated to learn.
We afterwards had three additional days. We were happy to have native Japanese students that volunteered to help us to learn and practice what we had leant. Shout out to all because they made me feel like I am not on zoom. We had open discussions through breakout sessions. Although it was sometimes challenging during a discussion, I did not feel worried because Nihongo is a new language and I had the support of a lecturer and participants who were eager to listen to me.
Most importantly during these three days, I have made friends from Japan, Syria, Tunisia, Uganda, Haiti, Nepal. Thank you to everyone that had joined the virtual survival Japanese class. You are nice students and friends. I cannot speak Japanese fully, but now I can travel alone very far from Tokyo because I am confident that if I get lost, I will have to ask for directions in Japanese.