Global Linkage Initiative Program (GLIP)
Tokyo University of Foreign Studies (TUFS) offers the Global Linkage Initiative Program (GLIP) with the aim of training future academic and business professionals to become active participants in the global society.
GLIP is composed of two groups of subjects: GLIP English Courses and Lectures in English. While GLIP English Courses aim to improve students' English language skills, Lectures in English invite students to use English to learn about topics in various academic fields. These are elective courses whose credits can be used to fulfill the requirements for graduation.
In addition, GLIP is designed to prepare students for study at universities abroad and to maintain their English proficiency after studying abroad.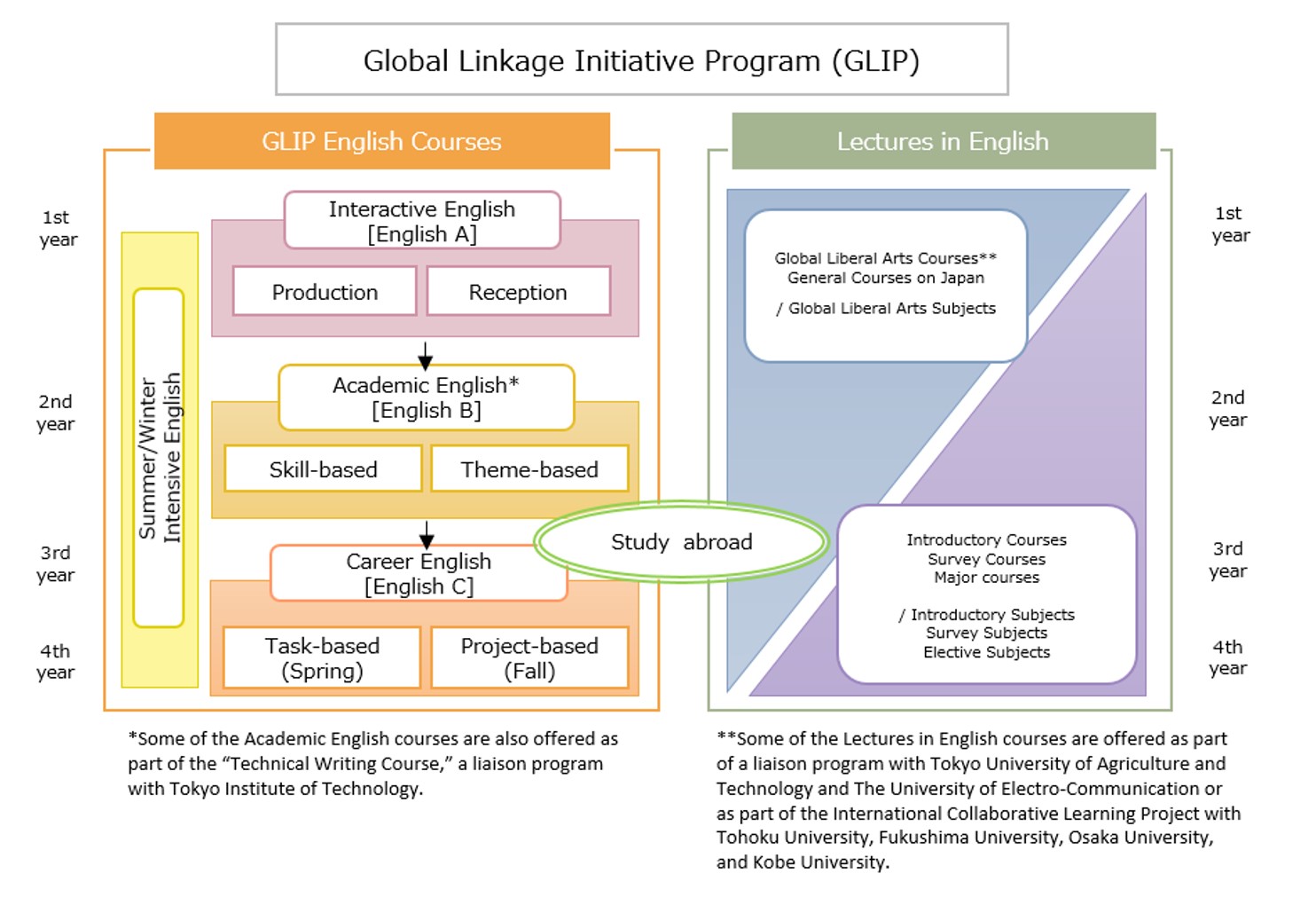 GLIP English Courses
GLIP English Courses are designed to improve students' practical ability in English. They are composed of Interactive English, Academic English, and Career English, which enable students to study English according to their levels and needs. They prepare students for studying abroad, enrolling in graduate school, or using English in business contexts.
In addition, integrated language skills classes are offered as Summer/Winter Intensive English (SIE/WIE) courses during the summer/winter quarter.
Interactive English


Small classes based on students' proficiency
"Production" classes to develop students' speaking and writing skills and "Reception" classes to foster analytical and critical reading/listening skills

Academic English


Various elective courses to meet students' goals and interests
"Skill-based" classes to improve language skills for academic purposes and "Theme-based" classes to pave the way for students to take Lectures in English

Career English


Develops practical English skills for international business communication
"Task-based" classes to deal with specific business-related tasks and "Project-based" classes to facilitate English skills through working on projects

Intensive English


Intensive English learning over three weeks
Classes based on students' proficiency
In addition to these regular courses, TUFS English Learning Center (ELC) supports and facilitates students' autonomous English learning.
Lectures in English
In Lectures in English, students learn various academic topics in English.
Lectures in English are offered as "Liberal Arts Courses/Global Liberal Arts Subjects", "Introductory Courses/Introductory Subjects", "Survey Courses/Survey Subjects", and "Major Courses/Elective Subjects" depending on the content difficulty. Lectures in English are offered in various topics which corresponds to the fields of study taught in School of Language and Culture, School of International and Area Studies, and School of Japan Studies.
For a complete list of GLIP subjects in English offered in AY 2022, please refer to the following link.