About us
OFIAS was reorganized as International Management Office in 2015. Please visit TUFS website for our latest information.
On September 1, 2005, Tokyo University of Foreign Studies (TUFS) opened the Office for International Academic Strategy (OFIAS-TUFS).
OFIAS is responsible for developing TUFS' international strategies. In that context, it undertakes the operations of overseas bases, liaisons with overseas organizations, and the establishment of human network on a global scale. OFIAS also works to accommodate researchers from overseas to promote exchanges of scholars as well as students, and contributes to the creation of a multilingual and multicultural campus.
Since OFIAS was adopted in 2005 as a model project of the Ministry of Education, Culture, Sports, Science and Technology (MEXT) to promote the globalization of Japanese universities, it has been involved in support of various international activities conducted by TUFS, and in development of human resources who can contribute to the global academic field.
2006 International Academic Strategy (PDF, 1.8MB)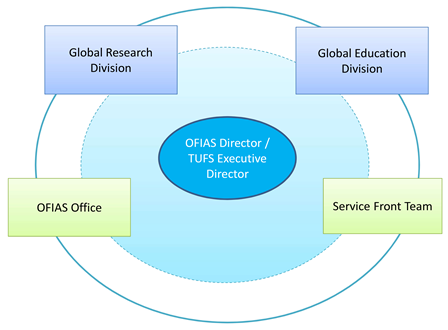 Office for International Academic Strategy (OFIAS) Brochure (PDF 4.69MB)
OFIAS Newsletter
No.18 Japanese & English (Mar 2015, PDF 1.1MB)
No.17 Japanese & English (Mar 2014, PDF 654.2KB)
No.16 Japanese & English (Mar 2013, PDF 947.6KB)
No.15 Japanese & English
(Mar 2012, PDF 3.2MB)
No.14 Japanese & English
(Feb 2011, PDF 1.7MB)
No.13 Japanese & English
(Jan 2010, PDF 4.67MB)
No.12 Japanese & English
(Dec 2009, PDF 1.6MB)
No.11 Japanese & English
(Mar 2009, PDF 391KB)
No.10 Japanese & English
(Jan 2009, PDF 489KB)
No.9 Japanese & English
(Aug 2008, PDF 1.83MB)
No.8 Japanese & English

(Mar 2008, PDF 2.49MB)


No.7 Japanese / English

(Nov 2007, PDF 770KB)


No.6 Japanese & English

(Jul 2007, PDF 453KB)


No.5 Japanese & English

(Mar 2007, PDF 4370KB)



No.4 Japanese & English

(Dec 2006, PDF 4250KB)


No.3 Japanese & English

(Oct 2006, PDF 816KB)
No.2 Japanese & English (Mar 2006)


No.1 Japanese
(Jan 2006, PDF 5824KB)



No.1 English

(Jan 2006, PDF 4934KB)