TUFS Global Community
Organization Structure of the Global Community
■ TUFS Associates : include TUFS Alumni, former international students who studied at TUFS, and academics who have affiliated with TUFS as foreign researcher/teaching staff
■ TUFS Club and TUFS Club Coordinator : play a central role in TUFS international educational and research activities in collaboration with OFIAS
■ TUFS Branch and TUFS Ambassador : formed and assigned as Liaison Office with the approval of TUFS Club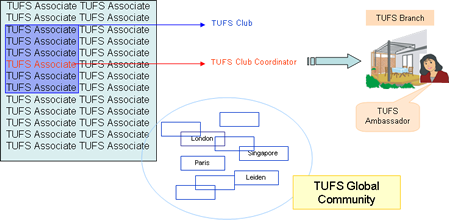 International Strategy "Promotion of International Activities through the TUFS Global Community"
1.Method to establish and expand the TUFS Global Community:
◆ Target Locations: London (where the TUFS London Office is located)
-> Locations of CAAS Member Institutions
-> other cities
※ London project will be a model for future expansions.
◆ Major Target People: TUFS Alumni who have been living abroad for many years
and former international students, visiting professors and foreign
instructors who have affiliated with TUFS
※ That is to fill in the gaps where conventional TUFS Alumni Associations do not cover
◆ Data Targets: The latest whereabouts of the above target people.
※ Collect data before international students return to their home countries
2.Membership and Core Organization:
  International students, visiting professors and foreign instructors shall gain
the status of "TUFS Associate" automatically when they leave TUFS.
"TUFS Clubs" shall be set up as core organizations of TUFS Associates.
TUFS Clubs in the collaboration with OFIAS shall contribute to the promotion of international activities of TUFS.
3.Merit of being a TUFS Associate:
(1) Free OFIAS Newsletter
(2) contribute items to OFIAS Newsletter
(3) invitation to CAAS Symposia
(4) Information exchange with other TUFS Associates
(5) invitation to meetings held in target cities with TUFS academic/administrative staff
4.Significance to TUFS:
(1) Keeping in touch with the formerly affiliated people represented by the TUFS Associates itself is a great importance for TUFS.
(2) Opinions and requests from the TUFS Associates with international perspectives are valuable, and can be utilized in educational and research activities of TUFS.
Purpose of the TUFS Club:
The purpose of TUFS club is to expand TUFS' global community through incorporating various types of international students, Japanese graduates and researchers who had experience at TUFS with the hope that continuous communications between TUFS and its alumni contribute to TUFS and academic development in general.