本学とプロテスタント人文・社会科学大学(PIASS)は学術交流協定を結んでおり、本学の日本人学生も毎年、PIASSでお世話になっています。2021年度も日本人学生のReiさんが9月に渡航し現在もPIASSで勉学に励んでいます。Themboは渡航前から彼と懇意にしており、年末には母国ウガンダへ連れていったそうです。その際の旅行記を書いてくれました。最後には、Reiさんが公開しているウガンダ旅行記のYouTube動画もありますので、ぜひご覧ください。
以下、原文になります。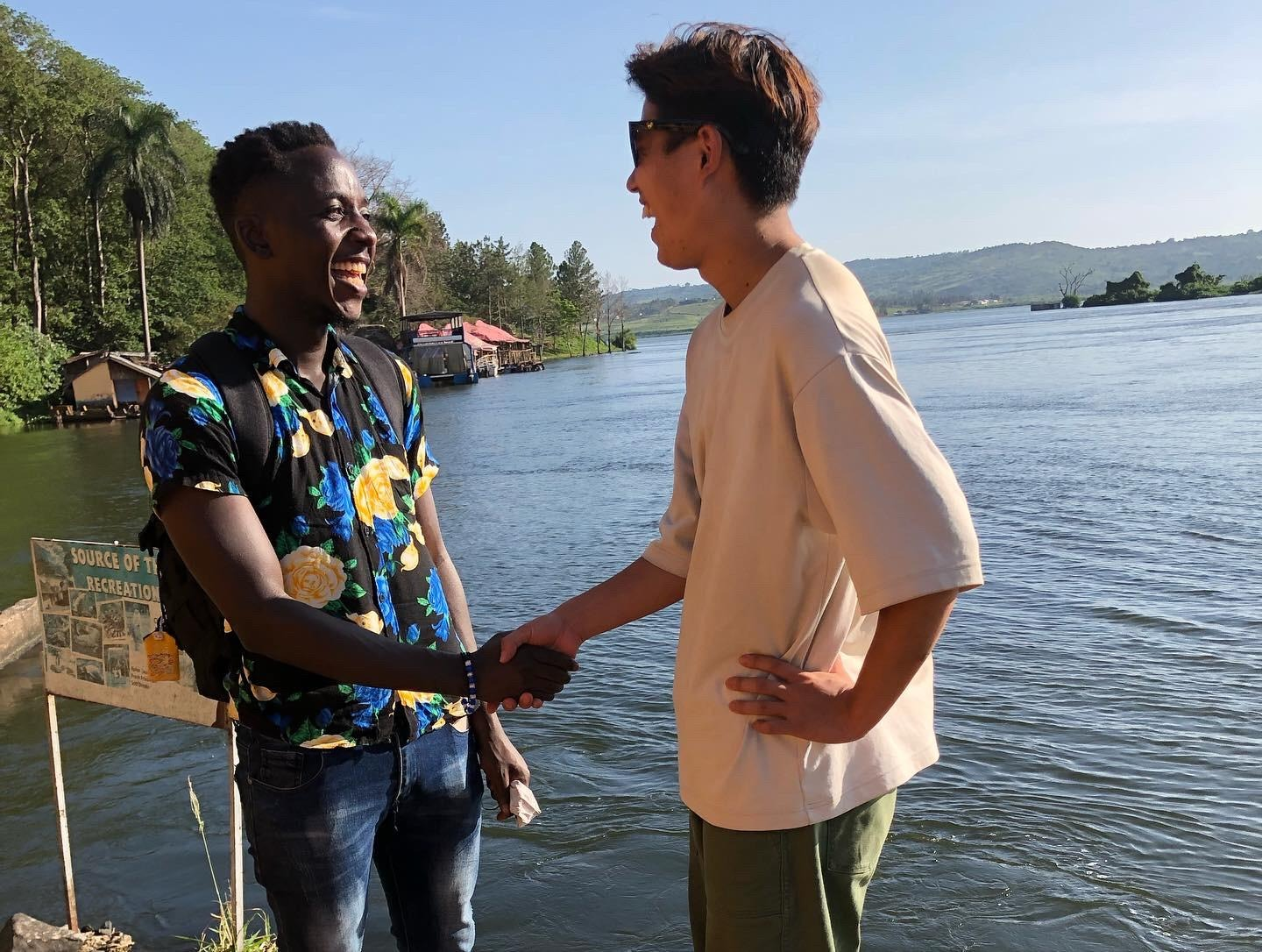 While in Japan at TUFS as an exchange student, I meet Rei Fukushima in the group which was organizing the Rwanda Online Study Tour headed by Chihiro Komashiro sensei. He was very interested in African affairs and by then, he was planning to go to my home university (PIASS) as an exchange student for one year. While at TUFS, he visited me in the International Residence dorm and our friendship began to flourish. After returning to Rwanda at the end of my exchange program from TUFS, Rei san also came to my home university for one year as an exchange student. He found when I had established a personal program that aims at supporting the Japanese students at my home university to cope with African cultures such as languages, social setting, where to do shopping, and provision of other basic information necessary for their stay in Rwanda and Africa at large.
So, when Rei san arrived at my home university, I was excited and ready to support or help him in whatever situation, if he wished to get my help. His coming to Rwanda made our friendship grow even stronger as we were together most of our time helping and learning from each other.
Rei san told me how he was interested in travelling within Africa especially countries neighbouring Rwanda where we were studying from. Thus we planned to visit my home country and in particular my family in Uganda for the Christmas holidays. We booked a flight on December 18, 2021, but due to the delay in receiving our PCR covid-19 test results, we missed our flight and finally flew on December 20, 2021. we left Kigali International Airport at 10:30 am and landed at the Entebbe International Airport at around 11:20 am. My brother doctor Joshua who stays near Kampala, the capital city of Uganda, had sent us a taxi to collect us from the airport up to his place where we stayed for three complete days.
While in Kampala, we visited places following Rei san's interest. We firstly visited Lake Victoria, one of the greatest lakes in Africa. At Lake Victoria, we visited the white sand beach located near the Entebbe International Airport, where we relaxed and enjoyed some fresh air and some Ugandan drinks.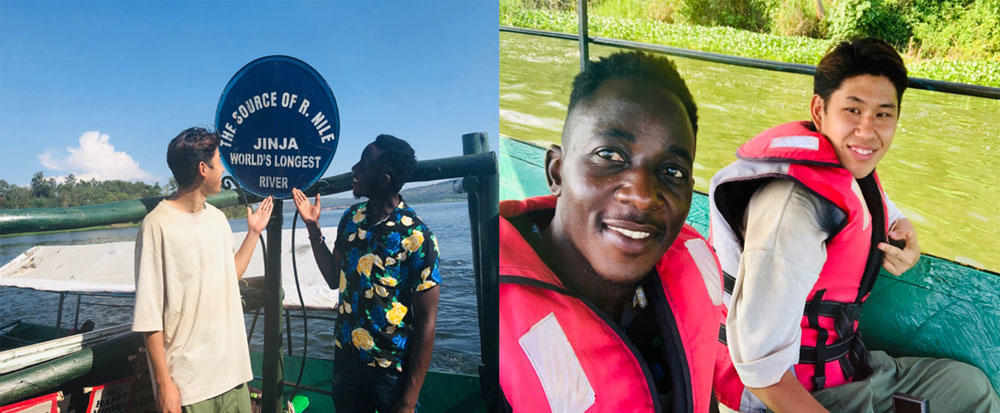 The following day, we visited the source of River Nile, the world's longest river located in Jinja. At the source of the Nile, we had a one-hour boat cruise on which we could have a clear view of the source and the centre where the source separates and at the same time joins Lake Victoria. As we left-back, we once again passed through the famous Mabira thick forest, Uganda's largest national forest, and later had some sightseeing place in Kampala city which completely looked too busy as people were flocking in and out of the city due to Christmas moods. The whole city was chaotic and we didn't like to be in Kampala anymore. Anyway, Kampala is always like that in the Christmas season.
OnDecember 23, 2021, we planned to leave Kampala and leave for Kasese, my home district, and the land of tourist attraction sites. Unfortunately or fortunate for us, we managed to get the bus travelling at night and we reached Kasese in the morning. At that point, my brother doctor Dannis had come in his car to pick us up from the bus stop. While in Kasese, we stayed at his home for 5 days. His family was very excited to welcome us and his children to become close friends with Rei san. They could sleep together and always play together.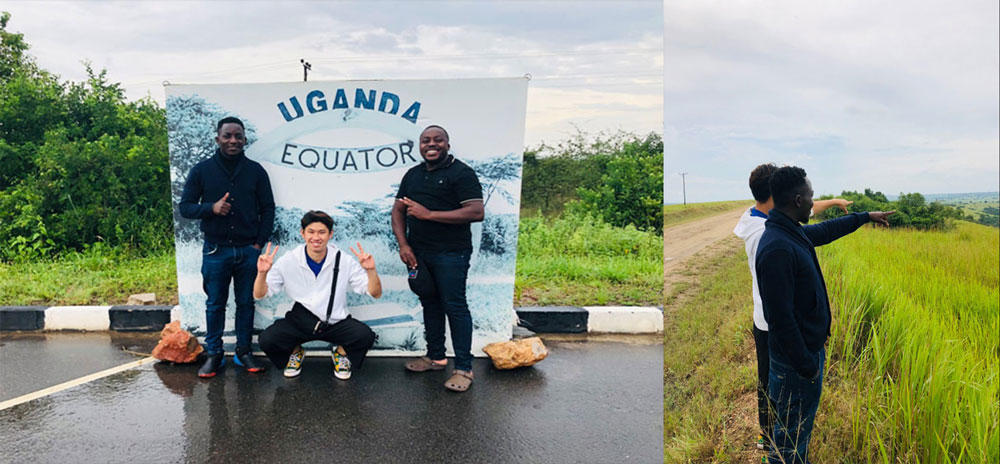 On the following day, with the support of my brother as our driver, we visited the famous equator line which divides the earth into the northern and the southern hemisphere. Thereafter, we continued to the 32-kilometre natural Kazinga Channel that links the famous Lake Edwards and Lake George. On our way back, we cruised through the famous Queen Elizabeth National Park with the purpose of seeing wild animals. Even though it had rained leading to the hiding of wild animals, we could see a family of hippopotamus, buffalos, wild pigs, crocodiles, elephants, deers, flamingoes and other birds. I could see Rei san excited to see wild animals in reality.
In addition to the above, we drove to the Katwa fishing site located on Lake Edward where my family have fishing, cotton farming and salt mining projects. There, we visited the famous Lake Katwe salt mining where I grew up mining salt, even though it had rained and the place had become muddy, we enjoyed its view and later left and visited the nearby temporary lake Munyanyange, where we visited a famous flamingo bird sport. Later we drove to town and bought some snacks, drinks and fried fish as we drove back home. It was a very nice and busy day...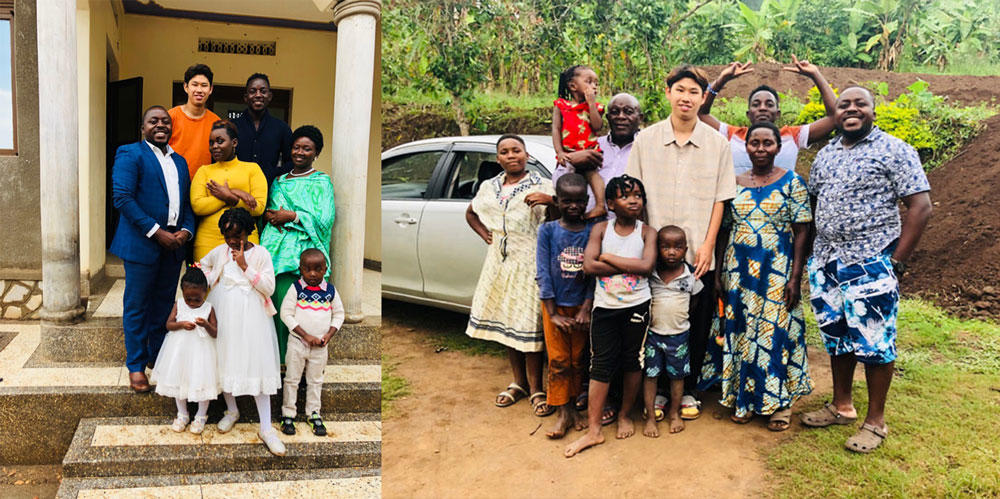 The following day was Christmas and we celebrated it with my brother's family. It was a beautiful day, we ate lunch and after went out sightseeing at the Kilembe mining site and Kilembe Hospital which had recently been swept away by the floods and landslides. We later went to a resort where we had more fun regardless of the heavy rain. After, we took Rei san to witness the nightlife in Uganda, so we went to the famous Mariana club.
The following day on the 26th, we decided to take Rei san to my village in Kisinga where my parents live. My parents had been waiting to host us since I had also taken a long time without being home. On arriving at the village, they welcomed us and we had several discussions. My mother was very excited and thought we could sleep, but Rei san had changed his flight date back to Rwanda from 30th to 28th in order to celebrate the new year with other Japanese families. we had to leave on the same day to allow him to arrange and relax before his return journey.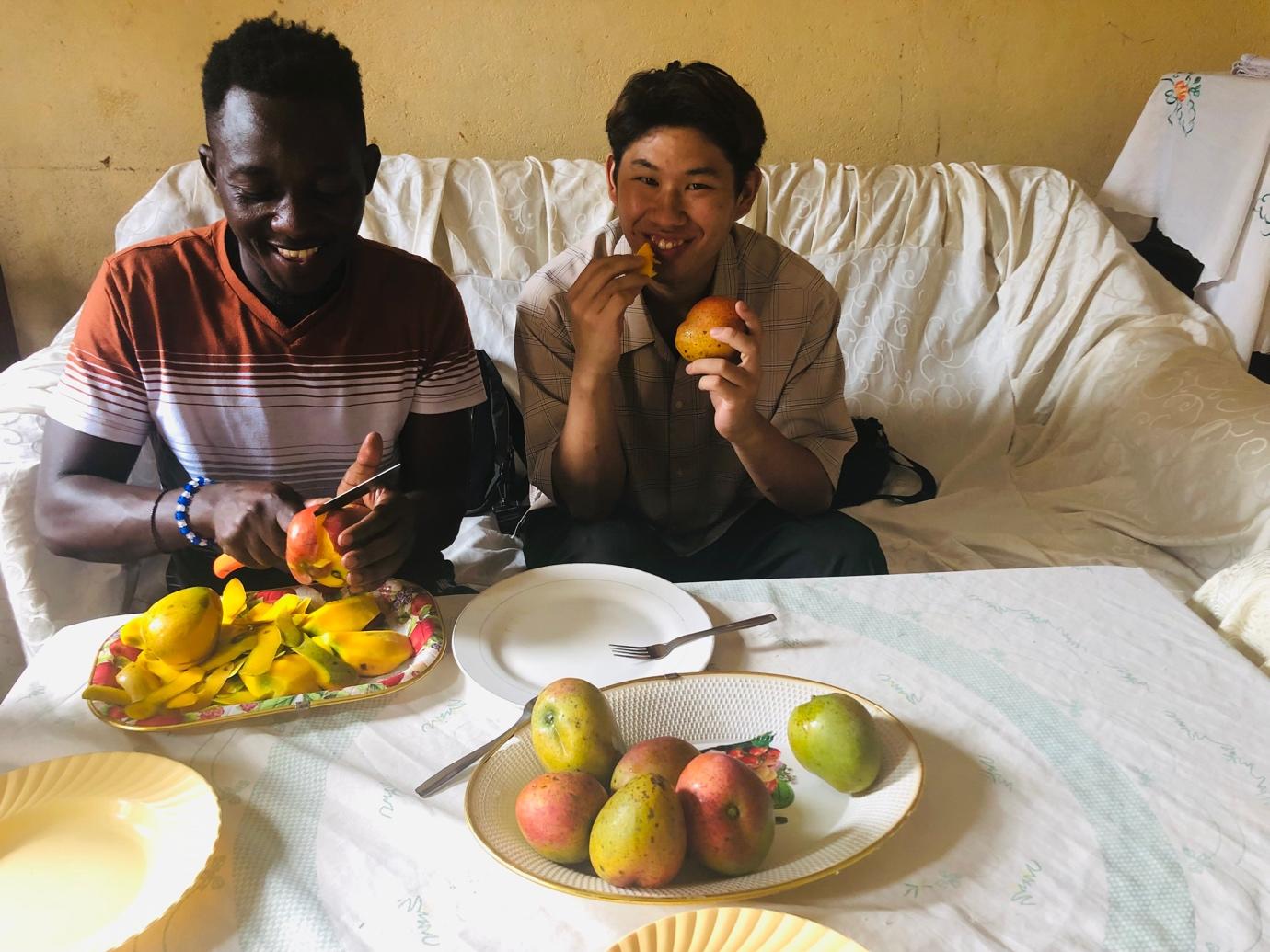 In the village, I took Rei san to the garden where he saw coffee plantations for his first time and other plantations such as cocoa, jackfruits, vanilla, etc.
We eat lunch and other different fruits and later left to visit my father's construction projects, where he hopes to construct a hospital or a clinic in the future once he gets enough funds. I don't know how many people had known that I have come with my Japanese friend; many people come to see him and another found when we had left.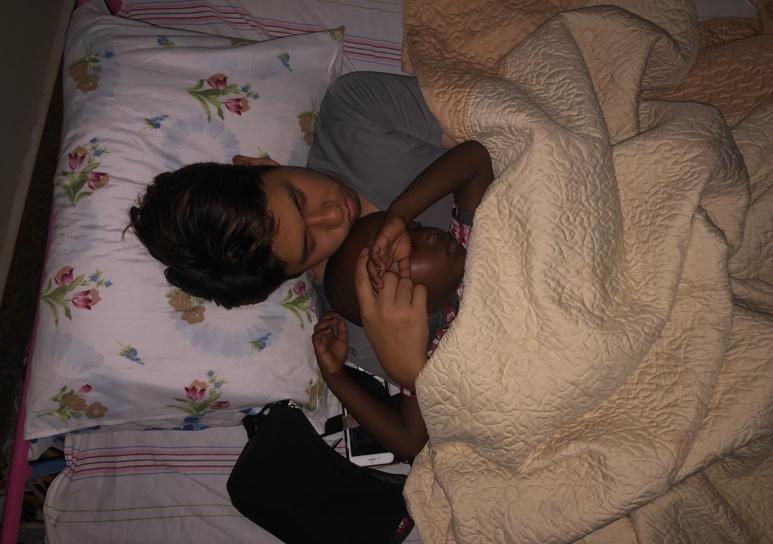 Since Rei had limited days, we left and went back to my brother's home in Kasese. At my brother's place, his children had become close to Rei san, especially his son Malcolm the second born. He could escape from his bed to come and play or sleep with Rei. They become good friends. On the following day, December 27, Rie had to leave Kasese, my home district, for Kampala. We had arranged a taxi to pick him up from the bus park to the hotel near the airport where he took his PCR test. On the following day, Rei left for Rwanda. Honestly, I was relieved when he told me how he reached safely. Regardless of covid-19 restrictions and some challenges, we really enjoyed our tour to Uganda. In the future, I hope I can visit Rei's family in Japan too.
You can watch the trip video created by Rei san on YouTube from below.
#1 Trip to the equator line
#2 Trip at the source of River Nile
#3 Trip to Queen Elizabeth National Park
ReiさんのYouTubeチャンネル、REI'S DIARYでは、この他にもルワンダ滞在のようすを動画でご覧になれます。