2019年秋学期間、トヨタガーナ社から往復航空券を支給していただき本学に交換留学していたガーナ大学のルースより、日本滞在記が届きました。1学期間という短い留学でしたが、卒論執筆のためのスキルや、さまざまな国から来た留学生との交流を通じて視野を広めることもできたようです。課題の量や経済的理由から日本各地を旅行というわけにはいかなかったようですが、東京のいろいろな所を訪問できたようで、忙しい学業の合間にプライベートで日本の文化を楽しんでくれて私たちもうれしいかぎりです。
以下、ルースのエッセイをお楽しみください。
It was on March 21, 2019, when the head of the History department of the University of Ghana called me to his office to tell me that I have been nominated for a scholarship to study in Japan. I called that day my turn by grace! When all was said and done, the day to leave Ghana for this exchange program came. As the plane took off on September 21, 2019, "we are in Your hands Oh God" was all I whispered; I was going to a country far from home, a place I had no idea about, a culture I have never experienced but, only a wish that things would go well. I got to the school on September 24, 2019. Honestly, I was tensed because of the stories I heard about life in abroad, my parents and brothers were not there but, I knew there was hope for the future and I was looking forward to it.

Tokyo University of Foreign Studies has a very conducive atmosphere equipped with all the technologies for academic purposes. Classes started in the first week of October and in most of my classes were graduate and research students among other undergraduates. Because of the combination of foreigners and Japanese, I learnt so much with regards to academics, culture and other life experiences. I was enrolled in eight courses; Japanese Migration System, Contemporary Gender, Edo Culture, Japanese Intellectual History, Japanese Wartime films, International Protection of Refugees, Development Cooperation, Globalization and Social Change. I acquired analytical skills that will aid in my final thesis back home and the international topics opened my understanding to new systems which is going to help me in my future career, international relations and diplomacy. I made friends with students from Asia, Africa, America, Europe and Australia. I took part in a volunteering Cross Cultural talk program at Urawa Girls where I assisted some junior high school pupils in making a presentation on the medical issues in Ghana. I went to meet the 1st grade African studies students at TUFS and we had fun while exchanging cultures. TUFS had their annual festival, this time, the 97th Gaigosai Festival, where students showed cultures across the globe and a dinner party was organized for the international students.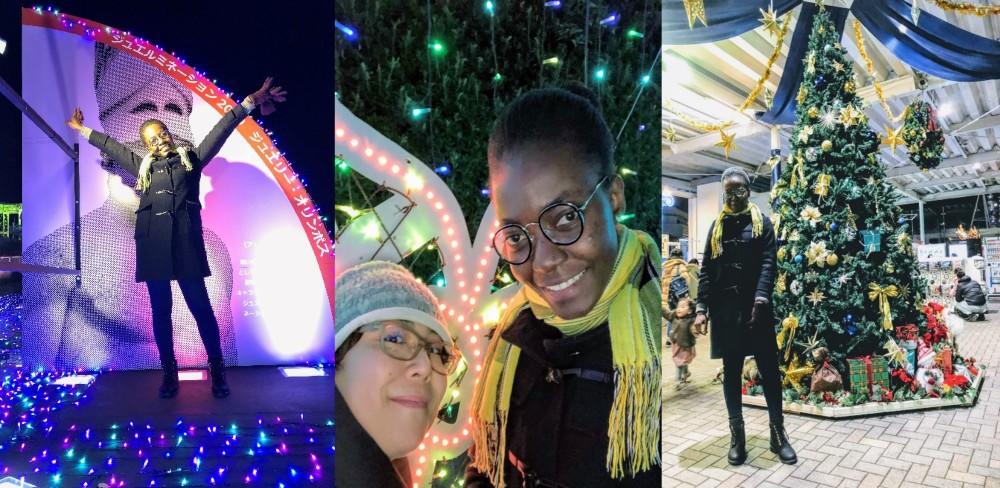 I met some Ghanaians who had lived in Japan for years and two Ghanaian students from the department of Agriculture in University of Ghana but, were in Tokyo University of Agriculture Technology for a year study. Sadly, I had to leave the relations I made in Japan but, my experience was worthwhile. Not only did I acquire academic knowledge, I had the chance to meet different people with diverse backgrounds and toured some places in Tokyo like Yomiuri Land, Shinjuku Southern Terrace City and Shibuya Crossing. Words cannot express how educative ISEP was for me and I am extremely privileged to have been part of such a lovely society. To Toyota Ghana Company, your generosity is highly appreciated, thank you to all the staff at the TUFS African Studies Center for your assistance and to JASSO for the scholarship. I am honored to have had this great opportunity to study abroad.

Long Live TUFS!
Long Live JASSO scholarship!
RUTH OFORI (University Of Ghana, Legon)