Short Stay Winter Program
*Short Stay Winter Program will not be organized in winter 2023/2024.
TUFS Short Stay Winter Program 2020
Program period: From January 8 to February 4, 2020
Application period:
September 15 – October 27, 2019 (by 23:59 Japan Standard Time)
Venue:Tokyo University of Foreign Studies
Apply online : http://e-apply.jp/n/tufs-3
Program leaflet: PDF
Program schedule: PDF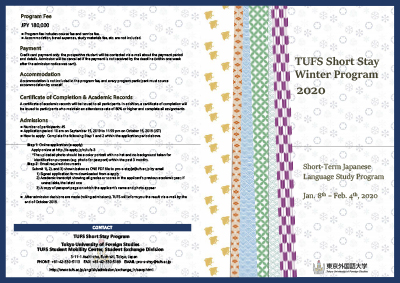 TUFS Short Stay Winter Program 2020
This four-week intensive program is aimed at learners of Japanese language who are currently enrolled in universities outside Japan. The program is designed to improve the students' conversational skills, building on their grammatical knowledge and vocabulary. Classes will be divided according to the Japanese language proficiency of the participants, and each class will consist of a small number of participants – approximately 15.
About Tokyo University of Foreign Studies
Founded over 100 years ago, Tokyo University of Foreign Studies (TUFS) has been a stronghold for international scholarly research and a center for academic exchange in Japan. Over 600 international students from over 70 countries currently enrolled, TUFS is dedicated to creating and supporting a vibrant campus environment in which students with diverse backgrounds learn and grow together.
Our campus is located in Fuchu city in Tokyo surrounded by a lush green environment - within a short walking distance from Tama station on Seibu Tamagawa Line and from Tobitakyu station on Keio Line. TUFS is easily accessible by train - Kichijoji, a place with a reputation to be a lively place for the young, is 20 minutes away, and Shinjuku, a major part of downtown Tokyo, is 30 minutes away.
Course
Eligibility

Students currently enrolled in universities outside Japan, either undergraduate or graduate level. (Those who will have graduated from home institutions before Short Stay Enrollment are not eligible.)
Having learned Japanese in high school or university, being able to write Hiragana and Katakana proficiently.

Note:

Admission priority is given to the students currently enrolled in our partner universities.
The program is designed to improve the participants' conversational Japanese skills, applying the knowledge they have acquired. Applicants who do not satisfy the eligibility and/or pre-requisite for each level may not be admitted to the program.

Levels

3 levels (Pre-Intermediate 1, Pre-Intermediate 2, Intermediate 1)

Participants will be placed in a class based on the placement test results conducted on the first day of the program.

Pre-requisite for each level

Pre-Intermediate 1: Being able to write Hiragana and Katakana proficiently, and having completed "Minna no Nihongo Shokyu I" or equivalent level textbook(s). (JLPT N5-level)

Pre-Intermediate 2: Having completed "Minna no Nihongo Shokyu II" or equivalent level textbook(s), and able to understand elementary-level Japanese. (JLPT N4-level)

Intermediate 1: Having completed elementary level Japanese study and advanced to intermediate level (JLPT N3-level)

Number of classes
3 to4classes
Class Size
Maximum of 15 students per class
Contact Hours
60 hours (40 classes, 90 minutes each)
General Japanese
Pre-Intermediate 1: Students will study basic vocabulary and grammars for pre-intermediate level through various communicative activities such as doing role-play tasks in interactive situations common to daily life in Japan.
Pre-Intermediate 2: Students will learn how to communicate in Japanese using basic vocabulary and grammars. Especially, speaking and listening skills for pre-intermediate level will be practiced through various communicative activities.
Intermediate 1: Speaking and listening skills for intermediate level will be practiced through various communicative activities. In addition, students will practice how to describe their thoughts/opinions using vocabulary and grammars in intermediate level.
Class Schedule


Monday
Tuesday
Wednesday
Thursday
Friday
8:30-10:00
Japanese language classes
10:10-11:40
Japanese language classes
There will be some afternoon classes during the program. Detailed schedule will be announced on the program website.
There will be no classes on Saturdays, Sundays, and national holidays in Japan.
Academic Records, Certificate of Completion
A certificate of academic records will be issued to all participants. In addition, a certificate of completion will be issued to participants who maintain an attendance rate of 80% or higher and complete all assignments.
Admissions
Number of participants: 45
Application period:10 am on September 15 to 11:59 pm on October 15, 2019 (JST)
How to apply:

STEP 1: Apply Online (e-apply)
Apply online (e-apply) at http://e-apply.jp/n/tufs-3
*The uploaded photo should be a color portrait with no hat and no background taken for identification purposes (e.g. photo for passport) within the past 3 months.

STEP 2: Email Required Documents
Submit 1), 2), and 3) shown below as ONE PDF file to pro-s-stay[at]tufs.ac.jp by email

Signed application form downloaded from e-apply
Academic transcript showing all grades or scores in the applicant's previous academic year; if unavailable, the latest one
A copy of passport page on which the applicant's name and photo appear

After admission decisions are made (rolling admissions), TUFS will inform you the result via e-mail by the end of October 2019.
Program Fee
JPY 180,000
Program fee includes course fee and service fee.
Accommodation, travel expenses, study materials fee, etc. are not included.
Payment Method
Credit card payment only: The prospective student will be contacted via e-mail about the payment period and details. Admission will be cancelled if the payment is not received by the deadline (within one week after the admission notice was sent).
Accommodation
Accommodation is not included in the program fee, and every program participant must source accommodation by oneself.
In case you need some advice or assistance in finding your accommodation, please contact us. Also, you may apply for our on-campus dormitory if there are vacancies. (There may not be any vacancies in the dormitory. Accommodation fee will be charged separately from the program fee.)
Availability of the rooms and how to apply will be announced to those who accepted to the program via email.
[Useful Links]
Homestay
Hotels near TUFS
Withdrawal & Cancellation Policies
If an applicant withdraws by January 6, 2020, program fee minus cancellation fee of 2,000 yen will be refunded. TUFS will retain the full program fee of any applicant who withdraws after January 6, 2020. Any and all fund transfer fee is to be paid by the applicant.
In the event of cancellation of the program by Tokyo University of Foreign Studies, the total amount of the program fee will be refunded.
Overseas Travel Insurance
Applicants must properly insure themselves against the possibility of injury, illness or loss of belongings during their stay in Japan and travels to and from Japan. Tokyo University of Foreign Studies is not responsible nor will be held accountable for any injury, illness or loss incurred by the applicant in transit to, upon arrival in, and departure from Japan.
Visa to Enter Japan
It is the responsibility of applicants to obtain a visa to Japan if necessary. Please contact us to request for a letter of acceptance and/or other required documents for a visa application.
Reference: Ministry of Foreign Affairs of Japan - Visa / Stay in Japan
Contact
TUFS Short Stay Program
TUFS Student Mobility Center
Student Exchange Division
Tokyo University of Foreign Studies
3-11-1 Asahi-cho, Fuchu-shi, Tokyo 183-8534, JAPAN
TEL: +81-42-330-5113
FAX: +81-42-330-5189
E-mail: pro-s-stay[at]tufs.ac.jp *Please replace [at] with @