Message from the Dean of the Graduate School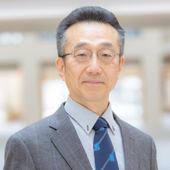 Dean, the Graduate School of Global Studies
AOYAMA Toru
Rapid advances in information technology, particularly AI, and the globally expanding movement of people, commodities, and capital, are inundating us with a massive overflowing of data. Our response is a tendency to choose to understand only those things that we wish to know. Given these circumstances, the depth and breadth of educated knowledge provided by the humanities take on new significance because they provided us with the ability needed to explore the true meaning and value of people, cultures, and societies.
Based on this premise, the Graduate School of Global Studies programs for the acquisition of regional languages are grounded in a strong research tradition of individualized and comprehensive studies in language, culture, and society. Our two-year master's program offers master's degrees in the arts, literature, linguistics or international studies, and our three-year doctoral program, a PhD degree.
Since its founding in 1966, the Graduate School of Global Studies has endeavored at all times to be at the cutting edge of its fields. In fiscal 2016, we completely revamped our masters' program, and in fiscal 2018, our PhD program, to provide each with courses in Global Studies and Japan Studies. The result has been a clear linkage between TUFS' undergraduate and graduate programs, with the School of Language and Culture Studies and School of International and Area Studies tying into the graduate Global Studies program and the School of Japan Studies with the graduate Japan Studies program.
The Global Studies program fosters the ability to perceive diverse problems from a comprehensive perspective and provides students with practical communication and coordination skills. The Japan Studies program invites individuals engaged in advanced research in and outside Japan to acquire an objective understanding of Japan and trains them to disseminate information on Japan to the world.
In fiscal 2019, we will be joining with the two other major national universities of western Tokyo, the Tokyo University of Agriculture and Technology (TUAT) and the University of Electro-Communications (UEC), in a unique cooperative initiative for a three-year Joint Doctoral Program for Sustainability Research. This exclusive doctoral program aims to foster PhD candidates specializing in both the humanities and the sciences who will be able to make real contribution to finding solutions to such global problems as poverty, conflict, food and resources, energy, the environment, information, and information and communication technology (ICT).
For those who will be launching professional careers after completing our master's programs, we offer support through Career Programs and Specialty Area Certification Programs. Additionally, with the aim of further enhancing our programs, we are planning to provide school-wide systematic support for the research activities of our students through an on-campus academic society and are implementing measures to facilitate the movement of students among institutions of higher learning inside and outside Japan.
Our graduate school is constantly undergoing transformation and change in this way as we undertake the challenges of gaining new perspectives on the world—and Japan—and integrating international studies. We look forward to your enthusiastic participation in these endeavors.