Message from the Dean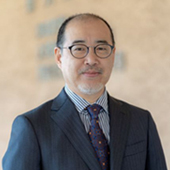 Dean, School of Language and Culture Studies
YAMAGUCHI Hiroyuki
The School of Language and Culture Studies provides a place not only to study languages themselves, in terms of their linguistics, but also to learn about such elements of culture as literature, art, music, film, religion, education, cities, daily life, and subcultures, as they are seen in a wide variety of regions of the world, and, additionally, to do work in areas of the humanities that embrace both language and culture. No matter what the specific area of study, in the School of Language and Culture Studies, language itself will continue to have a special significance. Learning a foreign language is an important first step toward understanding a culture that is different from your own. At the Tokyo University of Foreign Studies, you will be required to attain a high level of linguistic competence.
That doesn't mean, however, that you need only learn a language simply as a tool for understanding and communication. As you deepen your understanding of a language and its culture, you will start to grasp the cultural implications of the language itself. Our School is a place in which to develop, within yourself, a deep understanding of the intricate relationship between language and culture.
In a "globalizing" world, it is increasingly vital that we deepen our understanding of a wide variety of cultures. We must not forget, however, that there are two important aspects to the phenomenon of "globalization," in which politics, economics, and cultures seem to be merging together into a mammoth network. One is that, for better or worse, the trend toward uniformity is driven by a dominance of Western cultural traditions and values. The hegemony of the English language is one representation of this dominance. The second aspect is that expansion of the globalization network necessitates encounters with things "foreign," with inherently different "others."
We all have to cope with these dual directions apparent in the world's process of globalization, and the School of Language and Culture Studies will help you equip yourself with the skills needed to do that. One aspect of this is gaining a significant ability to use, at least as a lingua franca, the dominant language, English. At the same time, it is also extremely important to develop the ability to understand and accept things "foreign," through the mastering of the native languages of peoples living in a variety of regions—languages intimately linked to their cultures. Learning languages at the TUFS School of Language and Culture Studies means acquiring a true understanding of the cultures that employ those various languages and the ability to build personal ties with individuals representing a diversity of cultures around the world.