Emergency Drill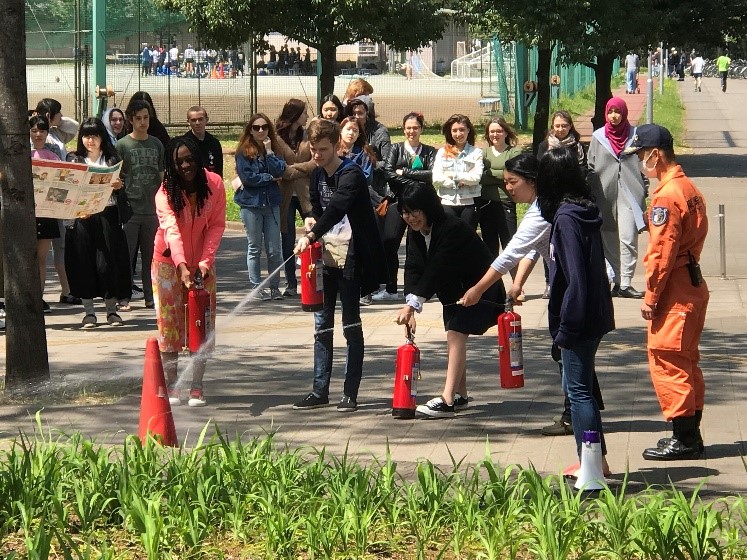 Notice: Emergency Drill 2022
~ First action one should take when a major earthquake strikes ~
The Emergency Drill to be held on Thursday, December 8th, 2022. This is a very important drill and TUFS would like all the faculty members to be well prepared.
You will hear a prior announcement about the drill at 10:05am, and the earthquake notification chime at 11:30am from all the speakers on campus (you cannot change the volume of the announcement).
Please take three steps - DROP, COVER and HOLD ON - at the place where you are during the drill (even in your office room).
Thank you for your understanding and cooperation.
Date:
December 8th (Thu), 2022 11:30 a.m. -
What to do:
Shake-Out Drill (All those who can participate)
Safety Confirmation Drill (All students, faculty and staff)
First aid training (Students, faculty and staff wishing to participate)
Time schedule:
10:05-
Advance notice of the emergency drill will be announced
11:30-

Emergency drill starts

① You will hear the earthquake notification chime.

② Shake-Out drill: perform the pictures below on the spot.

DROP to the ground.
Take COVER under a table or desk to protect yourself.
HOLD ON and stay low until the earthquake ceases (stay down for at least 1 minute).

③ All the faculty members and students must report their safety through the TUFS Safety Confirmation System (ANPIC), once they received the safety confirmation email.

11:40-12:30

First aid training

AED and cardiopulmonary resuscitation simulation exercises will be held by the Fuchu Fire Department Asahi Branch Office at the central square, so please participate if you wish.

*We would like as many people as possible to experience the simulation. But please understand that it may not be possible for all due to time constraints.