TUFS Global Community Meeting Held in Moscow
October 11, 2019
On Saturday September 21, 2019, a TUFS Global Community Meeting was held at the Mitsui Club in Moscow, Russia. This marks the third meeting in Moscow since 2014 and 2017.
Participants from TUFS include Vice President MATSUKUMA Jun and Specially Appointed Professor ARAI Shigeru (who were in Russia to attend The Second General Assembly Meeting of the Association of Institutions of Higher Education of the Russian Federation and Japan), members from Tokyo Gaigokai (President: UCHIKURA Masakazu, General Manager at KYOSERA Document Solutions Russia), TUFS students currently enrolled at partner institutions in Moscow, Russian students and workers with past exchange experience at TUFS and also local coordinators.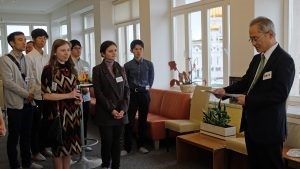 In his speech, Vice President Matsukuma Jun showed gratitude for the opportunity, and explained the objectives related to the TUFS Inter-University Exchange Project of nurturing global human resources on the international business stage.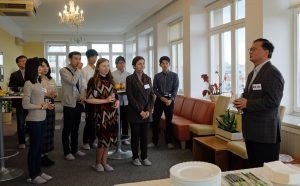 Furthermore, TUFS alumnus and Mitsui Moscow General Director and Chief Regional Representative of Mitsui in CIS countries Meguro Hiroshi encouraged the Japanese and Russian students by addressing the demand for people that speak Japanese in Russian business scenes, and vice versa, while commenting that the lack of these human resources is what restrains the growth of Japanese companies in Russia. As he made a toast, he stressed the need to strengthen the nurturing of Japanese people that understand Russian culture and language, and Russian people that understand Japanese culture and language.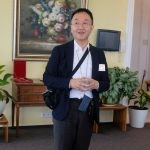 Specially Appointed Professor Arai Shigeru also commented on the purpose for inviting Japanese and Russian students to the Global Community Meeting and shared information on the Inter-University Exchange Project's past activities, while encouraging the TUFS alumni and alumnae working in Russia to provide internship opportunities for students.
Student participants talked about their study abroad destinations, Universities, Majors and future objectives through self-introductions. This was followed by TUFS alumni and alumnae introductions and their brief speeches to the students. They expressed that even if you are assigned to a department that has little exposure to Russia, there is always the chance that you will be re-assigned to a different department that requires Russian. In addition, students were motivated in knowing the various examples of Russia-Japan interaction, and encouraged by the students that have come before them to make the most of their study abroad experience in Russia. After this, participants conversed amongst themselves.

President Uchikura Masakazu ended the meeting with a short speech, saying "If we were to compare the relationship between Russia and Japan with a romantic one, Russia would be the one with stronger feelings towards Japan. We, as people studying to understand both cultures and languages, can change this. We can make more Japanese people 'fall in love' with Russia."
The meeting, although brief, turned out to be a very meaningful experience.

Date and Time: Saturday September 21, 2019, 13:00-16:00
Place: Mitsui Club (Moscow)
Participants (36):
・TUFS Faculty: Vice President Matsukuma Jun、Specially Appointed Professor Arai Shigeru
・TUFS alumni/alumnae (11)
・TUFS students (10): Students currently studying at TUFS partner institutions in Russia (Moscow State University, Moscow State Institution of International Relations, Russian State University for the Humanities, Higher School of Economics)
・Students from TUFS partner institutions in Russia: Former and current students from Universities above with prior experience of short or long term exchange at TUFS
・Inter-University Exchange Project local coordinator: MATSUKAWA Naoko (Graduate of Osaka University of Foreign Studies in Russian studies, Interpreter/Translator/Coordinator)
・Global Japan Office (GJO Moscow) Coordinator: KOROVINA Yulia (Faculty at Higher School of Economics)