Congratulations on Graduating! (2018 Academic Year Graduation and Diploma Presentation Ceremony)
March 26, 2019
On Tuesday 26th March 2019, the 2018 graduation and diploma presentation ceremony was held in AGORA Global Prometheus Hall. In the morning ceremony, 6 students from the Faculty of Foreign Studies, and 387 students from the School of Language and Culture Studies were awarded their diplomas. In the afternoon ceremony, 394 students from the School of International and Area Studies, 126 students from the Master's Program, and 12 students from the Doctoral program were awarded their diplomas.

President Tateishi's Ceremonial Address
| | |
| --- | --- |
| Graduates taking a commemorative photograph | TUFS Mixed Choir, Chouer Soleil, performing the school anthem |
| President Tateishi awarding a diploma | President Tateishi giving his address |
| Professor Yuriko Yoshida, Dean of the Faculty of Foreign Studies/School of International and Area Studies, giving a congratulatory speech | Professor Kumiko Yagi, Dean of the School of Language and Culture Studies, giving a congratulatory speech |
| Professor Aoyama Toru, Dean of the Graduate School of Global Studies, giving a congratulatory speech | Mr. Kenji Hasegawa, the Administrative Director of Tokyo Gaigokai, giving a congratulatory speech |
| Ms. Chieko Doshu, head of the TUFS Student Support Association, giving a congratulatory speech | A message from the teachers in 27 languages (Professor Alla Hamano, Russian) |
| A message from the teachers in 27 languages (Professor Faridah Mohamed, Malaysian) | A message from the teachers in 27 languages (Professor Suijit Kumar Mandal, Bengali) |
| TUFS Orchestra giving a celebratory performance | A student receiving their diploma after the ceremony |
FY 2018 Graduation, Sessions 1 and 2 March 26, 2019 Congratulatory Message, TUFS President Hirotaka TATEISHI
From April first, many of you in the Faculty of Foreign Studies, the School of Language and Culture Studies, and the School of International and Area Studies will be launching your careers while others have chosen to continue on to graduate study. Still others of you have acquired your master's or doctorate degrees and are preparing to move on to new adventures. I would like to take this opportunity to congratulate all of you on your new beginnings and say a few words of farewell.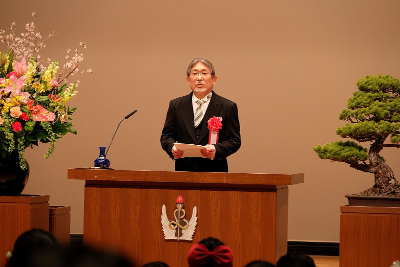 I know some of you in the Faculty of Foreign Studies, School of Language and Culture Studies and the School of International and Area Studies took time off to study overseas. On the other hand, those of you who remained here for four years would have entered our university in April 2015. Do you remember my words at the entrance ceremony back then?
At that time, I read to you part of a letter written during the war years by a former graduate of our university, Mannosuke Seta. He wrote the letter to his parents. Let me quote from it again.
"The sunset over Manila Bay is truly glorious. Gazing out at the golden sea, I am filled with doubt. Why must we hate each other, why must we charge each other in battle? Perhaps it is a fate we cannot avoid. Still, there surely must have been another way. One is caused to think.
"Why is it our youth must be spent in such a miserable existence? It is unbearable that promising young people are being killed one after another.
"How I would like to eat a Nakamuraya yōkan just now."
Seta enrolled in the Department of Chinese Language and Trade of the Tokyo School of Foreign Studies in April 1941. He graduated early in September 1943, was mobilized for the war effort in December, and died on March 7, 1945, near Clark Air Base on the island of Luzon in the Philippines. He was only 21 years old. Many student soldiers sent to the front lost their lives in the war and Seta was one of them. The letter he wrote to his parents just two days before his death is one of a number of such letters compiled in a book titled, Kike wadatsumi no koe. This compilation was translated into English in 2000 under the title, Listen to the Voices from the Sea.
You are all close to the same age as Seta and I am sure you must be moved by his words. His circumstances have probably struck a chord of sympathy within you.
Not only "sympathy" but surely also "empathy." An empathy that you have acquired through four or five years of study here, during which you have mastered a high level of language and communication skills, have learned to unravel the complexities of modern society, and have acquired the ability to accurately understand and judge the matters before you. Thus, you can now feel not only "sympathy" but also "empathy." The two words almost sound alike and can be easily confused. But it is important that you realize they mean two different things. For example, the anger and sadness you feel when you see victims of war is "sympathy." Understanding their suffering and sorrow and wanting to do something about it is "empathy." This "empathy" is the strong conviction that there must never again be a tragedy such as that suffered by Seta.
As you go out into the world of the 21st century, you will be entering the swirling confusion of a globalization that is becoming increasingly entangled in movements promoting "our nation first." In these circumstances, you will need to understand the feelings of others while at the same time refraining from equating your own situation with theirs and you will need to work to meet their needs as well as your own needs. Achieving this kind of interculturality (understanding and co-existing with diverse cultures) requires the ability to co-exist with people who have different cultures and different values. And this is where "empathy" comes into play.
Still, "empathy" is not always enough to solve complex problems. Without an accurate grasp of circumstances and specific proposals for solutions, "empathy" can end up as nothing more than smug self-conceit. I assume that those of you here today have completed a broad range of humanities courses within the Global Liberal Arts Program. The liberal arts are often misunderstood to have no connection to reality, but this is far from true. In fact, the liberal arts must never be cut off from practical applications. In his book, Gakumon no susume (An Encouragement of Learning), the great educator Fukuzawa Yukichi said that practical studies represented a field of academic endeavor that was most relevant to ordinary daily life and included not only the natural sciences but also history, economics, and ethics. These are the subjects that provide the tools and skills for fuinding solutions to the problesm of society and the arts that make us free. I urge you to abide throughout your lives by the academic rules of "confirming with facts" and maintianing "logical consistency" that are the foundations of the social and human sciences that you have studied at this university so that you are never confused by post-truth trends. Undertake the challenges of finding solutions by applying the practical knowledge and skills you have acquired here to the empathy you feel for others.
I would like to introduce to you the words of Edith Hanson, a woman who has been a strong advocate of human rights here in Japan. She said that you need imagination to protect the rights of people you have never met. Only humans have this ability. Imagination, she says, broadens the world you live in.
It is my hope that you will make full use of the rich imagination and empathy that you have fostered here on our campus to become a true global citizen who values people you have never met as much as you value yourself.
Finally, I have one request, and that is to ask to you treasure the ties you have forged in your years at the Tokyo University of Foreign Studies. As a national university we are constrained by the tight financial conditions that beset the country as a whole. Please join the TUFS alumni association, Tokyo Gaigokai, and support its activities to work with the university to enhance its standing as a leading school of foreign language and culture study.
Please try to visualize what the Tokyo University of Foreign Studies will be like in 2023. That will be the year marking 150 years since our founding in 1873. Hopefully, by this time, thanks to the generous financial and volunteer support of our alumni, we will have become a truly global university, an international hub for education in which Japanese students and exchange students from other countries overcome cultural differences to learn together in friendly competition.
This year marks the end of my six-year term as president. Like you, I will be leaving the university this spring. Nevertheless, I will continue to support the university and its activities from April and thereafter in a variety of ways. I sincerely hope that you, too, will continue in the same way to support your alma mater for many years to come.
This concludes my speech. Congratulations and my best wishes for your future endeavors.
Thank you.