ASCSeminar51en.pdf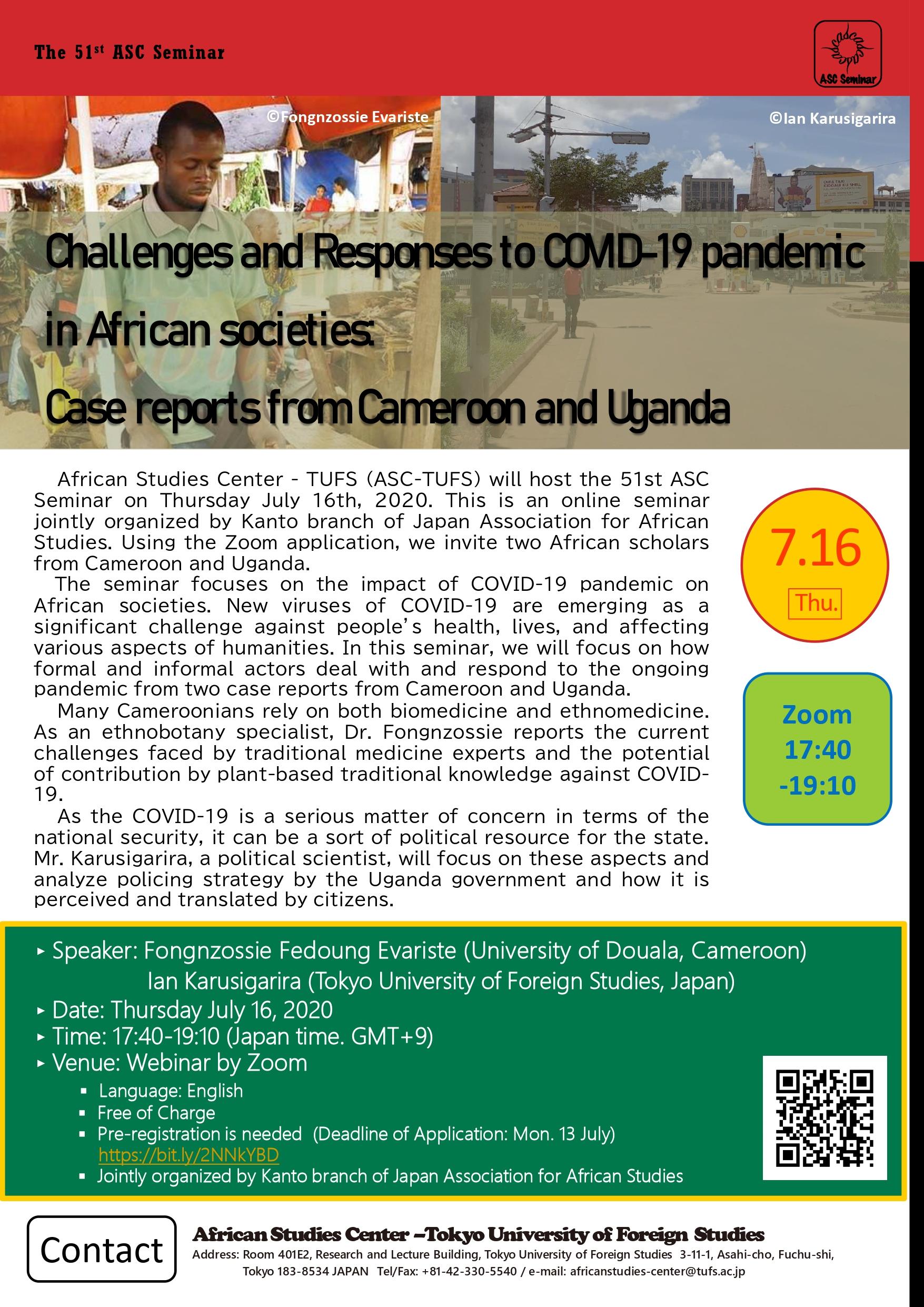 African Studies Center - TUFS (ASC-TUFS) will host the 51st ASC Seminar on Thursday July 16th, 2020. This is an online seminar jointly organized by Kanto branch of Japan Association for African Studies. Using the Zoom application, we invite two African scholars from Cameroon and Uganda.
The seminar focuses on the impact of COVID-19 pandemic on African societies. New viruses of COVID-19 are emerging as a significant challenge against people's health, lives, and affecting various aspects of humanities. In this seminar, we will focus on how formal and informal actors deal with and respond to the ongoing pandemic from two case reports from Cameroon and Uganda.
Many Cameroonians rely on both biomedicine and ethnomedicine. As an ethnobotany specialist, Dr. Fongnzossie reports the current challenges faced by traditional medicine experts and the potential of contribution by plant-based traditional knowledge against COVID-19.
As the COVID-19 is a serious matter of concern in terms of the national security, it can be a sort of political resource for the state. Mr. Karusigarira, a political scientist, will focus on these aspects and analyze policing strategy by the Uganda government and how it is perceived and translated by citizens.
‣ Speaker: Fongnzossie Fedoung Evariste (University of Douala, Cameroon)
Ian Karusigarira (Tokyo University of Foreign Studies, Japan)
‣ Date: Thursday July 16, 2020
‣ Time: 17:40-19:10 (Japan time. GMT+9)
‣ Venue: Webinar by Zoom
‣ Contents:
1. Traditional medicine and the COVID-19 pandemic in Cameroon: current situation, challenges and way forward
(Dr. Fongnzossie Fedoung Evariste, University of Douala, Cameroon)
Abstract:
Since the outbreak in December 2019 in Wuhan (China) of COVID-19, approved drugs are still lacking and the world is engaged in a struggle to seek effective treatment. In Cameroon, the first case was reported on March 2020. In the absence of a medical cure, many traditional healers have gone in search of a traditional cure for the disease that has so far infected over 12000 persons in the country. While Cameroon's Traditional Healers are witnessing a rush for Herbal Medicines to Treat COVID-19, World Health Organization, medical researchers, doctors, and the Cameroon government are warning patients not to rely on traditional medicine which has not been robustly investigated for COVID-19 and to instead seek treatment at hospitals. This presentation discusses the potentials of the ethnomedicine as complementary cure, the issues and challenges it faces and pathways for innovative and more effective therapeutic approaches to fight COVID-19.
2. Security and Policing Global Epidemics: COVID 19 Politics in Uganda
(Mr. Ian Karusigarira, Tokyo University of Foreign Studies, Japan)
Abstract:
With the paucity of the global function, comes a growing interest in the reconceptualization of policing and security to integrate infectious disease control like the COVID 19 global strategies, national security strategies and directives concerning the emergent socio-economic and political dynamics of public health. A retrospective analysis is done of the state approaches to global epidemic control, the societal responses, and security ramifications in developing countries like Uganda. I seek to examine the jurisprudential and structural dynamics of epidemic policing including criminalization, victimization, police-public engagements, and media that are critical to understanding structural and physical violence in the developing world in terms of human and political rights, access to survival/physiological needs and the public health imperative. To achieve this end, the state-based approaches to COVID 19 prevention and treatment, the people's representations of the COVID 19-related restrictions and the media's role are analyzed.
▪ Language: English
▪ Free of Charge
▪ Pre-registration is needed (Deadline of Application: Mon. 13 July)
▪ Jointly organized by Kanto branch of Japan Association for African Studies