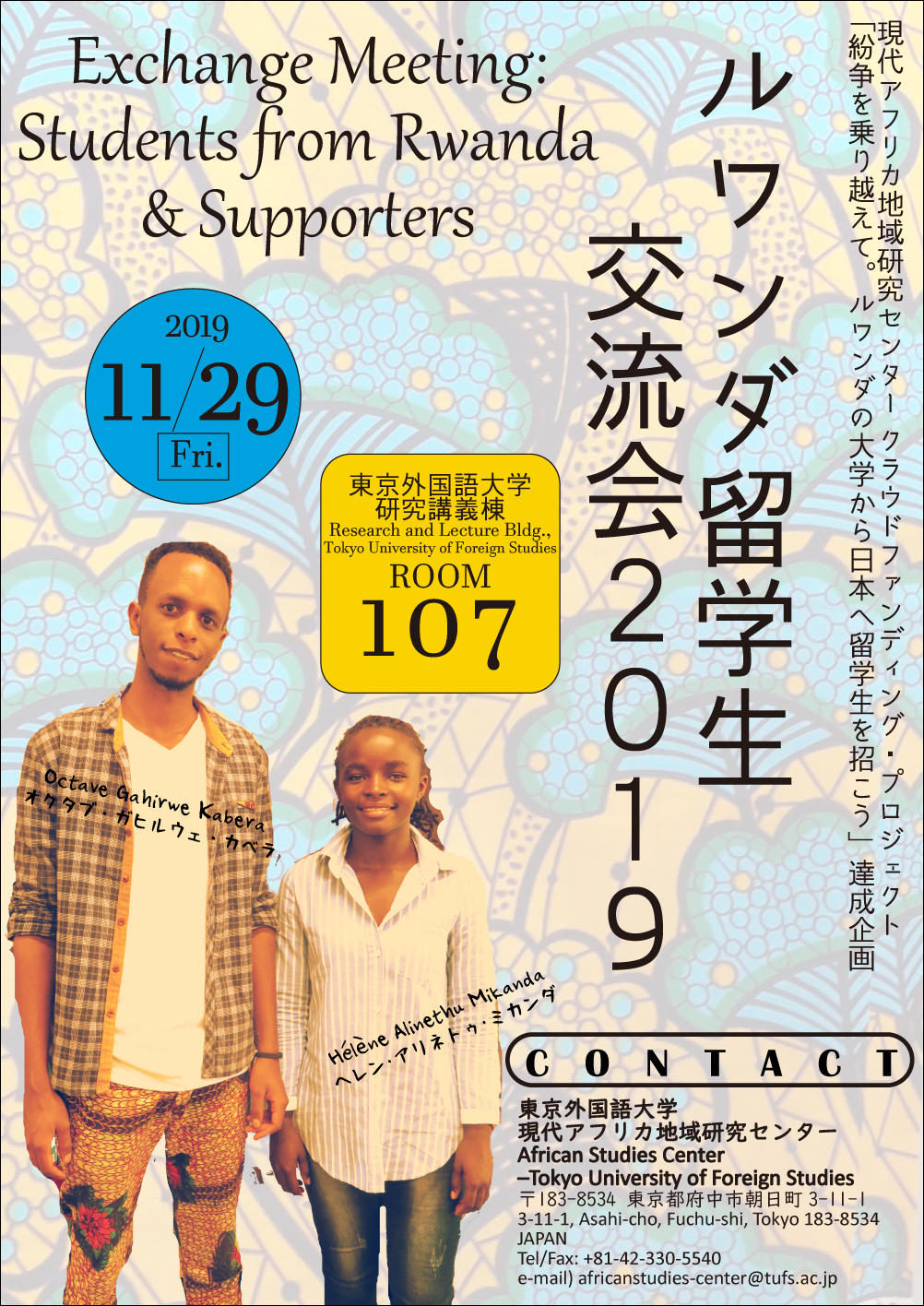 On November 29, 2019, we will have a exchange meeting for Hélène Alinethu Mikanda and Octave Gahirwe Kabera from Protestant Institute of Arts and Social Sciences (PIASS), Rwanda. It will be an opportunity for them to meet their supporters who have supported their airfare and so on through a crowdfunding project and to tell them how they're doing in Japan. We would also make the meeting an opportunity for Japanese students and other students from African countries to learn about each country and culture.
◆Exchange Meeting: Students from Rwanda & Supporters
◆Date & Time: Friday, November 29, 2019 5:00 - 7:30 pm
◆Venue: Fuchu Campus, Tokyo University of Foreign Studies
◆Language: Japanese with translation & English
◆Programme:
PART I at Room 107, Research and Lecture Bldg.
17:00 - 17:05 Opening Address for PART I by Shinichi Takeuchi (Director, ASC-TUFS)
17:05 - 17:15 Presentation 1 by Mako Iino & Chika Umetsu who've studied at PIASS
17:15 - 17:25 Presentation 2 by Octave Gahirwe Kabera from PIASS
17:25 - 17:35 Presentation 3 by Hélène Alinethu Mikanda from PIASS
17:35 - 17:45 Q&A
17:45 - 17:50 Closing Address by Kazuyuki Sasaki (Senior Lecturer, PIASS)
17:50 - 17:55 Photo Session
PART II at 1st floor, AGORA Global
18:00 - 18:05 Opening Address for PART II by Jun Matsukuma (Vice President, TUFS)
18:05 - 19:30 Free Conversation Time *We will show messages from Shukulu and Rodrigue, the former exchange students
Any students who have interest on African countries and any students from African countries can join the meeting, so please contact us via e-mail(africanstudies-center

tufs.ac.jp).