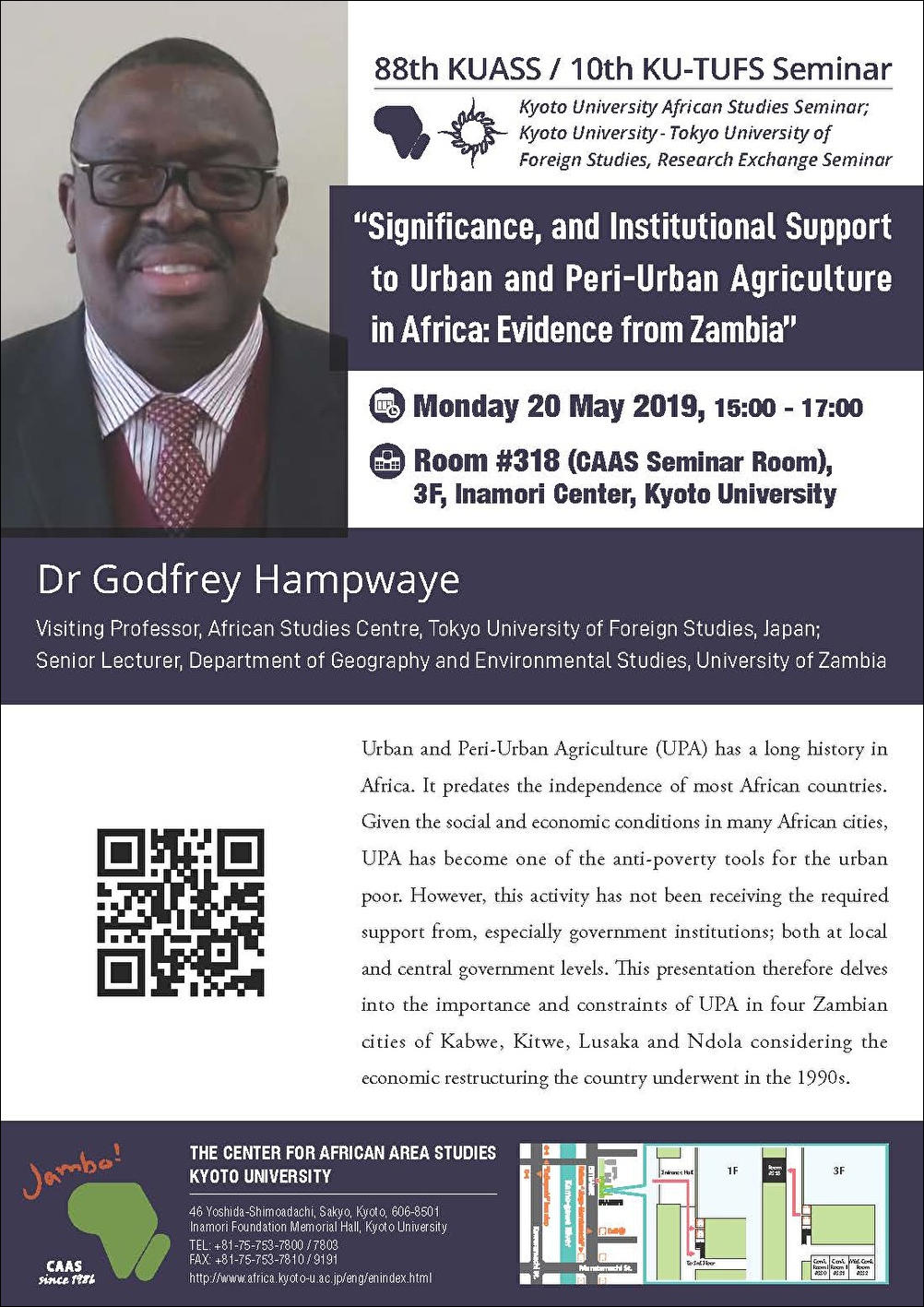 Our visiting professor, Dr. Godfrey Hampwaye will visit Kyoto University and give a public lecture there. The seminar is jointly organized by the Center for African Area Studies (CAAS), Kyoto University and African Studies Center - TUFS, and this will be the 10th one.
In the seminar, Dr. Hamwaye will examine the significance of Urban and Pri-Urban Agriculture (UPA) by explaining Zambian case.
◆Speaker: Dr. Godfrey Hampwaye (Visiting Professor, African Studies Center - TUFS / Senior Lecturer, University of Zambia)
◆Title: Significance, and Institutional Support to Urban and Peri-Urban Agriculture in Africa: Evidence from Zambia
◆Abstract: Urban and Peri-Urban Agriculture (UPA) has a long history in Africa. It predates the independence of most African countries. Given the social and economic conditions in many African cities, UPA has become one of the anti-poverty tools for the urban poor. However, this activity has not been receiving the required support from, especially government institutions; both at local and central government levels. This presentation therefore delves into the importance and constraints of UPA in four Zambian cities of Kabwe, Kitwe, Lusaka and Ndola considering the economic restructuring the country underwent in the 1990s.
◆Date & Time: Monday, May 20, 2019 3:00 - 5:00 pm
◆Venue: Room #318 (CAAS Seminar Room), 3F, Inamori Center, Kyoto University

◆Language: English
◆Admission: Free
◆No pre-registration is needed.
◆Jointly organized by the Center for African Area Studies, Kyoto University and African Studies Center - TUFS