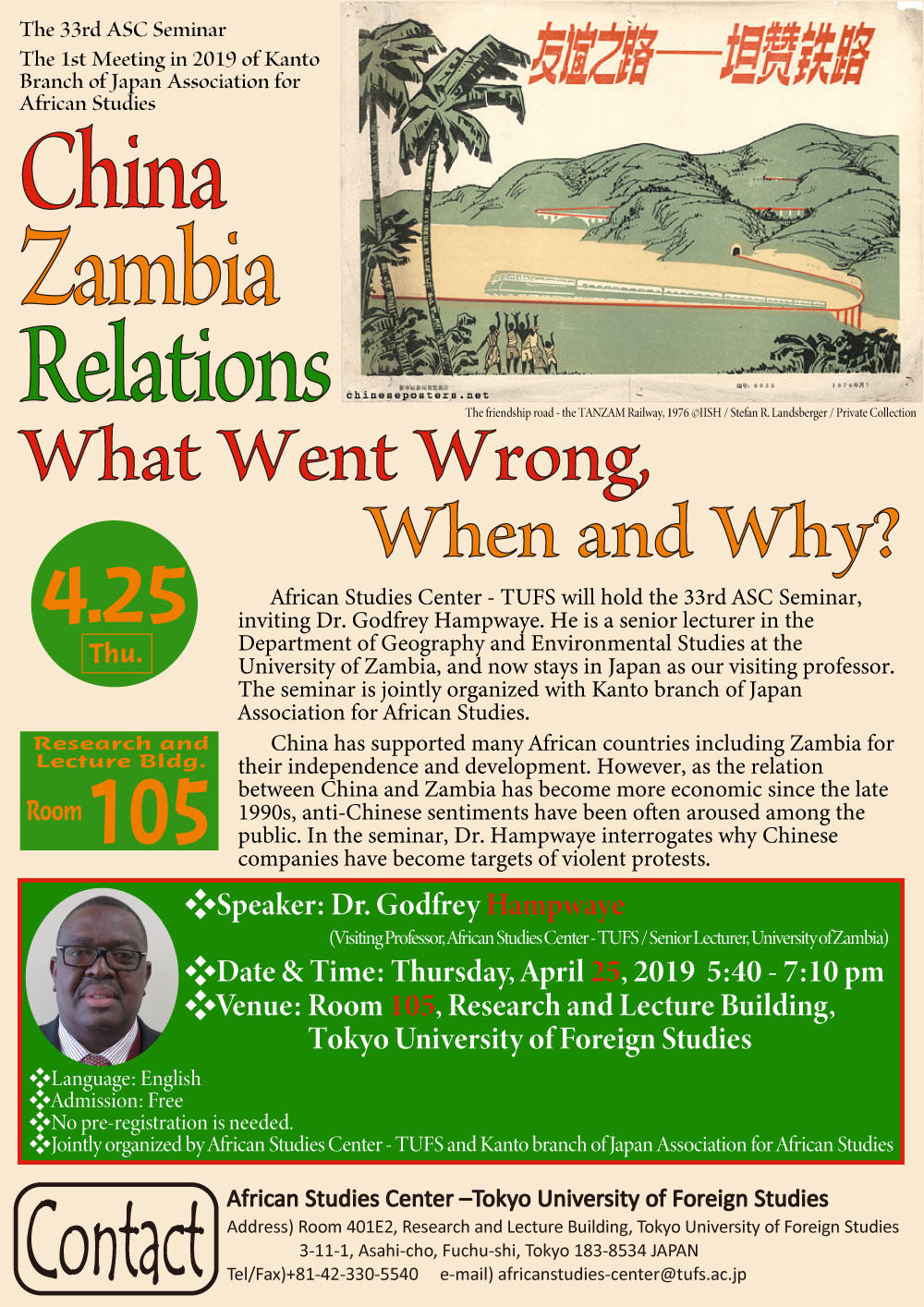 African Studies Center - TUFS will hold the 33rd ASC Seminar, inviting Dr. Godfrey Hampwaye. He is a senior lecturer in the Department of Geography and Environmental Studies at the University of Zambia, and now stays in Japan as our visiting professor. The seminar is jointly organized with Kanto branch of Japan Association for African Studies.
China has supported many African countries including Zambia for their independence and development. However, as the relation between China and Zambia has become more economic since the late 1990s, anti-Chinese sentiments have been often aroused among the public. In the seminar, Dr. Hampwaye interrogates why Chinese companies have become targets of violent protests.
◆Speaker: Dr. Godfrey Hampwaye
(Visiting Professor, African Studies Center - TUFS / Senior Lecturer, University of Zambia)
◆Theme: China Zambia Relations: What Went Wrong, When and Why?
◆Abstract: China's engagement with Africa and other developing countries has a long history. China supported many countries in Africa to fight for their political freedom from the colonisers. Similarly, Zambia received the same kind of support from China before her independence in 1964. After independence, the good relations with China continued but now became more political and focused on development assistance. This culminated in the building of Tanzania Zambia Railway in the mid-1970s. However, in the late 1990s, the kind of relation between the two countries became more economic as China invested in privatised mines and other sectors following the economic restructuring programmes undertaken by Zambia.
Consequently, there have been a number of anti-Chinese sentiments by the Zambia public, especially opposition politicians, and those employed in Chinese owned companies on account of poor working conditions, low salaries and poor safety measures. This has often resulted into violent protests. The presentation will interrogate, among others, why Chinese companies have been targeted.
◆Date & Time: Thursday, April 25, 2019 5:40 - 7:10 pm
◆Venue: Room 105, Research and Lecture Building, Tokyo University of Foreign Studies
◆Language: English
◆Admission: Free
◆No pre-registration is needed.
◆Jointly organized by African Studies Center - TUFS and Kanto branch of Japan Association for African Studies