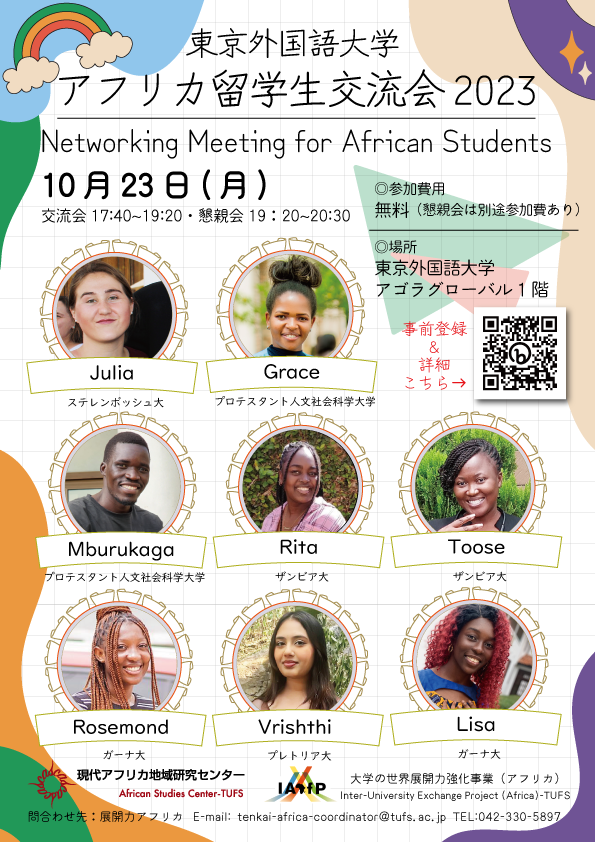 African Studies Center (ASC-TUFS) and Inter-University Exchange Program (Africa), aka IAfP, have supported 8 exchange students from the partner universities in Africa to study at Tokyo University of Foreign Studies (TUFS) this year. So, we'd like to take this opportunity to provide all the African students who study at TUFS to build a network with Japanese people.
We welcome anybody who study or work at TUFS to join the meeting!
ーーーPlease click here for the latest information.ーーーー
◆Date & Time: Monday, October 23, 2023 5:40 - 7:20 pm (JST)
◆Venue: AGORA Global1F, Tokyo University of Foreign Studies
◆Eligibility for Participation: Open to public
◆Language: English and Japanese (Each language will be roughly translated into Japanese or English)
◆Admission: Free (fee will be needed for participating the Social Event [students 1,000yen, faculty members and non-university members 3,000yen]) 
*You are welcome to jump in the event, but we deeply appreciate it if you pre-register. If you would like to participate in the Social Event, please do pre-register. We want to know the number of the participants due to the preparation.
◆Pre-registration: Please register from here by October 15 (Sun).
◆Jointly organized by African Studies Center - TUFS and Inter-University Exchange Project (Africa)
◆Contact: Inter-University Exchange Project (Africa)-TUFS(tell:042 330 5897 E-mail:tenkai-africa-coordinator(at)tufs.ac.jp)
◆Programme:
Opening remarks
welcome music performance
Exchange student self-introduction + Q&A
Messages from students studying abroad
Onomatopoeia quiz
From exchange student to regular student
Closing Remarks
Free Conversation Time
●Social gathering (19:20-20:30) *Required pre-registration
ーーーーーーーーーーーーーーーーーーーーーーーーーーーーーーーー
All of them are accepted as the IAfP's exchange students, and 7 of them got support for the roundtrip airfare by IAfP and the part of life expenses from "Contemporary African Education and Research Fund" established by ASC-TUFS. Please refer to here for more details about our project to invite young people from African countries.
Report
A total of 86 people from both inside and outside the university participated in this event.
Starting with Prof.Takeuchi's opening remarks, the participants sang "Momiji" under the leadership of student supporters, and then sang and danced the Ghanaian folk song "che che kule". Following this, eight African exchange students introduced themselves and, in response to questions we gathered from the participants beforehand, they talked about their motives for choosing Japan (TUFS) as their study destination, their impressions of Japan, their favorite foods from Japan and their home countries, and their favorite folktales from their home countries. Then we connected online with TUFS students studying in African universities and they talked about their impressions of each country, what they learned, and their messages to exchange students. Next, we enjoyed an onomatopoeia quiz led by a student supporters, and after that, we had a speech from Tembo, who became a regular student of TUFS after experiencing being an exchange student at TUFS. The closing remark was given by Prof.Sasaki from PIASS.
Many people attended the social event after the main part. In the middle of the social event, we had a speech from one of our supporters of the crowdfunding, Ms. Kyoko Kumada. In addition to the exchange students, regular students from African countries enrolled in master's and doctoral programs at TUFS also participated in the network meeting. The network meeting seemed to be able to provid a valuable opportunity for students from African countries and participants from both inside and outside the university to deepen their exchange.
This year was the first time that TUFS was able to accept students from all of our African partner universities at the same time, and especially from Stellenbosch University, we were able to accept the first memorable exchange exchange student. We hope that the interaction between people on and off campus and students from Africa will deepen and broaden, leading to continued exchanges both as individuals and as a university.
◆86 participants (74face-to-face, 12 online/69 TUFS, 17 off-campus)