On May 4, 2019, Mr. Kazutaka Nakano, one of the supporters of Rodrigue and Shukulu, invite them and Dr. Godfrey Hampwaye to Kurayami Festival, the Japanese traditional festival at Fuchu city. Please visit here for more details about their experience at the Festival.
Rodrigue, who always enjoys his life in Japan and talking with Japanese people as much as he can, was very excited to take part in the festival. He smiled at and talked to Japanese kids, and truly became the part of the festival. Here is his essay about his experience.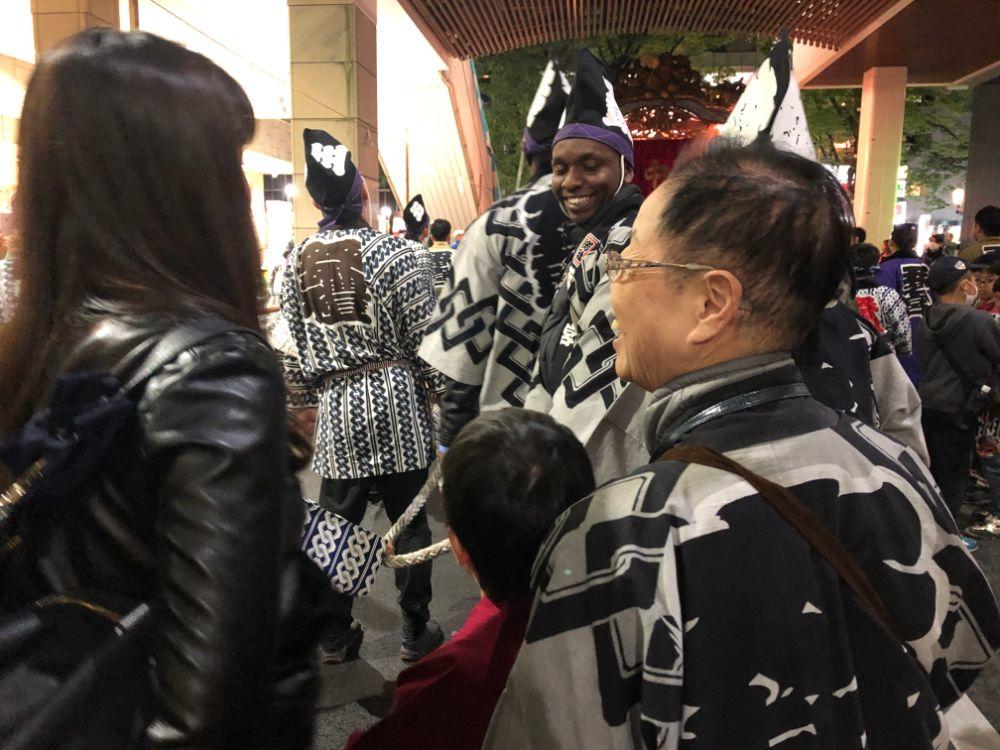 Last Saturday, May 4th, together with Dr. Hampaye, Ms. Shukulu, and Ms. Midorikawa, I attended and participated in the Kurayami Festival. It was held near Fuchu City Hall. With no background in Japanese festivals, I was eager to see what constitutes one of them. In this short article, I am going to maintain some facts that amazed me the most.
First, I was happy to hear that the big drum which is played for the purification of the road for gods came from Africa. I mean, its tree was imported from Cameroun according to what I heard from there. As a student from Africa, I get, once again, to see how, directly or indirectly, connected we are.
Second, I liked the traditional music made of flute and drum which was performed. The flute is one of my favorite musical instruments. Moreover, I was surprised to see kids dancing on the melody of the music. After more than 7 months since I came to Japan, I haven't seen kids dancing. In fact, I was not even expecting to see kids taking part in such kind of event aside with adults. On my great surprise, they did.
Last, together with his sister, I got an opportunity to meet Mr. Nakano, another person who donated for my stay in Japan. I thought, at the welcome party, I did see all of them but, in fact, I didn't. Mr. Nakano prepared specific clothes for us and we were able to join his group. I could see the amazement in the eyes of everyone who looked on us wearing the clothes and pulling out the high wheeled festival float. After the festival, Mr. Nakano offered the clothes to us as souvenirs. Actually, I was planning to buy a Japanese traditional cloth as a souvenir. Now, I have one already. That was good.
As a sum up, with less than 3 months left before going back to my country and taking into consideration my participation in Kurayami Festival, I can now confirm that I've experienced Japanese lifestyle in general.