Date & Time: Tueseday, November 12, 2019 4:00 - 5:30 pm
Venue: Room 305, Research and Lecture Building, Tokyo University of Foreign Studies
Speaker: Mr. Yoshifumi Okamura
      Ambassador for Tokyo International Conference on African Development <TICAD>, Ambassador, Special Envoy for UN Security Council Reform Affairs, Human Rights and International Peace and Stability, and Government Representative of Japan for the International Peace and Stability
Theme: How To View Africa: How We View Japan's Role
Report: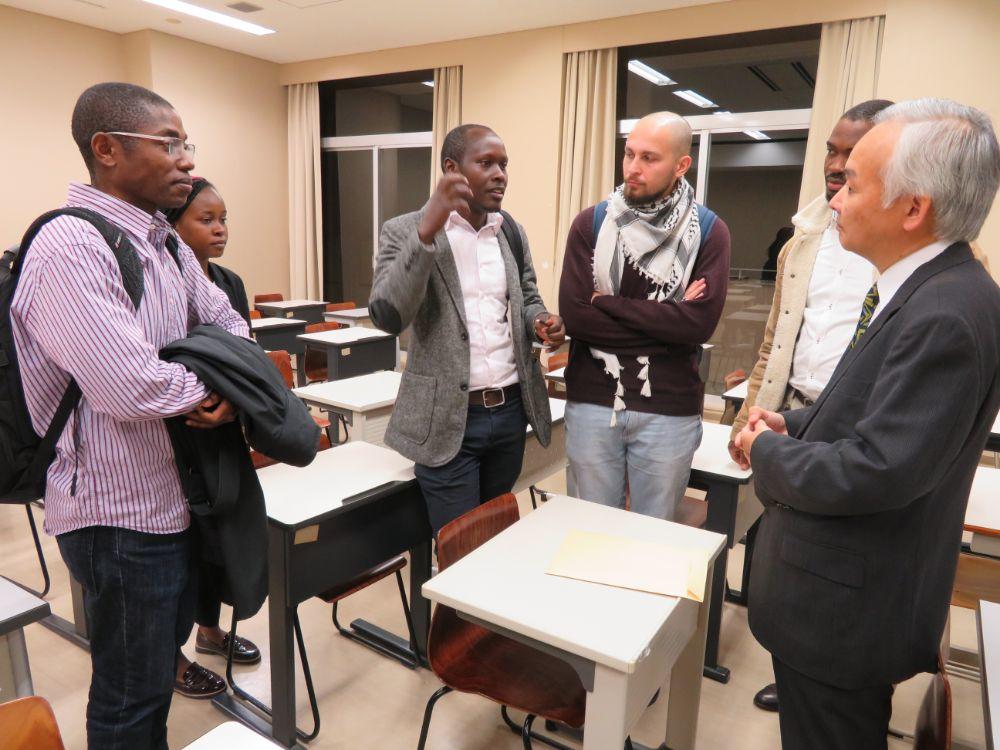 In the 43rd ASC Seminar, the speaker began by briefly explaining his experience in African Affairs. Mr. Okamura initiated to address the topic of the seminar stressing the diversity of the African continent which brings some difficulties in talking about it namely: the colonial past; the commodity-based economy; the geographic disadvantage of landlocked areas, the scattered and disconnected markets; and the elite-driven state management. The speaker then presented some examples, based on his observation, of how climate diversity and geographic characteristics influenced socio-economic and political dynamics such as trade, conflict and the way of thinking.
Answering the question of what can Japan do, Mr. Okamura presented his proposal of the New Approach for Peace and Stability in Africa (NAPSA), centered in promoting Africa's Ownership, addressing root causes beyond the approach based mainly on humanitarian assistance and sanctions, identifying priority projects and mobilizing donor's resource. Additionally, he introduced a summary of seven points to achieve peace and stability, based in a consensus formed between the speaker and former five African Presidents (from Mozambique, South Africa, Tanzania, Benin and Nigeria). These points were summarized as follows: National unity; Leadership and ownership; Institution building; Farmers and citizens; Traditional systems and values; Counter terrorism and organized crime; and Development strategy. But he reinforced the importance of local ownership of solutions. In his concluding remarks, Mr. Okamura mentioned that the basic concept of TICAD is to extend the experience that Japan had assisting Asia who faced similar challenges in the past.
The Q&A session was turned into a thought provoking debate between the speaker and TUFS Graduate Students around topics related to the distinctive approach of Japan's agenda towards Africa, the youth component in the TICAD program and Japan's timeframe and financial commitment to Africa's development.