TUFS Online Information Sessions and Study in Japan Fairs
Tokyo University of Foreign Studies (TUFS) is holding online information sessions to introduce the university, academic programs, scholarship information, and others to prospective applicants residing in and out of Japan. You may have an opportunity to directly ask questions to the faculty/staff of the university to learn more about TUFS and its application procedures.
TUFS also participates in many of the Study in Japan Fairs, both onsite and online, organized by JASSO and universities implementing "Study in Japan Global Network Projects."
Please join us to learn about TUFS and studying in Japan!!
Here are the upcoming online information sessions and Study in Japan Fairs TUFS will be participating.
TUFS Online Information Sessions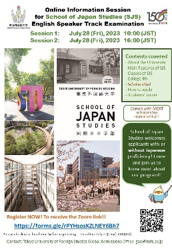 Area/Region
ALL
Date/time

July 28 (Fri), 2023

Session 1: 10:00 – 11:00 (Japan time)
Session 2: 16:00 – 17:00 (Japan time)

Title
Online Information Session for School of Japan Studies Entrance Examination (English-Speaker Track)
Organizer
Tokyo University of Foreign Studies
URL (flyer)
t.b.a
Method
Online
URL (Registration)
https://forms.gle/rPYHsosKZLNEY6Bh7
Study in Japan Global Network Projects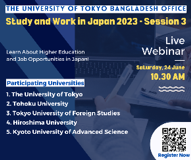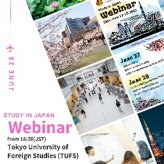 | | |
| --- | --- |
| Area/Region | MENA (Middle East and North Africa) |
| Date/time | June 28 (Wed), 2023 18:30 – 19:00 (Japan time) |
| Title | Study in Japan Webinar 2023 |
| Organizer | Kyushu University (J-MENA : Study in Japan Global Network Project in Middle East & North Africa) |
| Method | Online |
| URL | https://bit.ly/3q4aK6e |
| | |
| --- | --- |
| Area/Region | Brazil (Sao Paulo) |
| Date/time | July 8 (Sat), 9 (Sun), 2023 (Sao Paulo time) |
| Title | Festival do Japão SP |
| Organizer | Study in Japan America Latina (Tsukuba University) |
| Method | Onsite・São Paulo Expo Exhibition & Convention Center |
| URL | https://es.estudenojapao.com/ |
| | |
| --- | --- |
| Area/Region | Brazil (Parana) |
| Date/time | July 11 (Tues), 2023 (Parana time)) |
| Title | Estude no Japão Curitiba |
| Organizer | Study in Japan America Latina (Tsukuba University) |
| Method | Onsite・Universidade Federal do Paraná |
| URL | https://es.estudenojapao.com/ |
| | |
| --- | --- |
| Area/Region | India |
| Date/time | July 22 (Sat), 2023 18:30 – 20:30 (Japan time) |
| Title | Study and Work in Japan Session 2023 |
| Organizer | Study in Japan Global Network Project in South-west Asia (University of Tokyo) |
| Method | Online |
| URL | t.b.a |
| | |
| --- | --- |
| Area/Region | ALL |
| Date/time | August 31 (Thur), 2023 16:00 – 17:00 (Japan time) |
| Title | Study in Japan Virtual Fair 2023 |
| Organizer | Japan Student Services Organization (JASSO) |
| Method | Online |
| URL | t.b.a |