2022 Academic Year Graduation and Diploma Presentation Ceremony
September 22, 2022
The 2022 academic year graduation and diploma presentation ceremony was held on Thursday, September 22, 2022. A total of 57 students graduated, including 32 undergraduate students (15 from the School of Language and Culture Studies and 17 from the School of International and Area Studies), 19 students in the Master's Program and 6 students in the Doctoral Program of the Graduate School of Global Studies.
At the ceremony, President HAYASHI Kayoko presented diplomas to the students and made a graduation speech.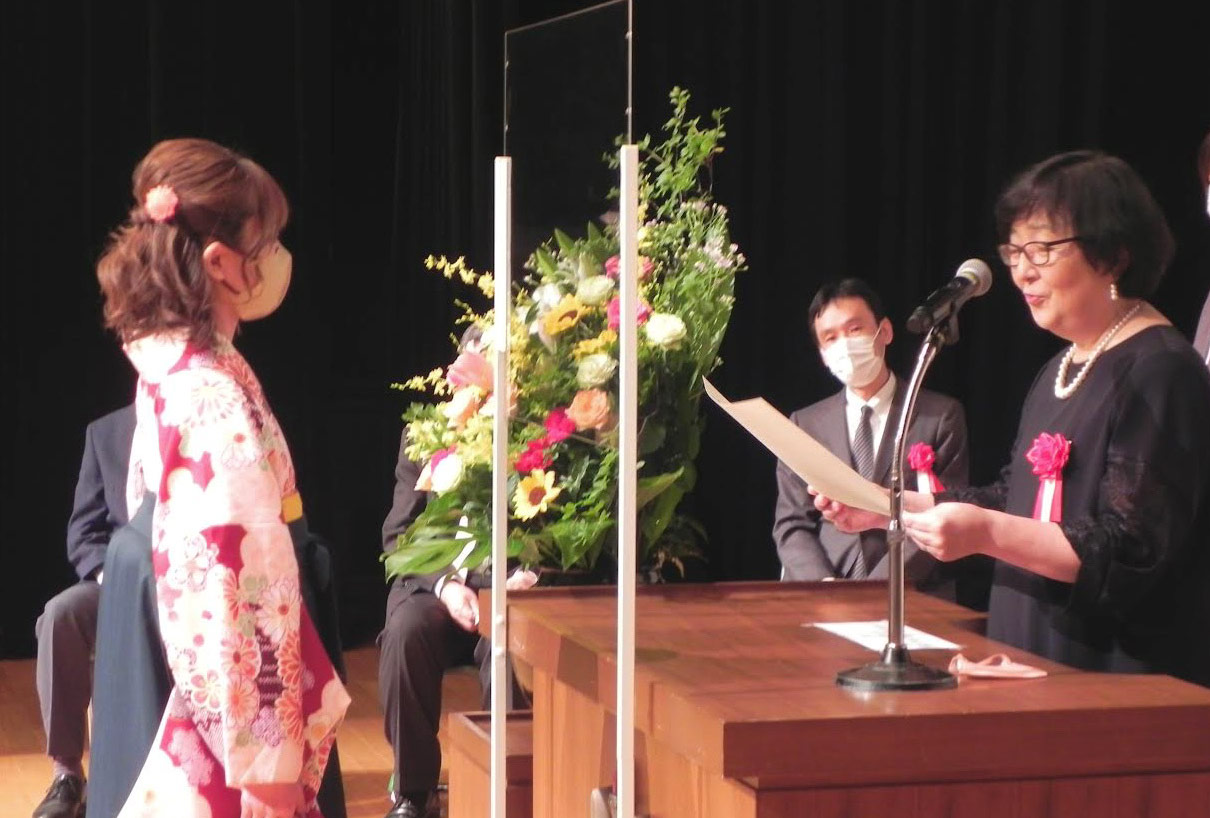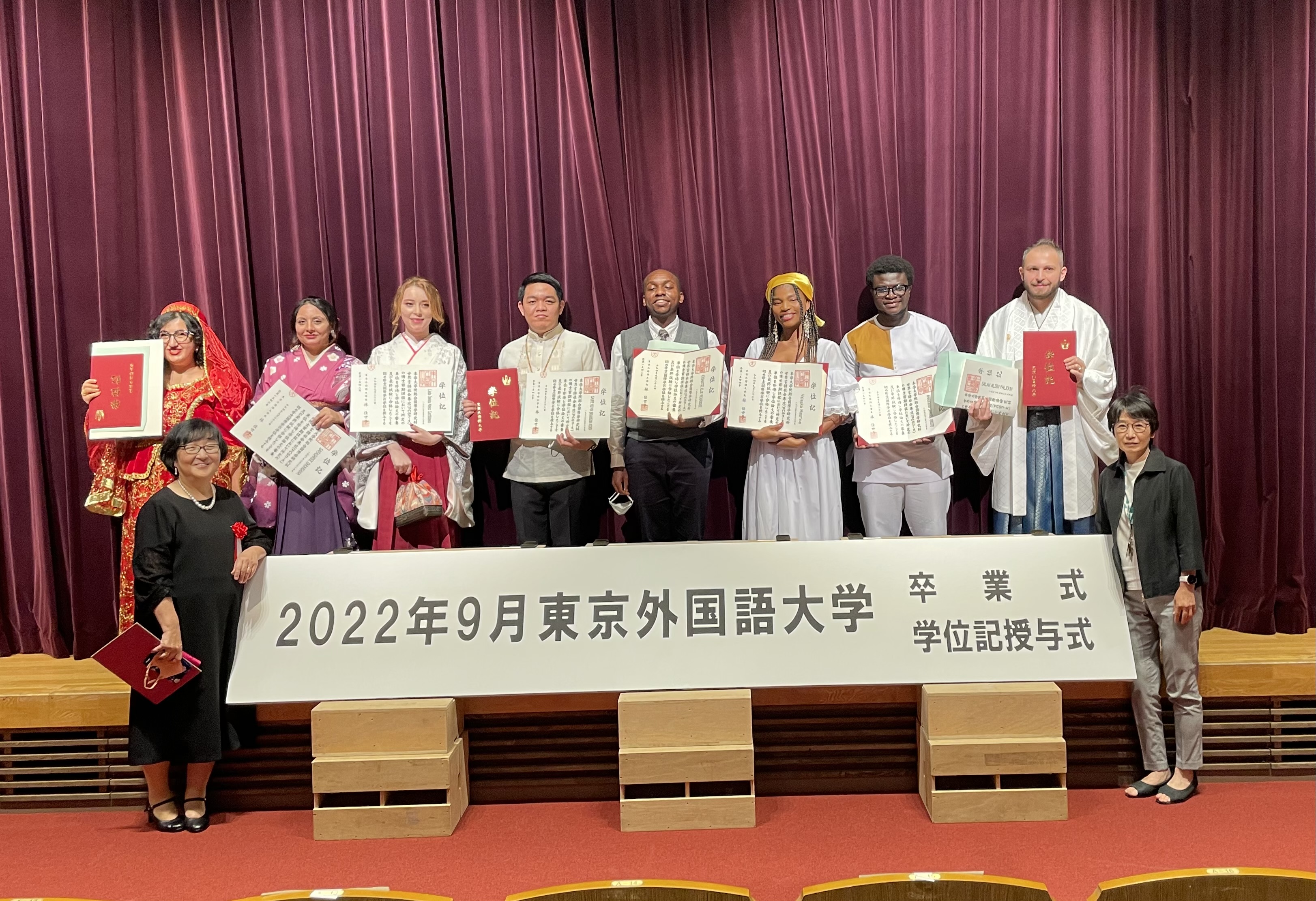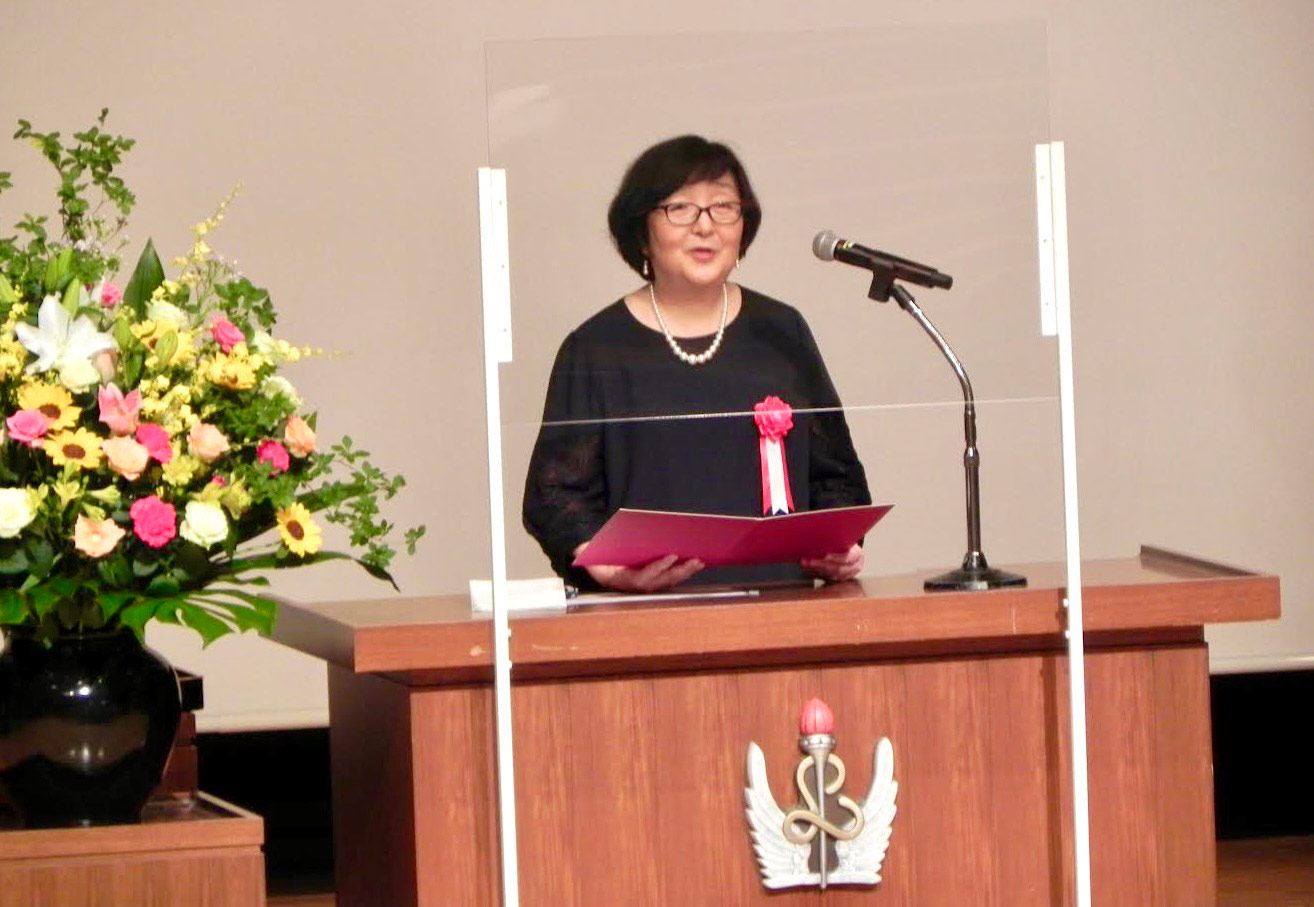 President's Graduation Speech
Congratulations on your graduation today. It gives me great joy that we are at last able to gather to celebrate this wonderful occasion now that the pandemic is subsiding.
I would first like to celebrate this milestone with the 32 undergraduate students here today. Most of you were in your third year when the new spread of COVID-19 seriously disrupted your studies and school life. I know that many of you who had been looking forward to opportunities to study abroad were particularly frustrated. When I think of how you spent at least half of your study at TUFS amid a pandemic, I feel deeply for your frustration. I have been wondering whether our support for you was sufficient in such trying times.
Still, when I look upon your cheerful faces today, I can see that you were able to overcome the difficulties to arrive at this happy day. Whether face-to-face or online, you managed to have meaningful communications with your teachers and friends, and with ample advice and guidance, were able to complete your graduation theses. Now, at the conclusion of your various decisions in launching your careers, you have chosen to graduate in September. I sincerely hope that your future will be full of joy.
As you know, our university will celebrate its 150th anniversary next year. One hundred and 50 years is quite something. This year marks the 154th year since the Meiji Restoration, which means that our university was born in the Meiji era and has grown in tandem with Japan's modernization. Over the past 150 years, TUFS has played an essential role in connecting Japan to the world through language and cultural understanding, in modernizing Japan, in Japan's postwar reconstruction, and in the developing of Japan's economy. Now, however, a quarter of the way through the 21st century, I see changes in the role of our university, and the roles of you, as our graduates, are to play in the world. It may sound a bit extreme, but I believe we are entering a time in which we must work to build the society in which we are to live.
Building the society in which we live encompasses everything from the small to the large, from our immediate surroundings to the broad global community. What is important is that we each hold our individual self dear and precious. I believe that today our university's mission is to help create the chain of events that will enable people in our immediate surroundings as well as in distant lands around the world to live as comfortably and as happily as we wish to live ourselves. That requires global-scale cooperation, and the first step toward cooperation is one in which we can communicate, one in which we can understand each other through language.
And, if we are to help others, we must foster the skills needed to do so. That includes knowledge, technology, and the ability to perceive things from another's point of view. Your studies here at TUFS have given you these skills. You may not feel it now, but you will realize that you have these skills as you make your way in the world.
I can already see all of you, with the power you have gained to improve the society in which you live, putting this power to use as you play an active role in society. Go confidently and live a life that will make you and those around you happy. We at TUFS will always be here cheering you on.
Next, I would like to extend my congratulations to the 25 graduate students who have completed their course of study, especially to the 6 of you who have completed your doctorates. As the dissertation titles that were just read out clearly indicate, you have made a significant contribution in the areas of language, literature, regional studies, and the humanities and social sciences. I commend you for your endeavors in this regard.
You may think the subject matter of your master's and doctoral papers is of interest only to yourself, but that assumption is most probably wrong. The questions you have asked are also being asked by society, which is why it is so vital that you share the answers you have found and put them to good use for the betterment of all of society, I wish every one of you continued success in all your endeavors.
Now, I'd like to congratulate all of you who have finished successfully our Master course of the Peace and Conflict Studies. It is perfectly understandable that it is extremely difficult to take a degree just within a few years far away from your home country.
Especially, because of the prolonged pandemic, you have had much more difficulties in completing the thesis, as well as in your ordinary life, than before the pandemic began.
Today, I am very glad to see you all looking healthy, happy and satisfied. Hopefully, the study you have made at our university will give you a steady basis for your further development. The world is waiting for your contributions, because, as you know, the world today is facing more and more conflicts.
Lastly, I also hope that the ties between you and TUFS will continue no matter where you will be. We will not forget you and I hope you will not forget us! Thank you very much and congratulations!
September 22, 2022
Tokyo University of Foreign Studies President HAYASHI Kayoko