Students from partner universities in four African countries and TUFS attended a Kick-off conference for Inter-University Exchange Project (Africa)
April 1, 2021
The Inter-University Exchange Project: Support for the Formation of Collaborative Programs with African Universities "Innovative Africa: Educational Networking Programs for Human Resource Development in Africa's SDGs (IAfP)" was adopted by MEXT in 2020. This project aims to build international networks among African universities and develop human resources that contribute to sustainable growth in Africa.
In March 25, 2021 a kick-off joint conference titled "Past and Future of the Exchange Programs in Africa of TUFS: IAfP Kick-off Joint Conference" was held. This online event drew 71 participants from Rwanda, Ghana, Zambia, South Africa and Japan.
After the opening remarks, the five African partner universities (Protestant Institute of Arts and Social Sciences in Rwanda, University of Ghana in Ghana, University of Zambia in Zambia, University of Pretoria and Stellenbosch University in South Africa) introduced their schools. Then the TUFS students who have been to African partner universities and African students who have come to TUFS shared their experiences. The event concluded with the closing remarks. Students who participated in the event stated that this was a very unique opportunity as they were able to learn about the partner universities and other students' experiences, so it seems like it ended up as a successful kick-off event.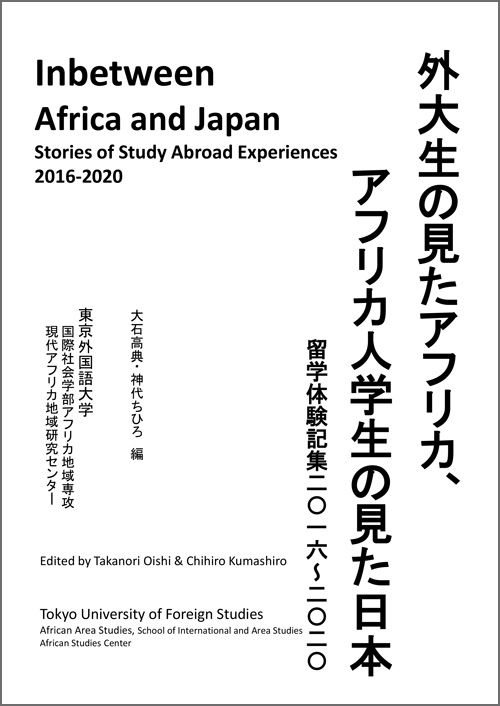 Upon holding this event, we edited a booklet "In-between Africa and Japan: Stories of Study Abroad Experiences 2016-2020" (not for sale). Apart from the studying abroad experiences, this booklet includes wide variety of experiences, such as internships, fieldwork and volunteer activities. The first half of the booklet is in Japanese, while the latter part is in English. It is full of details that will be of interest not only to those planning on studying abroad in Africa, but also to those who are interested in Africa.
You can access the booklet PDF here.
http://www.tufs.ac.jp/iafp/en/for-students/
Those who want the printed version can get it at our office (Research and Lecture Building 401E3).