TUFS Selected for Inter-University Exchange Project (Africa)
December 4, 2020
The 2020 Inter-University Exchange Project (Educational Networking Programs for Human Resource Development in Africa's SDGs) conducted by the Ministry of Education, Culture, Sports, Science and Technology (MEXT) aims to nurture human resources who will contribute to the formation of an international network of universities and sustainable growth in African countries.
We are pleased to announce that our joint application with Kyoto University for the "International Collaborative Education Program for the Development of Highly Innovative Human Resources Dedicated Towards the SDGs in Africa" has been adopted as an Inter-University Exchange type B project (a program designed to build a platform for promoting inter-university exchange between Japan and African countries).
This project aims to establish a foundation for collaborative innovation through fieldwork in Africa and training in both Japan and Africa, while providing a curriculum that goes beyond the boundaries of humanities and sciences, as well as utilizing the accumulated knowledge of African studies. The below overview describes the five international exchange programs implemented in the project.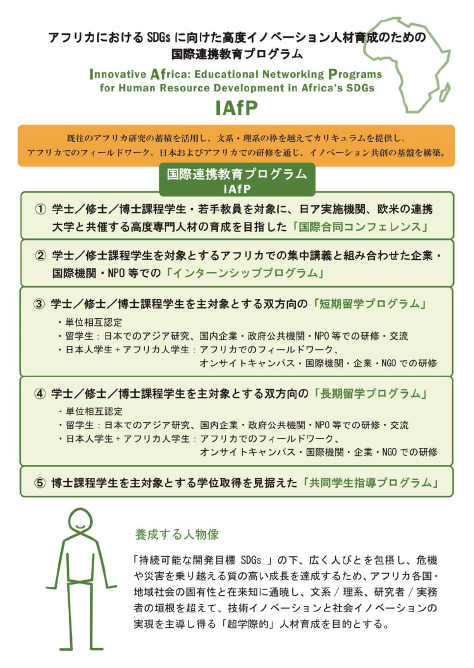 MEXT Website
Inter-University Exchange Project
https://www.mext.go.jp/a_menu/koutou/kaikaku/sekaitenkai/1413413_00008.htm
Japan Society for the Promotion of Science
Inter-University Exchange Project
https://www.jsps.go.jp/j-tenkairyoku/kekka.html