Online Presentations and Closing Ceremony held for TUFS 2019 Inter-University Exchange Project (Latin America) Students
August 4, 2020
On July 22, 2020, students accepted to the Inter-University Exchange Project's La-CEP program ("A Co-Creative Education Program of Humanities and Sciences to Solve Global Issues Confronting Japan and Latin America") made final presentations online (via Zoom) about their year in Japan. La-CEP is a program that aims to develop practical global human resources through collaboration between Tokyo University of Foreign Studies (TUFS), Tokyo University of Agriculture and Technology (TUAT), and The University of Electro-Communications (UEC), in order to resolve global issues (e.g. environment, resources, energy, food, social and post-industrial development) that need to be addressed in Latin American countries.
At the closing ceremony, 2019 foreign exchange students at TUFS and TUAT gave presentations in Japanese about what they had learned in university classes, the cultural differences between Japan and their home countries, and their work experience in internships. Some students took part online from their home countries as they were unable to return to Japan after a temporary leave.
This ceremony, set as the culmination of the La-CEP program, has been held in collaboration with all three universities since the beginning of the project, and so many faculty members and coordinators from universities, including UEC, which did not have any students in the program participated. Despite the time difference, lecturers of the Japanese Language Department and graduates of La-CEP from affiliate schools such as Rio de Janeiro State University (Brazil) and La Plata National University (Argentina) also attended the online ceremony. Although it was the first attempt throughout the 5 years of this project to have the ceremony online, it ended in success.
Since the end of 2019, the spread of COVID-19 has forced students into difficult situations while studying abroad. At universities, all classes were conducted online from April and travel within the country was largely restricted. Even after completing the program, with no return flights, many students have been stuck in Japan. However, even under such circumstances, many students spoke with smiles on their faces, saying "Coming to Japan has been my dream since I was a child" or "The experience of studying in Japan gave me confidence." All faculty members and coordinators were filled with hope that these students will play an active role as a bridge between Japan and Latin America.
We would like to take this opportunity to express our sincere gratitude to all the companies and organizations that provided students with valuable experiences during their internships.
This program started in 2015 and came to an end in 2019. Here at the TUFS Student Mobility Center and the Global Japan Office, in cooperation with TUAT and UEC, we will continue to support student exchanges between Japan and Latin American countries.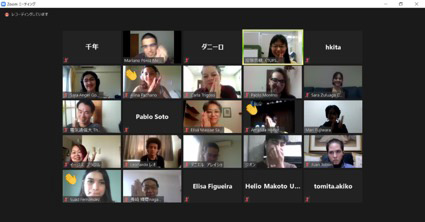 Online Presentations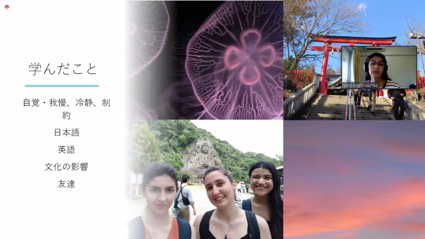 Presentations in Japanese by foreign exchange students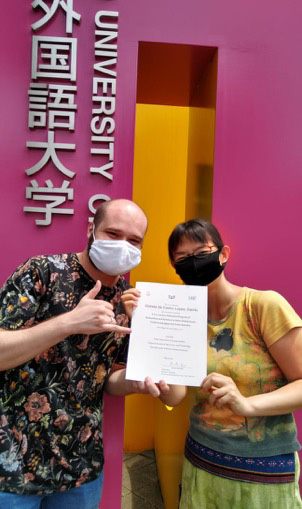 NAMIZUKA Nao, project coordinator presenting the certificate of completion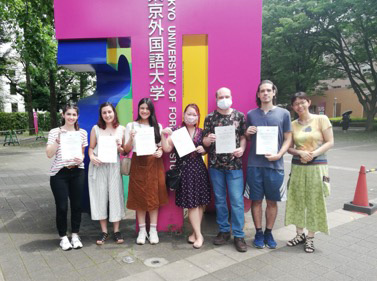 Fulfilled students after their one-year study abroad in Japan