TUFS Students Organize Student Business Contest "Hult Prize 2021 TUFS Competition"
January 18, 2021
On Saturday, January 9, 2021, the first online business contest in the history of TUFS, "Hult Prize 2021 TUFS Competition," was held. The Hult Prize is the world's largest student business contest, and is also known as "the student version of the Nobel Prize.
This competition was managed and organized by a student management team.
Three student teams presented their ideas for business models to solve food-related problems under the overall concept of "Food for Good." While all of the teams showed promise in solving social issues related to food, there was a lack of content related to marketing and other business areas, indicating the need for more on-campus events related to business in the future. Three TUFS alumni participated as judges, and as a result of the judging, team "LoFLo" won the competition.
The competition also featured guest speeches and panel discussions with Mr. Charles MCJILTON, CEO of Second Harvest Japan, and Mr. KOZU Hiroshi, Representative Director of the NPO Japan Mottainai Food Center.
Below are the comments from the students on the winning team and the management team.
Comments from the winning team "LoFLo"
Mr. SATO Yuji (School of International and Area Studies, Southwest Europe Region/ 1st year Italian Major)
Ms. YAMAMOTO Mirai (School of International and Area Studies, East Asia Region/ 2nd year Chinese Major)
Ms. OGURIYAMA Maki (School of International and Area Studies, East Asia Region/ 2nd year Chinese Major)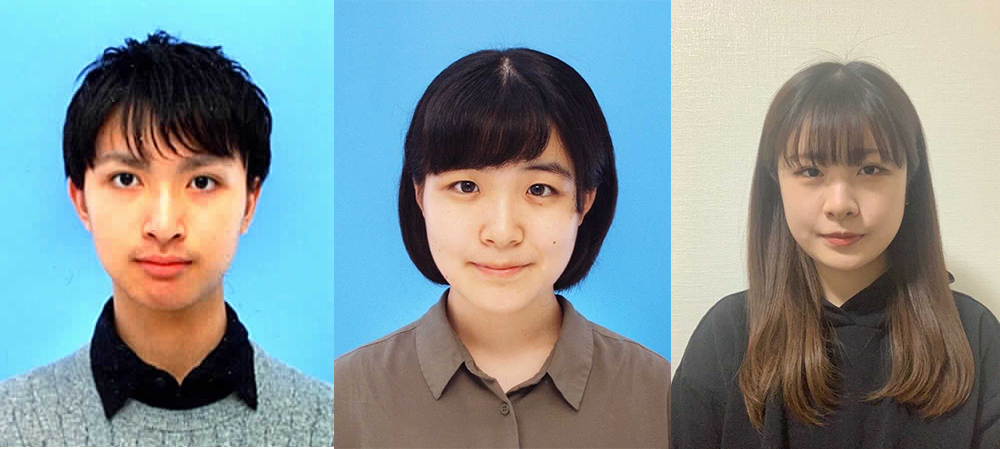 Mr. Sato (left), Ms. Yamamoto (middle), Ms. Oguriyama (right)
The business idea proposed by our team "LoFLo," is a community-based matching service that connects local producers and consumers based on the concept of "using food loss generated in the community within the community." Although we had a short amount of time to prepare, we were able to win the competition thanks to the collective knowledge of our team members, the support of the management team, and the cooperation of many people. We would like to express our gratitude and ask for your continued cooperation in making our current idea even better if we are given the opportunity to bring this to the next level.
Comments from students on the management team
Management Representative/Mr. LEE Gaeseong (School of Japanese Studies, 2nd year)

I was in charge of organizing the Hult Prize@TUFS2021.
The main reason I came up with the idea for this project was that TUFS is an environment where students are encouraged to take on new challenges, and I wanted to create a place where I could meet like-minded people who are passionate about their work. I also wanted to convey to prospective students the appeal of TUFS.
To be honest, it was difficult to hold the first ever business contest at TUFS. To begin with, we needed to understand the demand for business, gain recognition for the contest, and receive cooperation from outside the university.
However, we were able to successfully hold the contest with the cooperation of the management team, the alumni, and the support of the president, NPO, and the PR staff. Through this experience, I was reminded of how fully supportive TUFS is of its students' endeavors.
I think there are many students who think about starting something new while they are university students, or who have great ideas but feel unsure of executing them alone. In such cases, I encourage you to rely on the people around you, even me. Someone will always help you, and I believe that is what TUFS is all about.

General Manager of Participants/Ms. MURAKAMI Nodoka (School of International and Area Studies, Southwest Europe Region/ 2nd year French Major)

We are very happy to have been able to hold the Hult Prize at TUFS for the first time. We, the organizing members of the Hult Prize, have been preparing for the competition since autumn with the hope of providing a practical learning opportunity for TUFS students, who rarely have the chance to study business during their school years. This event was deeply related to sustainability, which has become an international trend in recent years, as well as the SDGs, and I think it provided an opportunity to learn about the concept of creating a sustainable society not only through international organizations and NGOs, but also through the power of business. I was able to think about the participants' business plans and give them advice, so we were able to learn together. I would also like to express my heartfelt gratitude to President Hayashi, my advisor Professor Seaton, the judges, and many others for their cooperation.

PR Representative/Ms. FUJISAWA Yuka (School of Japanese Studies, 2nd year)

As a PR representative, I was in charge of sending out information about the event via Instagram and Twitter. I was worried that I wouldn't be able to gather enough participants amidst the students' busy schedules of studying and club activities, but I'm really glad that we managed to hold the event! This was the first time for me to organize an online event, but I believe that there will be more opportunities like this in the future. Although meeting new people has become difficult at this time, I realized that it is possible to expand your network through online events like this. Once again, I would like to thank all the participants, judges, and guests who made the competition so much fun.

PR Representative/Ms. KWON Bo Mee (School of International and Area Studies, East Asia Region/ 2nd year Chinese Major)

I participated in this event as a PR representative. This activity was a very meaningful challenge for me as I had not yet found my field of interest since I became a university student. I think there were times when things didn't go well because it was the first time for everyone, but I am very happy that we were able to support each other and hold the event successfully. Thank you very much for giving us this valuable experience. I am proud of having been part of the creation of a new event at TUFS, and I would like to continue to challenge myself to do many more things in the future.

PR Representative/Ms. SUZUKI Marin (School of Language and Culture Studies, East Asia Region/ Korean Major)

I was truly honored to be able to help bring the Hult Prize to TUFS. I would like to express my gratitude again to all the people who helped us organize the competition on campus. I feel that the inspiration I received from everyone, as well as the challenges I faced while running the event, are valuable experiences that will help me make the most of the rest of my student life. In such a difficult time, I think that the actualization of the Hult Prize itself holds a great significance.