TUFS Student Awarded at All Japan Student English Presentation Contest
January 12, 2021
ISHIDA Ryota (School of International and Area Studies, Southwest Europe Region, 4th year) received the Top 50 Award at the 9th Annual All Japan Student English Presentation Contest (sponsored by Kanda Foreign Languages Group and the Yomiuri Shimbun) held in November 2020.
As many as 1,077 students from all over Japan participated in this competition, and 263 of them advanced to the second round. In response to the spread of COVID-19, the second round was held online.
Here are some comments and a report on the contest from the award winner, Ishida Ryota.
Comments and Report: Ishida Ryota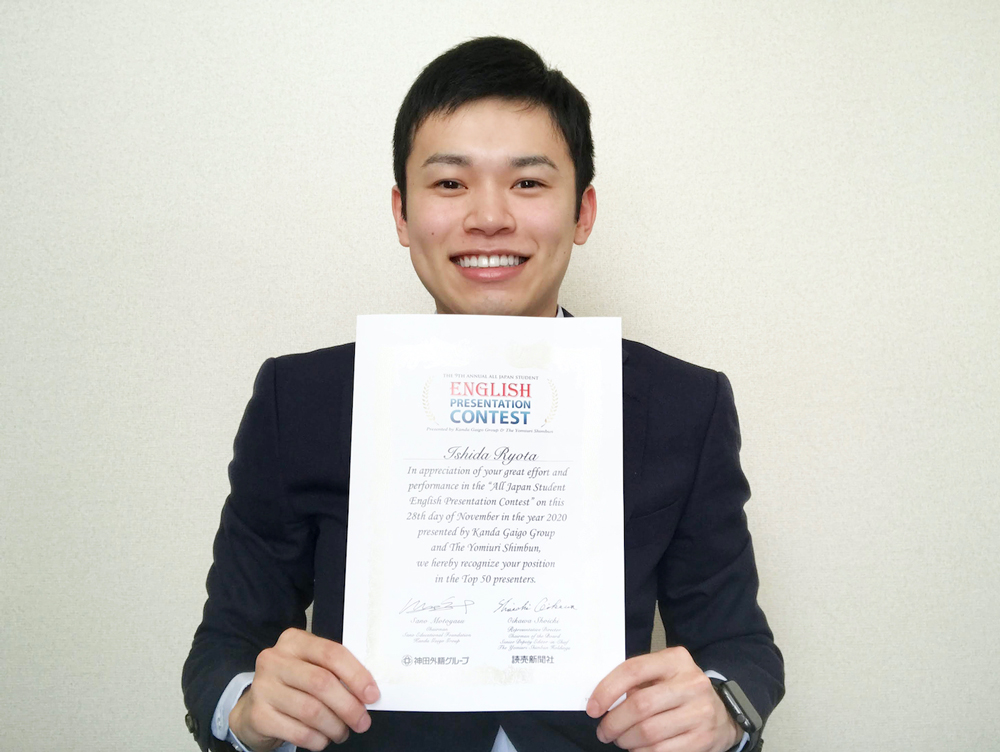 <The reason behind participation>
I was asked if I would be interested in participating in the contest by a friend who attends Akita International University. As this is my last year as a university student, I really wanted to challenge myself. That's why I decided to participate. I took part in the event with two other people: my friend from Akita International University and a friend of hers from the same university. Although I had never met the latter participant before, I thought it would be refreshing to work together and accomplish something with someone I didn't know. We had fun from start to finish. Also, one of my friends previously won the first prize and the Impressive Prize in this competition, so I started to think that maybe I could do it too.
<Preparation for the competition>
It was a month before the first round when I decided to participate in the competition, so I prepared for it at a rapid pace. We were all interested in education and wanted to improve the situation in Japan, so we chose the theme "Proposing an ideal educational system for the future." During the week just before the qualifying round, we had discussions every night from around 10:00 p.m. to 1:00 a.m. In addition, my two friends and I lived far away from each other, so we had discussions via ZOOM. Although we were all busy with assignments and part-time jobs, we enjoyed creating our presentations because we wanted to win.
We also talked with researchers and students who specialize in education, as well as senior students who had won prizes at the Pre-Contest, to brush up our content. In terms of English, I got advice from my ALT teachers from elementary and high school. I would like to express my sincere gratitude to everyone who helped us.
<The theme of the presentation>
Originally, the three of us were interested in gender issues, so we were thinking of making a presentation on solving such problems. However, in the process of discussion, we were confronted with not only gender issues but also complex intertwined issues, so we decided to do something that would benefit all children who are suffering. We shared our own past experiences and worries about sexuality, poverty, and bullying. We also talked about the various problems that exist around us, such as nationality, skin color, religion, domestic violence, and contraception.
This led us to propose, in our presentation, an online platform that would allow people to (1) confide in others about their problems without worry, (2) listen to others of the same age or older who had similar experiences, and (3) not be restricted by geographical limitations. However, as we prepared for the presentation, we were faced with a variety of issues, such as problems caused by the online nature of the platform, ways to make the concept more fresh, and how to measure its impact on education. In the end, we were able to come up with solutions to each problem and create a presentation that we were happy with.
<What I gained through participation in the competition>
Although we did not win the Grand Prize, which was our final goal, we received the "Top 50 Award". Even though this was not the result we were hoping for, we were still very happy that we were able to make it this far and that we received an award.
By participating in this contest, I was able to experience for the first time in a long time the joy of seriously devoting myself to something. Due to the effects of COVID-19, I spend a lot of time alone, which is sometimes mentally stressful. By making time to get involved with other people and finding something to devote myself to, my days have become a little more enjoyable than before.
In addition, the process of really thinking about the problems we face in our daily lives and coming up with ideas to solve them was a valuable experience for me.
Although I still haven't been able to meet my new friend in person, we are still in touch and she is now an important friend of mine. For me, the process of the three of us cooperating and working together is the biggest takeaway from this competition.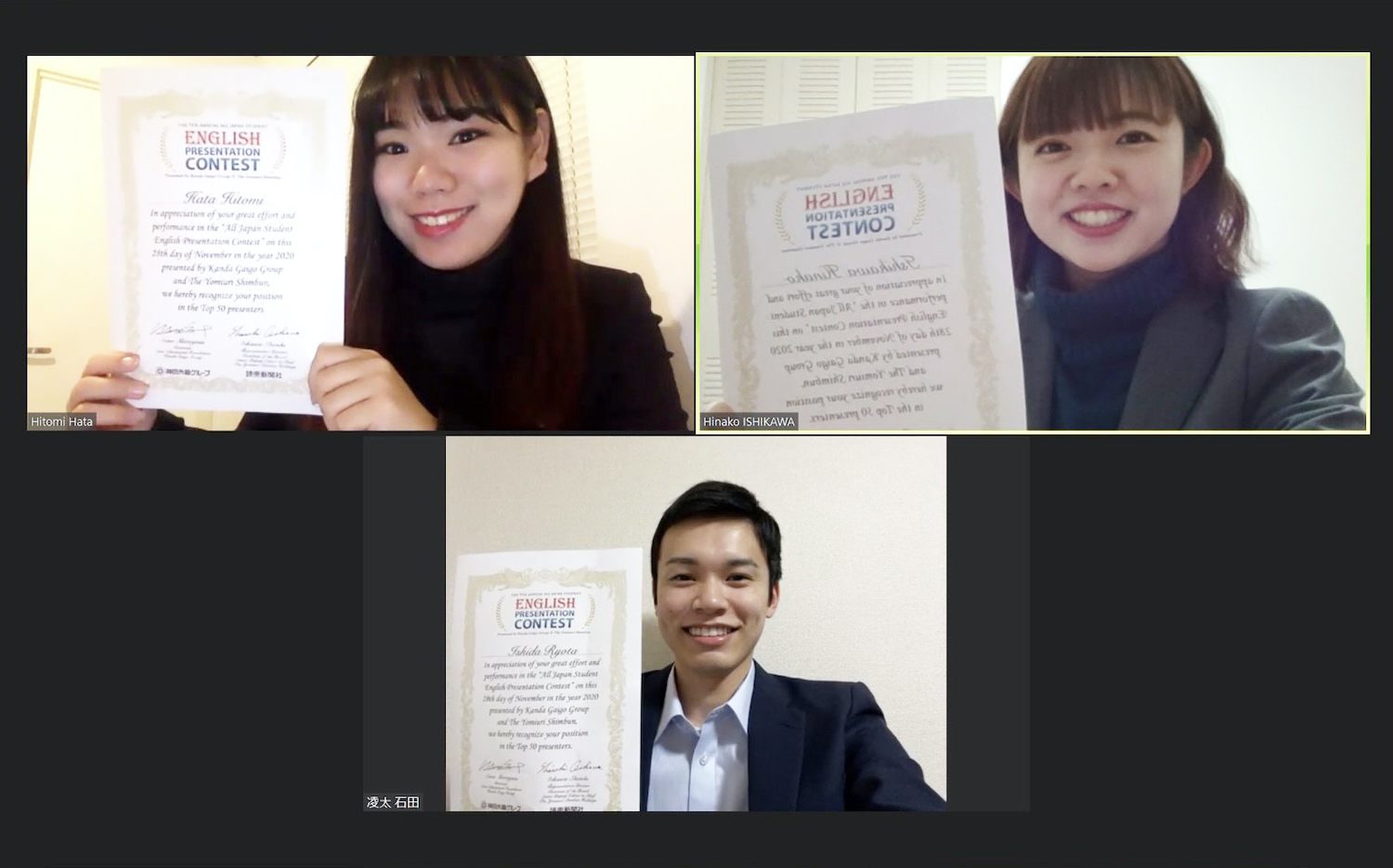 Commemorative photo with Ishida Ryota and friends from Akita International University who participated in the contest
See also:
contest website
https://www.kandagaigo.ac.jp/contest/