TUFS Student Wins Eisaku Sato Essay Award
May 16, 2018
On Thursday the 5th of April, the winners of the 33rd Eisaku Sato Essay Award were announced, and TUFS student Ian Karusigarira (Graduate School of Global Studies, Area and International Studies, third year) received the Award of Brilliance for his essay titled 'The World Population Tsunami and The UN's Role'.
Mr. Karusigarira's essay can be read here:
http://satoeisaku.com/se/wp-content/uploads/2017/09/IAN_KARUSIGARIRA.pdf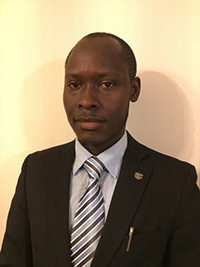 Mr. Karusigarira's Thoughts on the Award
I feel greatly honored to be the Brilliance Prize winner of the 33rd United Nations University's Eisaku Sato Essay Contest. Most of the ideas I shared in this essay reflected on my idea on world peace and security borrowing from my personal life directly or indirectly.
Therefore, the award gives me confidence that the world has ears and the voices of importance are always heard.
I have confidence that, this award is yet a warning signal for even much needed effort to confront the tough terrain of this ever changing world we call home. In my winning essay, I intimated the population catastrophe that is threatening the world peace and security and my view on how a harmony can be extracted from available rare peace opportunities. We have a responsibility as a human race to change the way we look at our regeneration lest we go into extinction.
This award was not a single-handed effort. I would like to thank my family for continued support, my lecturers as well as my fellow students at Tokyo University of Foreign Studies without whom this achievement would still be a dream.