Come Check Out TUFCOMMU Friday !!
January 16, 2015
Following the last semester, TUFS Intercutural Community(TUFCOMMU) carries out an international event "TUFCOMMU Friday" every Friday during lunch time. TUFCOMMU is a student committee which promotes intercultural exchange in the university. This weekly event takes place at TUFCOMMU Square in the Agora Global building.
Here is a brief summary of the latest events:
Russian Day (Nov. 28th): Shiori Kajiwara (Senior, Russian major) showed a Russian cartoon film and gave a presentation about the movie.
Arabic Day (Dec. 5th): Exchange students from Arabic-speaking areas, and TUFS students who plan to study in the region got together at TUFCOMMU Squre and chatted with TUFS students currently studying at Cairo University via Skype.
TUFCOMMU Mini Concert (Dec. 19th): Accompanied by the guitar, violin and cello, students sang "Silent Night" in a chorus. French student Caroline played the violin, Syrian student Miriam the guitar, and Japanese student Hayakawa played the Cello. Each student sang the song in his or her mother tongue and their voices resounded throughout the venue. While it was short, the concert was perfect for the last event of the year.
This year's activity will continue till the end of January. Don't miss it!
Arabian Day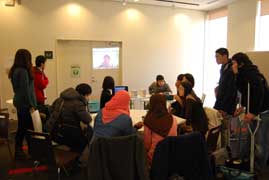 | | |
| --- | --- |
| TUFCOMMU Mini Concert | |
| | |