Bangladeshi Ambassador Visits TUFS
July 4, 2013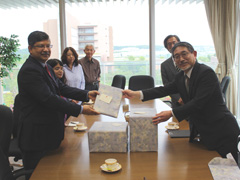 On Thursday, May 16, H.E. Mr. Masud Bin Momen, the Ambassador of the People's Republic of Bangladesh to Japan, made a visit to TUFS. He was welcomed by new TUFS President Hirotaka Tateishi, Executive Director for International Strategies Koji Miyazaki, and Professor Shinkichi Taniguchi and Professor Kyoko Niwa, who both teach the Bengali language. After a friendly discussion, they announced the promotion of academic exchange between the two countries.

On the occasion of this visit, TUFS received about 70 books and magazines on the Bangladeshi language, culture and history from the Bangladeshi Embassy.

Since the commencement of the Bangladeshi language education program last year, TUFS has deepened its relations with the country, including the academic exchange agreement with the University of Dhaka.
[translated by TUFS English major students]