お知らせ
Fri, 10 Mar 2023 19:40:49
In order to improve the information security, multi-factor authentication (MFA) will be available on March 23, 2023 in some systems.
After the MFA service is launched, a dialog window to set MFA (Fig.1) will appear when logging in to the following services.
Google Workspace (Gmail, Google Classroom, Google Drive etc. by using TUFS account)
Zoom (Only if you sign in with Google by using TUFS account)

If you want to enable MFA, click on "REGISTER DEVICE"; if you do not want to use it, click on "SKIP THIS STEP".
【Fig. 1】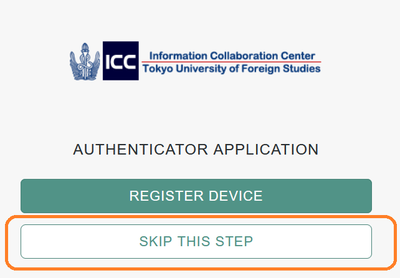 Point to keep in mind
The MFA is not automatically enabled and must be configured on your own to enable it.

The MFA is not mandatory for the time being.

The dialog window to set MFA will appear when you newly sign in. If you are already signed in, the dialog will not appear.

After registering the device to enable MFA, you can always deactivate MFA from below link with registered device.
When you lose registered device, we will deactivate MFA. (It may take time to respond.)

When you change the model of your smartphone, please transfer the application data properly.
Initial set up procedure of MFA
To enable multi-factor authentication, you will need a smartphone with one of the following applications.
Setup procedures for each application are described in those links. (English version is under construction)
Applications required to use multi-factor authentication
■ Google Authenticator (iOS、Android)
■ Microsoft Authenticator (iOS、Android)