Mon, 13 Mar 2023 18:04:24
Multi-factor authentication
Multi-factor authentication is an electronic authentication method that allows a user to use a website or an application by using a combination of multiple factors.
The factors can be classified into three categories: knowing factors (e.g., passwords), having factors (e.g., smartphone app authentication), and equipped factors (e.g.,biometric authentication).
By using multiple elements, even if an ID or password is leaked, other users cannot be successfully authenticated unless other elements are leaked.
Especially, the authentication method that combines two of the above-mentioned factors is called two-factor authentication (2FA).
Two-factor authentication in TUFS OpenAM
■ Corresponding services
After the 2FA service is launched, a dialog window to set 2FA (Fig.1) will appear when logging in to the following services.
Google Workspace (Gmail, Google Classroom, Google Drive etc. by using TUFS account)

If you want to enable MFA, click on "REGISTER DEVICE"; if you do not want to use it, click on "SKIP THIS STEP".
【Fig. 1】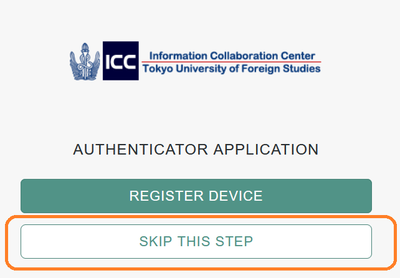 ■ Factors to be used
TUFS ID & Password
Digit number displayed on the smartphone application (See below for supported applications.)
Activete procedure of 2FA
To enable 2FA, you will need a smartphone with one of the following applications.
Setup procedures for each application are described in those links. (English version is under construction)
Applications required to use multi-factor authentication
■ Google Authenticator (iOS、Android)
■ Microsoft Authenticator (iOS、Android)
Deactivate procedure of 2FA
If you wish to deactivete the 2FA setting, please see the instructions on the following page.
Points to keep in mind when migrating smartphones
When you change the model of your smartphone, you can use the function of the authentication application to migrate without having to re-register for 2FA.
Please check the following page for the migration procedure.
When you change the model of your smartphone, please transfer the application data properly.