SAKAI Makiko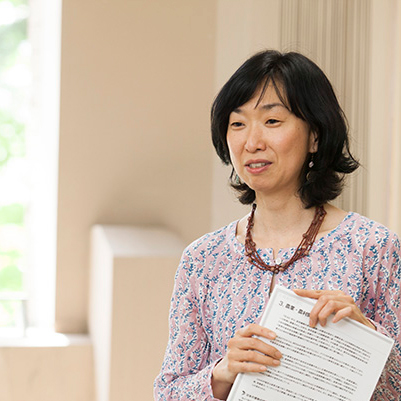 Name
SAKAI Makiko
Affiliation
Associate Professor, Graduate School of Global Studies / African Area Studies Course, School of International and Area Studies / African Studies Center - TUFS
E-mail
sakai_makikotufs.ac.jp
Profile
http://www.tufs.ac.jp/research/researcher/people/sakai_makiko.html
Research Field
Rural Sociology, African area studies
Key Words
Moral Economy, Rural Development, Agro-pastoralism, Famine, Microfinance, Tontine, Periodic market
Research Interest
She has been interested in the point of intersection between people's daily practices and "development" concepts in the African rural areas. In this regard, she has been involved in field research in Chad, Tanzania, Cameroon, and other area. Her current research topics consist of a combination of different livelihood and social organizations, especially local money practices in the rural areas.
Academic Career
1994-1998 Project Coordinator, Action for Greening Sahel (AGS)
2011-2015 Lecturer, Graduate School of Global Studies, Tokyo University of Foreign Studies
2015-2017 Associate Professor, School of Global Studies, Tokyo University of Foreign Studies
Degree
PhD (Sociologie) (Université Paris I/IEDES)
Academic Associations
Japan Association For African Studies
The Association for Regional Agricultural and Forestry Economics
The Japan Society For International Development
Japanese Society of Regional and Agricultural Development
Major Works

Major Works:

Characteristics of Bike taxis in African rural society: A case study of Dschang, West Cameroon, Fondation France-Japon de l'EHESS FFJ Discussion Paper #20-04, 2020
History of loan and debt in Rural areas in Africa -Origin of Micro Finance, Area and Culture Studies 91,pp. 213-226, 2016. 
Chapter 7: Famine and Moral Economy in Agro-Pastoralist Society : 60 Years of Rainfall Data Analysis, Endogenous Development, Moral Economy and Globalization in Agro-pastoral Communities in Central Tanzania, pp.101-118, 2016.
Limits of Micro-finance and "Bank of Affection, in urbanizing agro-pastoral Gogo Society, Dodoma, Tanzania, Proceedings of 6th International Conference on African Moral Economy, <Rural Development and Moral Economy in Africa: From Comparative Perspectives>, pp.166-176, 2014.
Le développement par les organisations paysannes : Analyse des « interventions participatives » dans le Sud du Tchad , PhD Thesis、Université Paris I - Sorbonne / Institut d'Etude pour le développement économique et social (IEDES), 2008, 480p.