Japanese Language Program (JLPTUFS)
Here at TUFS, the "Japanese Language Program of Tokyo University of Foreign Studies" (JLPTUFS), is in place to guide the following international students in their Japanese studies.
Undergraduate students
MEXT Research students (preparatory course)
Short-term exchange students from partner institutions (ISEPTUFS students)
Japanese Studies Students
MEXT or Privately-funded research students
This program consists of two 13-week courses, with one starting in April, and the other in October. Students begin the course with a placement test to measure their Japanese level and corresponding class. The classes are split into seven levels (Elementary 1 to Advanced 2), so students can choose classes that suit their Japanese level and language learning goals. If a student passes the class(es) in his/her placed level, he/she can advance to the next level in the following semester. In principle, students who are judged as "Upper-Advanced Level" (above level 700) in the result of the placement test and students who passed the subjects of 700 level in the previous quarter are not allowed to take any class of JLPTUFS.
Japanese Language Program (JLPTUFS) Course Guide
I-J Coeducation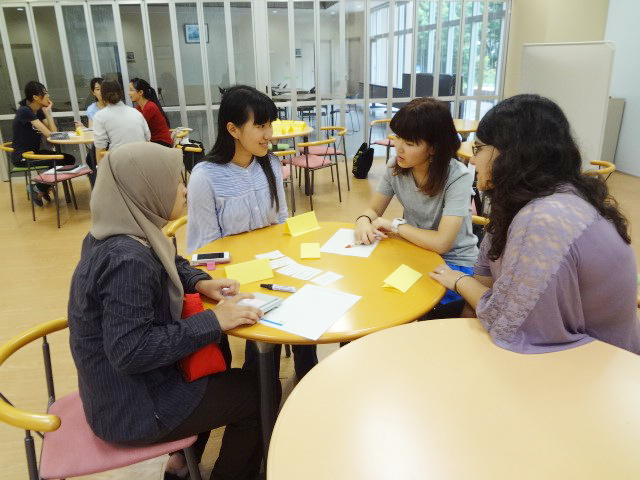 The Japanese Language Program (JLPTUFS) also invites Japanese students (undergraduate and postgraduate) to participate in its classes. The Japanese students listen to and ask questions about the presentations international students give on their home countries, and have discussions on a range of topics including familiar topics and social issues. This is a good chance for Japanese students to discover a side of Japan they did not know, and learn about the home countries of the international students at TUFS. These coeducation classes are aimed at native Japanese speakers studying at TUFS.
We hope to see you in our classes.
More information on the coeducation classes can be found here (Japanese only).