CEFR-J x28 project
The CEFR-J x 28 project aims to construct an entirely new CEFR-based framework for learning, teaching, and assessment of 28 foreign languages offered as language majors at TUFS. The CEFR-J is an adaptation of the Common European Framework of Reference for Languages (CEFR, 2001, 2020), featured by its fine-grained sub-levels from A1 to B2 levels. The CEFR-J x 28 project, led by Professor Dr. Yukio Tono, hopes to contribute to innovative approaches toward the design and implementation of new foreign language learning/teaching environment and its application in an era of globalization and plurilingual / pluricultural societies.
The pedagogical resources built for the CEFR-J x 28 project will enable us to visualize the ultimate attainment in the target language and accelerate further achievements of our students who choose to major in any of the 28 foreign languages offered at TUFS.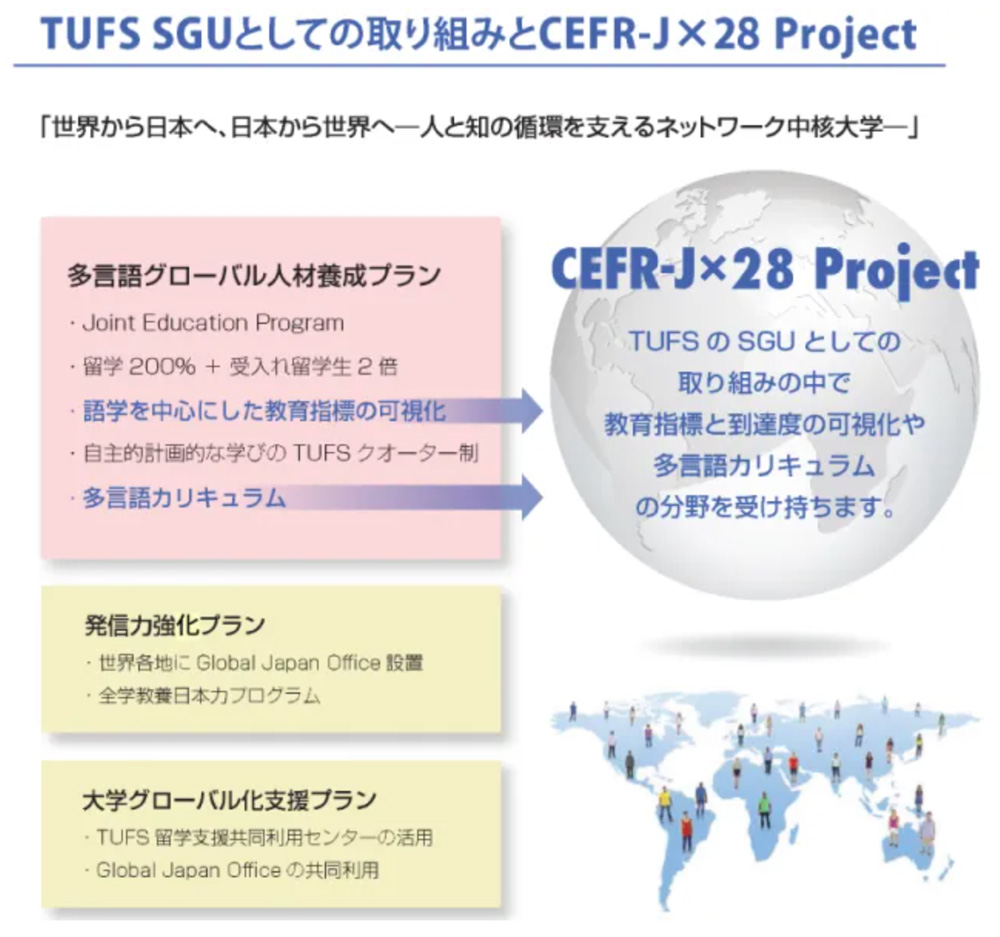 What is CEFR?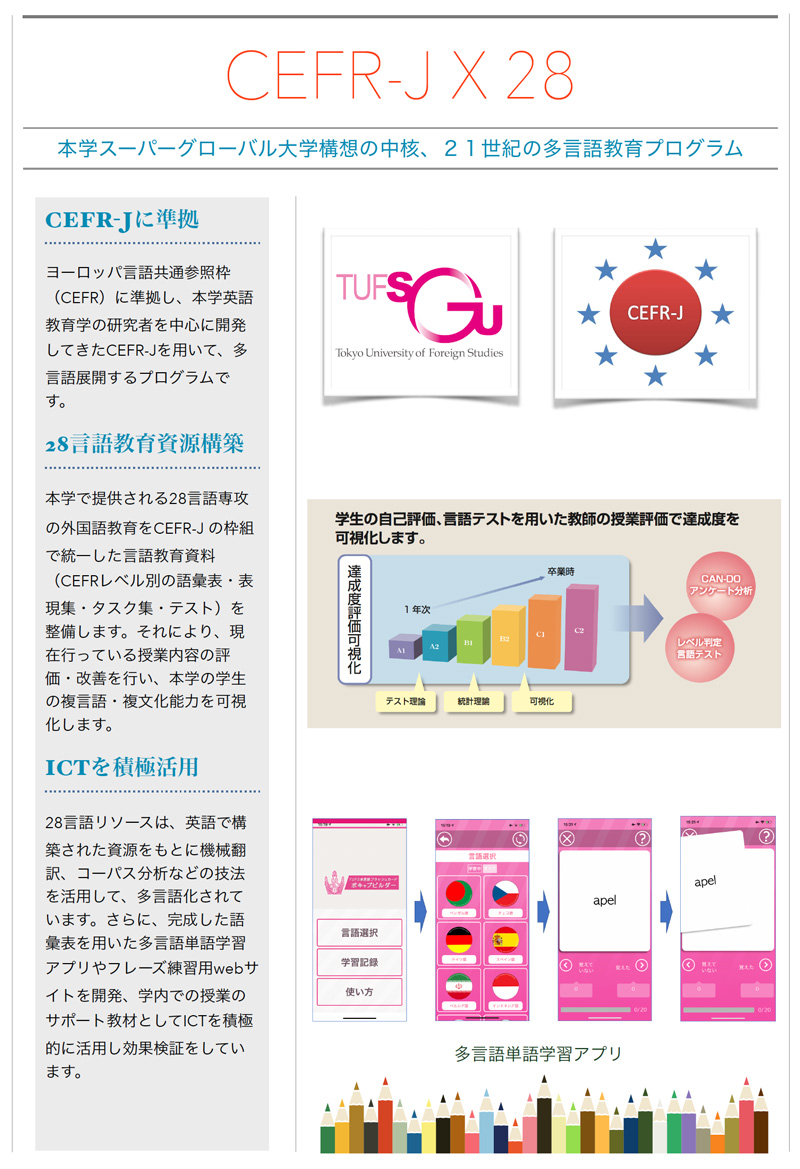 The Common European Framework of Reference for Languages (CEFR) was Issued by the foreign language policy division at the Council of Europe in 2001. It aims to serve as a common reference "tool" for describing and evaluating the common practice in foreign language learning, teaching and Assessment at all levels. The applications will cover a broad range of domains from foreign language policy making, syllabus & curriculum development, test development and alignment, to individualized learning and teacher training programs.
In our country, the Japan Foundations constructed a framework for teaching/learning Japanese as a foreign language called the JF Standard. Also, a more fine-grained framework based on the CEFR for English language learning and teaching in Japan has been developed and called the CEFR-J. The principal investigators of the CEFR-J project are Professor Yukio Tono and Professor Masashi Negishi, both working at TUFS.
The History Behind CEFR
The Council of Europe was established in 1949 after the Second World War. For more than 30 years, the Language Policy Division and the European Centre for Modern Languages have been policy makers for the research of language teaching; what has come of this is the CEFR.
The Aim of CEFR
The CEFR measures the progress of the student and aims to have them stretch to mastery of a language. In order to do this, it offers a number of services. As a member of the Council of Europe, students and educators are offered language learning and teaching materials such as syllabuses, a curriculum, guidelines, exams and teaching materials to provide a qualitative improvement for a common learning framework, description and index; a description of the knowledge and skills for effective language communication; and a cultural explanation of language with regard to context
Levels and Skills within CEFR
Language ability is divided into 6 levels ranging from A1-C2 and 5 skills (1. Listening; 2. Reading; 3. Conversation; 4. Speech; 5. Writing).
CEFR-J×28語彙表・Can-Do別フレーズリスト サンプル
*クリックするとサンプルを1ページ分のみ閲覧できます。
| | CEFR-J x 28 語彙表(A1, A2) | CEFR-J x 28 CAN-DO別 フレーズ・リスト(A1.1) |
| --- | --- | --- |
| 英語 |   | |
| ドイツ語 |   | |
| ポーランド語 |   | |
| チェコ語 |   | |
| フランス語 |   | |
| イタリア語 |   | |
| スペイン語 |   | |
| ポルトガル語 |   | |
| ロシア語 |   | |
| モンゴル語 | | |
| 日本語 |   | |
| 中国語 |   | |
| 朝鮮語 |   | |
| インドネシア語 |   | |
| マレーシア語 |   | |
| フィリピン語 |   | |
| タイ語 |   | |
| ラオス(ラーオ)語 | | |
| ベトナム語 |   | |
| カンボジア語 | | |
| ビルマ語 | | |
| ウルドゥー語 |   | |
| ヒンディー語 |   | |
| ベンガル語 |   | |
| アラビア語 |   | |
| ペルシア語 |   | |
| トルコ語 |   | |
| ウズベク語 | | |
Links for more information regarding