掲載日 | 2014年05月07日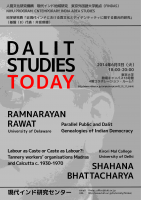 東京外国語大学拠点FINDASでは、ダリト研究者お二人を招聘し、研究会を6月3日(火)に開催いたします。本研究会は、科研「近現代インドにおける食文化とアイデンティティに関する複合的研究」(基盤(B)代表:井坂理穂)との共催となります。
※本研究会はどなたでもご参加可能です。事前のご連絡は不要です。
2014年度 FINDAS研究会(研究グループ1)
Title: "Dalit Studies Today"
Date: June 3, 2014 (Tuesday), 18:00-20:00
Venue: Collaboration Room 1, 4th Floor, Building 18, Komaba Campus, the University of Tokyo
(東京大学 駒場キャンパス18号館 4階コラボレーション・ルーム1)
(http://www.u-tokyo.ac.jp/campusmap/cam02_01_17_j.html)
発表者1: Ramnarayan RAWAT (University of Delaware)
"Parallel Public and Dalit Genealogies of Indian Democracy"
Drawing from the activities of the Adi-Hindu Mahasabha and Swami Achutanand's writings in the early twentieth century, this paper analyzes Dalit organizations that played a crucial role in constituting two important forms of democratic practice. It first traces the emergence of the innovative practice of counter-demonstrations, in which Dalit groups actively contested Congress agendas and outlined their own agendas. And second, it examines the Adi-Hindu Mahasabha's use of printed publications to frame and articulate a political critique of power.
発表者2: Shahana BHATTACHARYA (Kirori Mal College, University of Delhi)
"Labour as Caste or Caste as Labour?: Tannery workers'organisations Madras and Calcutta c. 1930-1970"
This paper poses once again the old questions about the inter-relationship of labouring and caste identities as these emerged historically. Located at the cusp of 'labour' and 'dalit' studies, it urges an integrated approach to build an understanding of these intimately intermeshed structures and identities. It argues these points from a closer historical study of the politics of caste and labour in the leather tanning industry from about the early 20th century till the early 1960s. It examines specifically how caste, class and labour process informed and moulded each other in the making of the earliest unions of the tannery workers in two important leather producing areas – Madras, comprising several linked clusters across the province, and the concentrated cluster in Calcutta.
言語:英語(通訳無し)