【31st March】Call for participation in "Sake Lecture & Virtual Brewery Tour"
March 4, 2022
The Inter-University Exchange Project (Africa) will conduct the "Sake Lecture & Virtual Brewery Tour" on 31st March.
In this event, we will learn about Sake online with African students from project partner universities: Protestant Institute of Arts and Social Sciences (Rwanda), University of Ghana, University of Zambia, University of Pretoria (South Africa), Stellenbosch University (South Africa).
You will learn the history of Sake, how to brew Sake and manners when drinking Sake by quiz, virtual tour and demonstrations.
A company called "Asahi Shuzo" will conduct this tour. Their product "Kubota" is very famous at the bars and it is also sold at the supermarkets.
If you are interested in Sake, want to interact with African students, don't miss this chance to join us!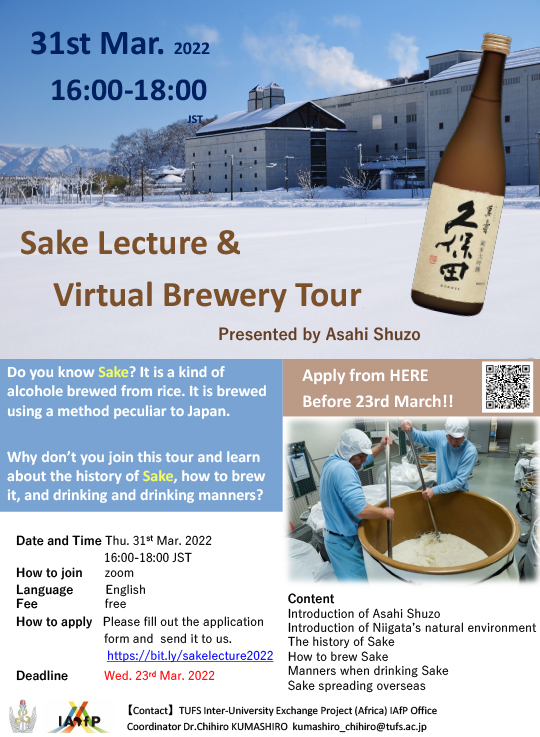 Sake Lecture & Virtual Brewery Tour
Date: Thu. 31st Mar. 2022, 16:00-18:00 JST
How to Conduct: Zoom
Language: English
Fee: free
Capacity: no limitation
Content: Introduction of Asahi Shuzo, Introduction of Niigata's natural environment, The history of Sake, How to brew Sake, Manners when drinking Sake, Sake spreading overseas
How to apply: Please fill out the application form and send it to us.
        https://bit.ly/sakelecture2022 (Deadline: Wed. 23rd Mar. 2022)

【Contact】
Inter-University Exchange Project (Africa)
Coordinator: Chihiro KUMASHIRO kumashiro_chihiro@tufs.ac.jp
http://www.tufs.ac.jp/iafp/