Associate Professor Norikazu Kogura Wins Dr. Kyosuke Kindaichi Memorial Award
November 6, 2018
TUFS Associate Professor, Professor Norikazu Kogura, has been awarded the 46th Dr. Kyosuke Kindaichi Memorial Award for his book "Sibe (Xibe) Modality Research".
This award aims to recognize outstanding research and achievements in the fields of language and culture, and has been awarded once a year by the Dr. Kyosuke Kindaichi Memorial Committee since 1973.
The award ceremony is scheduled to be held on Sunday the 16th of December.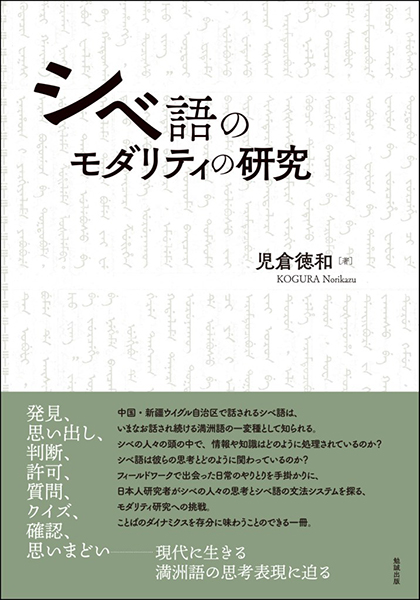 A study on the modal system in Sibe
A book by Norikazu Kogura
Sibe (Xibe), a language spoken in the China Xinjiang-Uygur Autonomous Region, is known as a still widely-spoken variety of the Manchu language. This book asks how do the Sibe (Xibe) people process information and knowledge in their minds? And how is the Sibe (Xibe) language related to their thoughts?
In this book, as an attempt at Sibe (Xibe) modality research, a Japanese researcher investigates the thoughts of the Sibe (Xibe) people and the Sibe (Xibe) grammar system based on daily interactions during fieldwork with the Sibe (Xibe) people.
This is a book through which readers can experience the dynamics of language.
ISBN:978-4-585-28039-2 / March 2018 / Paperback / A5, 480 Pages