EU Double Degree Master's Program "History in the Public Sphere" to Begin at TUFS
October 10, 2019
From April 2020, TUFS will be offering a new double degree master's program entitled "History in the Public Sphere".
Students in this program will spend two and a half years moving between TUFS, the Central European University (Hungary), NOVA University Lisbon (Portugal), the University of Florence (Italy) and the National Institute for Oriental Languages and Civilizations (France), during which they will study, conduct research and participate in internships. At the end of their studies, after passing a joint dissertation defense at TUFS, students will graduate with both a Master's degree from TUFS and a Master of Arts in History from the Central European University.
From April 2020, applications will open for students already enrolled in other TUFS master's programs, and the first generation of this program will be selected from the students who apply.
More information on this program will be available soon.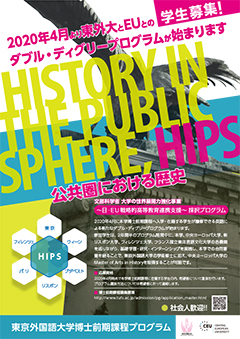 Flyer (Japanese)