TUFS and the University of Ghana, Become Partner Institutions
March 14, 2017
On Friday 16 th September, TUFS established ties with the University of Ghana, Ghana, as a partner institution.
Vice President Iwasaki visited the University and signed the agreement with Vice President Prof. Kwame Offei and Prof. Ama de-Graft Aikins, International Programme Office director.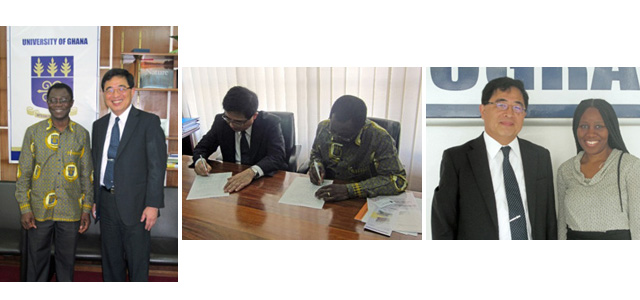 Left: Vice President Prof. Kwame Offei RIght: Vice President Iwasaki Right: Prof. Ama de-Graft Aikins

The University of Ghana was founded as part of the University of London as The University College of the Gold Coast, and became The University of Ghana in 1961. The main campus is located in the capital of Accra, and aside from an extensive range of departments and post-graduate courses including humanities, cultural sciences and natural sciences, there is also an African research institute among other things. In addition, there is the attached medical faculty commemorating Dr. Hideo Noguchi which was founded with support from Japan, the Noguchi Memorial Institute of Medical Research, and the University has a strong link to Japan. With a focus on the departments for humanities and social science and the Asia research centre established last year, we plan to promote the exchange of students and researchers between the universities.
At TUFS, since the establishment of the African area studies course in the School of International and Area Studies with the department reorganisation in 2012, we have actively expanded relations with Africa, particularly the Sub-Saharan region.

Dr. Lloyd Amoah (Asian Research Centre) with
Professor Samuel Agyei - Mensah (Provost of the College of Humanities)