Congratulations on Graduating! (2015 Academic Year Graduation Ceremony and Diploma Presentation Ceremony Celebrated on March 24th)
March 31, 2016
On the 24th of March 2016 (Thu), the graduation ceremony and diploma awarding ceremony for the 2015 academic year was held in the Agora Global Prometheus Hall here at TUFS. The first group held in the morning consisted of 491 students from the Faculty of Foreign Studies, the second group which was held in the afternoon consisting of 132 students from the School of Language and Culture Studies, 123 students from the School of International and Area Studies, 107 students from the Graduate Schools Master's Program and 12 students from the Doctoral Program of the Area Studies Department within the Graduate School of Global Studies, graduated and were presented with their diplomas.

President Hirotaka Tateishi`s Ceremonial Address
| | | |
| --- | --- | --- |
| | | |
| | | |
| | | Choir performance by Choeur Soleil |
| Vice-President of the Alumni Organization Koichi Watanabe | Vice-President of the Alumni Organization Kazuko Tanaka | TUFS Student Support Association chairperson Michimune |
(Group 1 and 2) President Hirotaka Tateishi`s Ceremonial Address for the 2015 Academic Year Graduation Ceremony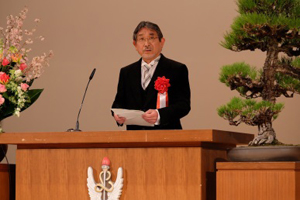 Today, on the 1st of April, to graduating students from the Faculty of Foreign Studies, School of Language and Culture Studies, School of International and Area Studies, also to those who continued on to Graduate School and Doctoral programs, to everyone who is about to leave the nest and head out into the wide world as fully fledged members of society, as President of Tokyo University of Foreign Studies I wish to congratulate you on departing down your own individual paths and to leave you with a few parting words.
We decided to hold this year's graduation ceremony here, in the Prometheus Hall of the Agora Global building. Previously we had borrowed a public hall in Fuchu where we could seat all the graduating students and family members in the same hall to conduct the graduation ceremony however, the TUFS Fuchu campus and the Fuchu public hall are far apart which with bad weather, caused a lot of trouble in the past (thankfully the weather today is fine).
Above all, from the strong wish of wanting to hold the ceremony in lovely weather here at Fuchu campus where everyone has spent many years studying and participating in extra-curricular activities together with their friends, seniors and juniors, we decided to move the ceremony to the "Prometheus Hall". I am incredibly sorry for having to split the ceremony into two parts due to the hall capacity limit and also that the parents and guardians had to watch the ceremony on a monitor in the multimedia hall of the Research and Lecture Building, I graciously ask for your understanding.
Now then, up until now I have only been talking about the outside facilities, but in actual fact this is not the very first time we have held the graduation ceremony here in the "Prometheus Hall". It was the graduation ceremony 5 years ago. That year, due to power cuts and the influence of other circumstances we were unable to use the public hall in Fuchu and at the last minute on 29th of March, we decided to hold the graduation ceremony here. Yes, because of the earthquake that struck east Japan accompanied by the Fukushima nuclear power plant incident, it was a time where even in metropolitan areas strict power regulations were being put in place.
Shortly following the earthquake we created a disaster student support team and made confirming the safety and well-being of our students our top priority. Fortunately we were able to confirm the safety of every single student however, there were students who had suffered great loss such as losing family members or their family house being destroyed. This is where we as a university set up an emergency scholarship support. On the 29th of March, despite the last minute change of venue, we were able to celebrate the graduation without any problems. I can still vividly remember the disaster student support team working hard fundraising in front of the Entrance to the Agora Global building. At that time, the graduating students and the parents and guardians kindly gave a large amount of money for the students of TUFS who have been affected by the disaster. Also in the media, the word "bonds" was actively used, during this time you could really feel the connection between people and the kindness towards people in need.
It has been 5 years since then, and still many specially organized events are being held both before and after the 11th of March as a campaign in order not to let the memories of that day fade away. We will also never forget the tragedy that occurred on that day.
Since that day we have also taken various precautions in the form of earthquake countermeasures.
Even in this Prometheus Hall where everyone is gathered today, the roof has been subjected to earthquake resistant construction work, we are working hard to ensure the safety of all those who use our facilities.
Upon reflection of the serious nuclear power plant accident there were a growing number of people saying we should stop relying on nuclear power. However, a new regulatory standard has been created and part of the nuclear power plant has once again begun operation. Pushing aside whether this decision is right or wrong, we have no other choice but to believe in this "supposed safety" and if the regulatory standards are neglected and another nuclear accident occurs, then to say Japan will have no future is far from exaggeration.
During the 5 years since the nuclear incident, many disasters and incidents have occurred leading to the rise of victims. Amongst these, one of the serious problems is corporate activity being carried out without adhering to laws and regulations due to the pursuit of profits. One example of this was the ski tour bus accident which occurred around Karuizawa station on the 15th of January this year.
There were 4 of our students riding on that bus, of which one of them lost their life, like everyone here today, they also held their hopes of graduating and becoming a fully-fledged member of society, however that opportunity has been lost forever. It is such a shame and I express my deepest condolences.
After this bus tumbling accident, many comments were given but I would like to introduce just two of them. The first one is from the report writer Satoshi Kamata who pointed out "All the passengers who lost their lives were students and there was even a student who was planning to start work from April" "However we must not let this incident end with the investigation into the bus company`s management, this incident must be effectively used to completely re-evaluate the safety and security of Japanese society". The next one is from the father whose daughter died in the incident. "(Regarding the incident) I cannot say that I am not angry, however such accidents occur due to the strain brought upon by the one sided lack of labor work, excess of pursuing profits, the neglect of safety and other such social issues that currently face Japan". We must share in his sorrowful thoughts.
All of you who will become fully-fledged members of society as of tomorrow, as you start to play an active role at the core of corporations in Japan and across the world; I want you to always keep in mind the "safety" of others. I do not wish you to become the kind of person that through the pursuit of profits neglects the safety of participants in corporate activities, jeopardizes the health of nearby residents or complies or participates in the destruction of nature.
In current corporations and organizations the word "compliance" is essential. Generally, it is translated as "observance of laws and regulations" which simply put, means not only to refrain from conducting illegal activity or anti-social behavior but also "to make good decisions based on sound logic". Of course, also included in this premise is to "respect each other's human rights". To all of you about to fully join and play an active role in society, I want you to always be conscious of whether or not you are acting in a way that goes against "compliance", also I would like you to have the fortitude and bravery to be able to deal with organizations, superiors and colleagues who`s actions go against "compliance".
Now then, finally I have one more request to ask of you. That is to treat the bond you share with this school, where you all spent your student days, Tokyo University of Foreign Studies dearly, from now and into the future. Currently the environment surrounding national universities is getting worse due to the whole country being in a severe financial situation. 2 years ago, we were selected as part of the "Top Global University Project" as a university that is leading the globalization of Japan and are working on training true global multilingual people of talent. In addition, we received support from the National University Enhancement Budget and are planning to create a superior point of operations for the "International Center for Japanese Studies". Due to these accomplishments, our school requires the various support graduating students have offered in the past including financial support now more than ever. I wish that you would all join and participate in the alumni organization "Cooperate with Tokyo University of Foreign Studies and raise the brand of TUFS together" and support the project "Founding 105th Anniversary Fund" which was started 2 years ago.
Please try to imagine what TUFS will be like in the year 2023. In other words, 150 years after the university was founded, in exactly 7 years' time. The warm hearted financial and personal support provided by the alumni has helped us become a global university and allow for Japanese students to study and participate in friendly competition with foreign students from all over the world. We, the faculty members will also try our best so I wish from the bottom of my heart that all of you graduating students will help support your school for many years to come.
This concludes my ceremonial address, I pray for your future success.
National University Corporation, Tokyo University of Foreign Studies, President Hirotaka Tateishi 24/03/2016