TUFS Global Community meeting (Seoul, Madrid) was held on 29/10 and 4/12
December 22, 2015
The TUFS Global Community meeting was held in Seoul on the 29/10/2015 (Thursday) and also in Spain, Madrid on the 4/12/2015 (Friday).

As a link to the Top Global University project being put into practice by TUFS, the International Office has aligned with the establishment of Global Japan Office and is expanding the TUFS Global Community operations by networking local graduate students, alumni and TUFS faculty members with currently enrolled students to offer support for their year abroad.
At the meeting held in Seoul on the 29 th of October, starting with president Tateishi, participants from the annual symposium, the Consortium for Asian and African Studies (CAAS) which was held at Hankuk University of Foreign Studies attended, 23 TUFS people were present. Continuing from April last year, this was the second time that the meeting was held in Seoul. You could see the local students who have just started their year abroad asking their seniors for advice; it was a lively meeting from beginning until end.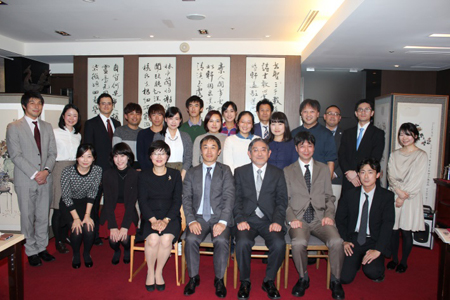 President Tateishi and executive director and secretary general Hirashita who visit Spain for the opening ceremony of the 7th TUFS Global Japan Office (Salamanca) also attended the meeting and planned to strengthen networking between Spain and TUFS on the 4/12/2015 (Friday). We gained participants from the TUFS alumini association Madrid branch members both new and old as well as people from Barcelona and Salamanca; this will also be the second time the meeting has been held in Madrid following the previous meeting held in November 2013. It was a great opportunity in which you could feel the strong relationship among TUFS Spanish community.