The Panamanian Ambassador Visits TUFS
July 30, 2015
On Wednesday, July 15th, His Excellency Mr. Ritter Nobel DIAZ GOMEZ, Embassy of the Republic of Panama in Japan, visited TUFS and met with President Tateishi, Prof. Naotoshi Kurosawa, Associate Prof. Ryoichi Kuno, and Assistant Prof. Takahiro Miyachi.
They exchanged opinions about possibilities of academic exchanges and student exchanges between Panamanian universities and TUFS.
The following specific topics were discussed:
1. Possibilities of developing an academic exchange and an agreement on it between Panamanian universities and TUFS
2. Cooperation in holding seminars at TUFS and having the Ambassador as a lecturer
3. An internship program at the embassy offered to TUFS students
4. Cooperation and support for Latin America including Panama in higher education field
Further international exchanges will be expected in the future.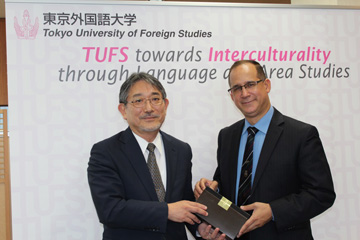 His Excellency Mr. Ritter Nobel DIAZ GOMEZ and TUFS President Tateishi