Academic Year 2015 Entrance Ceremony Held
April 21, 2015
On Saturday, April 4th, TUFS held the entrance ceremony for the academic year 2015 at Prometheus Hall in the Agora Global building. The ceremony was for newly enrolled undergraduates, postgraduates, and students of the Japanese Language Center for International Students (JLC).
At the ceremony, TUFS choir group Choeur Soleil sung the university song. The ceremony was divided into two parts: The first part was for the newly enrolled students of the school of Language and Culture Studies, JLC pre-undergraduate students and research students. The second part was to celebrate students of the school of International and Area Studies and postgraduates.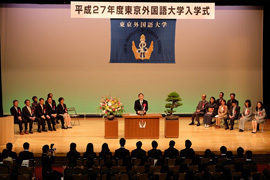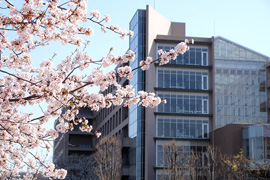 President's speech
On behalf of Tokyo University of Foreign Studies (TUFS) and as the president of the university, I would like to congratulate all of you here today, as well as your families, who are watching this ceremony from Multi-media Hall 101 in the Research and Lecture building. Today, we welcome 403 new students to the School of Language and Culture Studies, including 15 transfer students, 418 entrants to the School of International and Area Studies, including 17 transfer students, 151 new postgraduates, and 63 new students of the Japanese Language Center for International Students (JLC TUFS). In front of all of you who are filled with hopes, I feel humbled and motivated.
The origins of Tokyo University of Foreign Studies, where you will study, can be traced back to Bansho Shirabesho (Research and Education Institution on Western Studies) founded in 1857. Tokyo Gaikokugo Gakko (Tokyo School of Foreign Languages) was established in 1873, when is considered as the establishment year of TUFS. This school had five language departments: English, German, French, Russian and Chinese. After that, the university experienced many twists and turns. This school was founded as an organization affiliated with Koto Shogyo Gakko (Higher Business School) in 1897, and in 1899 became independent as Tokyo Gaikokugo Gakko (Tokyo School of Foreign Languages). In 1949, TUFS was established as a university organized under the new postwar education system. At that time, it had twelve language departments. In 2012, the undergraduate program was reorganized into two schools, the School of Language and Culture Studies and the School of International and Area Studies.
Now, aiming at becoming a research and education center of human science, TUFS has an education system which encompasses studies on almost all regions and languages, such as 14 regions and 27 languages as its core areas of studies, with two pillars: Language Studies and Area Studies. We focus specifically on foreign studies in order to meet the needs and demands of today's global society, the 21st century. Last September, the TUFS framework, the project "Toward Globalization" has received governmental funding and we have been selected as the "Top Global University" by the Ministry of Education, Culture, Sports, Science and Technology. We will make efforts to realize what is seen in our slogan, "A key network university that connects worldwide resources: From World to Japan and From Japan to World".
The School of Language and Culture focuses on delivering subjects in a number of languages and cultures all over the world. The school's educational purpose is to develop global human resources that are well-versed in languages and cultures including the Japanese one, who can act as a bridge between cultures and contribute to the development of new ideas. We hope that all of you will enjoy liberal arts education and acquire specialized knowledge, study abroad and have a fun and fulfilling university study experience. Furthermore, we hope that you'll play leading roles in the world as global citizens in the near future.
The School of International and Area Studies specializes in languages, societies, politics, and economics around the world. The school aims to educate students and develop them into global professionals who will be equipped with practical abilities and knowledge that will help them understand and analyze complex local systems in the world and approach challenges from a global perspective.
The Graduate School of Global Studies involves disciplines of human science and social science. Based on your high linguistic performance and skills in the interdisciplinary research, students at the school will deepen their knowledge in specialized and comprehensive research areas in linguistics, literature, cultures, politics, economics, and societies of the world. We expect that you'll be a well-rounded and trained individuals and that as such you will contribute to the society as active participants.
By the way, as this year marks the 70th anniversary of the end of World WarⅡ, many efforts have been made not to forget the memories of this painful experience. So, I would like to talk about the relationship between World War Ⅱ and Tokyo Gaikokugo Gakko, the predecessor educational institution of TUFS.
Amid the fierce Sino-Japanese war, in October 1941, the term of formal school education was shortened. Following the outbreak of World WarⅡin December, 1943, draft deferments for students specializing in humanities courses were suspended. More than 80 percent of the students who entered TUFS from the academic years 1941 to 1943 were sent to the battlefields; many of them lost their lives. In April 1944, Tokyo Gaikokugo Gakko was reestablished as a three-year tertiary education school, reflecting the needs for high language proficiency at that time.
Many young people were killed in the war. I would like to read you out the letter from Mr. Mannosuke Seta that he addressed to his parents two days before his death. This letter can be found in the "Kike Wadatsumi no Koe" (Listen to the Voices of the Sea), a collection of writings by the Japanese student soldiers that was posthumously-published.
"The sunset in Manila Bay is spectacular. Gazing at the twilit sea, I am starting to feel somewhat skeptical, wondering why we hate each other and fight. Even if this fighting may seem inevitable, I believe that there must have been a way to break through. Why do we have to spend our youth in this miserable situation? I am feeling unbearably sad watching promising young people die one after another. For some reason, I feel like eating sweets from the Nakamuraya shop."
Mr. Mannosuke Seta enrolled in the Department of Chinese Language and International Trade, Tokyo Gaikokugo Gakko in April, 1941 and he put forward his graduation date to September, 1943. In the same year, he joined the army and was killed in the war on May 7, 1945, around Clark, Luzon, the Philippines. He was 21 years old.
After World WarⅡ, in 1949, as I mentioned, Tokyo Gaiji Senmon Gakko was reestablished as the Tokyo University of Foreign Studies under the new postwar education system. The university was renamed after its ancestor "Tokyo Gaikokugo Gakko" which was established back in 1873, and the decision on its English name "Tokyo University of Foreign Studies" was made. The primarily focus on languages remained, and the educational institute made a fresh start as a university which specializes not only in the language studies but also in the foreign studies.
Our university regulations state: "The mission of Tokyo University of Foreign Studies is to conduct research and to disseminate theoretical and practical knowledge on the world's languages and the cultures that are embedded in these languages in addition to educating the learners about the intercultural values that are required in order for one to engage in the international activities and to deepen the understanding between the regions around the world through studying the local languages". This regulation explains our academic position which simply means that we cannot separate cultures and languages. This implies about what we have learned from the bitter experiences of the wars: A lack of knowledge about other people and customs that has led to the animosity.
In the 21st century, which embraces global society, you must make efforts to improve your language proficiency and communication skills. At the same time, I hope that throughout your four years of university life all of you will cultivate an intercultural mindset, that is, acquire an attitude of understanding and respecting different cultures in order to contribute to the coexistence of people and culture with diverse backgrounds.